This post was most recently updated on June 2nd, 2019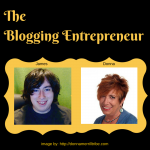 OK, my blogging entrepreneur friends… this is going to be a treat for you.
You know I rarely bring guest bloggers to my site, yet this is my second one in a row!
I didn't really expect this, but when I ran into James McAllister recently, I knew I had to get him in front of my readers.
Turns out, this is the week that worked out best for us both, so as I said, you are in for a treat today.
James writes a lot about being an entrepreneur.
You might think that's a bit strange, since he's only 18 years old.
Believe it not, though, he started his first website at the age of eleven!
He's had some failures along with success, but hey, that's what we entrepreneurs do.
Today, he operates over 10 different websites, all which, James tells me "are generating a nice amount of revenue."
I really encourage you to visit James on his blog, to learn more about him, and a whole bunch from him.
His story really resonates with me.
I remember my days of working for somebody else.
It wasn't a good feeling.  It seemed like somebody else was living my life for me.
I dropped out of that scene pretty early on, though, and have been an entrepreneur ever since.
I've had many failures, of course, but they've all led to my successes.
I really wanted to bring James to my blog today, because I just finished reading his book and it blew me away.
It shows you how a real entrepreneur thinks, and describes how James has claimed his freedom by stepping up and taking responsibility for his own success.
He shows you how he's leveraged the art of blogging, and the awesome power of the internet to achieve his dreams.
Now, I'll let James take over.
Meet James McAllister
Why do you blog? The truth is, we all start for different reasons.
Some of us want an outlet to share our personal opinions or ideas.
Some of us blog as a hobby.
Some of us don't really know why we're blogging.
If that sounds like you, than that's fine. I was in the same boat for many years.
You're here on Donna's website right now, so I'm willing to bet that you want to be more than just an average blogger.
You want to improve your blog, improve your marketing, and improve your business.
If you're like most people though, you don't become great at something for no reason.
Blogging is challenging, and we naturally want some sort of reward for our hard work.
We strive to improve as bloggers because we want that reward.
Strangely enough, many of us do not realize what it is that we are actually chasing.
We think we are in business to make money, but most of us are really after what money represents – freedom.
Only You Can Set Yourself Free
We like to think that we live in a free world, but is that really true? If we are forced to wake up early every morning and work at a job we hate just to make enough money to survive, are we really free?
Think about it.
This sort of lifestyle isn't necessary, but we are led to believe that it's our only option. From the moment we are born, we are taught to go to a great university so we can get a good job.
In other words, we are all conditioned to be employees instead of employers.
Unfortunately, the careers people are promised as they go through college are disappearing. There is no longer a light at the end of the tunnel.
Everyone is going to college, and degrees are so abundant that many of them lose their value.
There is a huge problem. College is extremely expensive, and the majority of students will have to take out loans in order to finance their education.
Regardless of whether or not they get a job after they graduate, they are still forced to pay back the money they owe.
They have become a slave to money just as their life has begun, and dug themselves a huge hole that's extremely hard to get out of. They are stuck working a minimum wage job because the degree they received grants them no additional employability.
There Are Multiple Paths To Freedom
The easiest way to get ahead in your journey to financial freedom is to never get behind in the first place. If you can avoid debt completely, you are already closer to financial freedom than 50% of Americans.
I was very fortunate to discover blogging at such a young age. I started blogging at the age of 11 and began blogging for profit at the age of 14. By the time I graduated high school four years later, I was making enough money to avoid getting a traditional job.
Despite having early success as an entrepreneur, I was still hammered to follow the traditional path. I started college unsure of what I wanted to major in. I lasted two quarters before I made the decision to drop out and focus more time on building up my business. I carried no debt when I had left.
Unfortunately, very few people can go straight from working a traditional job to running a successful business. It took me two years of testing and tweaking things until I finally started making money online. It took another two years before I was making enough to replace a regular job.
An experience like mine is typical. Businesses do not start up one day and become successful the next. They take time to get off the ground. Many aspiring entrepreneurs start one business, fail, and give up forever.
The entrepreneurs who become successful fail, recover, and try again.
Fortunately, you only need one business to succeed to make it as an entrepreneur.
Dropping out of college was very eye-opening to me because it proved that there really are alternative options available. It proved that one does not have to graduate from college to be successful. If you have the work ethic and determination to succeed, you have the ability to go against the cultural norm and walk down your own path.
I wrote The Young Entrepreneur's Guide to Business, Finance, and Life for those people. This book acts a guide for people who have chosen entrepreneurship over a traditional job. For those who want to live life on their own terms. For those who wish to take the path less traveled.
But most importantly, for those who wish to be free.
While this book is ideal for teenagers and young adults, the truth is that only one section of this book is solely dedicated towards young entrepreneurs. I spend a lot of time at the beginning of the book discussing the reality of college and why it is no longer a sensible choice for many people. I also take time to talk about moving into the real world as a young adult.
The rest of the book however is beneficial to any aspiring entrepreneur because it goes into great detail about a large number of important topics, including:
•    Avoiding common financial mistakes.
•    Creating a budget.
•    Choosing your ideal business model and niche.
•    Making the most out every visitor.
•    Building a sales funnel.
•    Segmenting and up-selling.
•    Gaining influence and making friends in high places.
•    Creating, pricing, and marketing your very own product.
•    Outsourcing work that doesn't require your presence.
•    Making your money work for you via investing.
•    And a heck of a lot more!
When you think about it, each of these are extremely important for success.
If you have bad spending habits, it doesn't matter how much money you'll make. You'll never end up financially free.
If you aren't able to run a business and create something that makes money on its own, then you'll always be a slave to your employer.
If you need to spend 18 hours a day of your own time to run your business, then you've become a slave to it instead. The successful entrepreneur does not spend their entire life running their business, they build it up, delegate tasks out to a team of employees, and start another one.
Finally, if you're not putting your extra money to work, than you're missing out on one of the easiest ways to grow your income completely passively.
Let's Be Realistic
The problem with many entrepreneurship books on the market is that they build the reader up on hype, showing them all of the possibilities and benefits of becoming successful without actually focusing on the hard work required to get to that point.
I'm sure you know very well that entrepreneurship isn't easy. In fact, it's probably the hardest profession out there, because you have to put the responsibility of creating a living wage into your own hands. You don't have an employer to fall back on. Worst of all, you aren't even guaranteed a reward for all of your hard work.
Although The Young Entrepreneur's Guide to Business, Finance, and Life has tons of actionable advice, the book on its own is not going to make you a success. It will guide you along the path, but in the end it is just a book. Only you can put in all of the hard work necessary to succeed.
If you're satisfied with being average, that's fine. This book was not meant for you.
If, on the other hand, you share my burning desire to grow an online business through blogging and internet marketing, then do yourself a favor and pick up a copy of my book right now.
If you have any questions or there's anything I can help you with, please let me know.
Meanwhile, I'd love to hear from you in the comments section below.
What motivates you to blog and run an online business?
Do you share my burning desire to stake out freedom by being an online entrepreneur?
Do you have your own success stories to share?
How about your success story "dreams?"
Again, I'd love to read your comments below, and I know Donna will be jumping into the conversation too.