This post was most recently updated on July 30th, 2016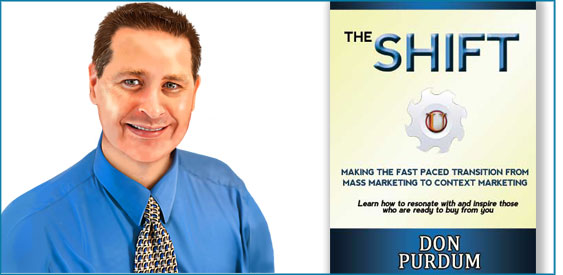 You're about to discover why you must make "the shift" in marketing.  First, though, I want to take this time to introduce my friend and colleague Don Purdum.  He has written a wonderful book called "The Shift" and when I read it I was so excited to share it with you, my friends and readers.  So the best way I could think of doing it was to invite Don here, and to let him tell you more about it in his own words.
Take it away, Don…
I want to take a second to thank Donna for reaching out and asking me to share my views on a topic near and dear to my heart!
Donna is an inspiration and a blessing to me and I consider it a great privilege to count her a friend!
What is the number one reason your business is not getting views, prospects and sales on your website or social media?
Is it because the technology is failing you or because you are failing the technology?
Just a few days I was talking with a business owner named Joe who has a profitable business but none of his business is coming from the internet and he can't understand why.
He has a website and all of the social media pages that many businesses have.
"Don, I know I have a great business but I can't think of one person who has contacted me or bought from me that said they saw my website."
When I looked at his website I was stunned. Here is a very successful person who has grown a great business. But after some probing I figured why he was so successful.
Those who do business with him absolutely love him and the culture his business has created.  People freely share his business with family and friends. He has a word-of-mouth machine!!!
That is awesome! That's the way it should be.
But, he knows it's not enough if he wants to really grow, scale and be in a position to work regularly "on" his business instead of "in" his business.
That led to another thought.
If Joe is So Successful Offline, What's Holding Him Back Online?
Just glancing at his website it was clear that Joe had fallen into the trap that 90% of business owners and marketers fall into.
His website says nothing, means nothing and helps no one. It's boring, plain, and uninspiring.
His business has been positioned just opposite of what it is offline.
Offline his business is fun, entertaining, and has a culture and people loving Joe!
But online no one knows who Joe is and no one cares.
His business has been positioned as a commodity and commodities are only bought and sold based on how much in demand they are. Once demand has been established then you talk about price.
If you're going to make money online you are going to have to figure out how to get out of being a commodity based business that relies on a commodity based provider to help you make money.
My definition of a commodity is simple: If someone buys a product or service from one company and that same product or service can be bought from another without the consumer being able to tell the difference in result, experience or quality… then, it's a commodity.
Commoditization occurs as a product, service, or industry loses differentiation in the eyes of the consumer.
If and when people arrive at Joe's website, it doesn't look any different or say anything different than anyone else's.
Why?
Why is Joe's Website Positioning His Business as a Commodity?
The absolute biggest reason is because Joe has never done the hard work of learning how to distinguish his business as unique, relevant or inspiring.
More on that in a moment.
Business owners and entrepreneurs are not trained in marketing.
They may have a skill or training in an area that allows them to create a business that fills a need or offers a service; but they are not trained in marketing.
Marketing is the life blood of every company. Without it we will never get a sale (let alone sales) and we don't get a sale when have nothing to offer.
It's that simple.
Business isn't hard; but it is demanding and there is a lot to continually learn.
Business owners value sales but I'm not sure they value perfecting their craft as business owners. This is the most important thing you will do in business next to sales.
If you don't create the opportunity to sell something as we established you will either own a hobby or go bankrupt building a hobby.
If someone who doesn't know Joe visits his website and all he does is speak about himself or "buy me," he is telling his customers unintentionally that he cares more about himself than he does about them.
When a business talks about the business or product and just says "buy me" all of the time, it ultimately positions itself as a commodity and commodities that are not high in demand are cheap. Which is a nice way of saying Joe will have to compete on bare bottom prices and suffer profits for sales.
A Mass Marketing Mindset is to Blame
Mass marketing has been with us since the printing press.
Newspaper ads in the U.S. can be traced to the mid 1700's and were the predominate mode of advertising for nearly 175 years.
In the 1920's radio became mainstream and advertisements on air became prevalent as psychologists in the 1930's began learning how to use words to inform the way we think and feel about a brand and it's products (which could be branded).
By the 1950's and 1960's TV took over and now we could see and hear from advertisers.
By the 1980's magazines and other forms of print like direct mail began to have a strong influence.
The 1990's saw the incorporation of mass telephone marketing.
And in the 2000's we have seen the internet supplant all three.
Today the web is revolutionizing industries and in the near future no one will be unaffected by its influence.
Unfortunately, many businesses still today see the internet as a mass marketing tool. They want to reach as many people as possible in hopes that a few will buy.
The Problem with Mass Marketing and the Internet
Hasn't that been the promise of the internet for over a decade now?
Yet, I don't see many business owners getting rich from the internet today because it's not the pioneer it once was, even though it's still a very young and evolving tool.
For too long, businesses have been focused on technology as the solution to their marketing problems instead of looking deeply into their businesses.
Their  focus is in the wrong place.
The technology is just a tool. It cannot answer the fundamental reasons why someone is in business or why a prospect would be inspired to buy.
The problem is that businesses tend to see the internet through a mass marketing mindset and until we see what that means and what the difference is, not much is going to change in the results.
Here is how many are still using the internet hoping for results in a fast paced environment that has shifted on them:
Websites exist to prove a business is legitimate or is nothing more than a flashy brochure that talks about the business and its products or services.

Keyword research is embedded in a website and social media platform to drive traffic to a website.

Authoritative links are used to prove to a search engine that a website is legitimate and authoritative.

Social media pages are full of text and pictures that communicate benefits and features and "buy me" posts.
What happens when you don't get results?
Do you blame the technology for the problem?
Please understand, the perceived marketing problem is almost never the real problem.
All the tools and "how to" websites in the world are not going to help you learn the technology better to get the results you're looking for because the problem is not the tool or the platform.
The Shift – The Fast Paced Transition from Mass Marketing To Context Marketing
I wrote my eBook "The Shift – The Fast Paced Transition from Mass Marketing to Context Marketing" to help businesses understand why their marketing is struggling online and how they can lay the foundation to solve this problem forever!
A lot of business owners and entrepreneurs are asking themselves and those they seek advice from, the following questions about online marketing:
What should I be doing online?

Why should I be doing it?

How will it help me?

What will my return on investment be and will the profits be substantial?
The focus of the questions is in the wrong place.
Yes, I get it. You're a business and you're in it to make money.
But I believe the real issues that business owners and entrepreneurs struggle with are in their mindset.
Mass marketing has taught us that if we just throw money at advertising then the masses will come and make us rich.
That is no longer a winning recipe online.
The real problem is the lack of clarity the business owner has around his or her business.
In the book I cover:
What business you are "really" in: How do you communicate your business clearly, persuasively and in a way that resonates with any individual who is a prospect or customer from their point of view?

What problems are you passionate about? It's more than just a business…

What problems do you "really" solve?

What tangible values do you provide?

What can people expect if they buy from you?

Who do you "specifically" solve problems for?
"The Shift" reveals how 300 years of mass marketing has affected our mindset and habits; and how we ought to view marketing.
It asks business owners to focus on the needs of others over self.
I will take us on a journey with Chuck Ware, the owner and founder of The Academy Warehouse.
You will see how Chuck learned to transform his marketing into a persuasive, relevant, compelling and inspirational message that resonates with his audience.
Chuck learned how to stop talking about his business both offline and online and learned how to focus on the needs and problems of those who need his service.
"The Shift" is for those business owners and entrepreneurs who know that something is deeply wrong with your marketing but are doing everything you are told to do to be successful, except for one thing… learning your business so well that you know what business you're "really" in and learning to speak the language of those who are ready to buy from you.
If you are like Joe and you know something is wrong, then I urge you to get a copy of my book today.
Get a jump start today on learning how to make "the shift" before your business is no longer relevant online… Get your copy of "The Shift."
–Don Purdum
PS:  Hey guys, hope you enjoyed Don's encouragement to "shift" your business forward.
I encourage you to check out his book using the above link (not my affiliate link).  I've read it and it really got me thinking.
How about you?

I'd love to hear your comments below.
–Donna