This post was most recently updated on July 30th, 2016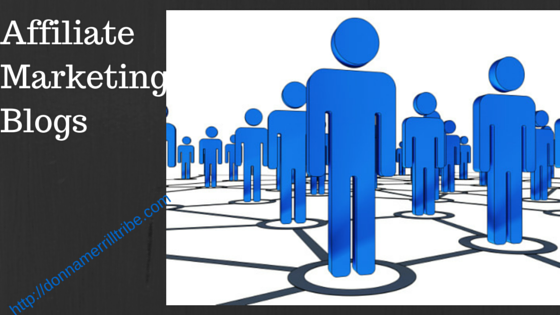 In this article, I'm going to give you a list of the "9 Best Affiliate Programs For Bloggers."

There are, of course, numerous affiliate programs.  This is a short list of ones that I think affiliate bloggers should consider using.
I do very little (next to none) affiliate marketing on my own personal blog.
But I work regularly with many bloggers who make affiliate marketing a key part of their blogs.  Some of them rely entirely on affiliate marketing as their blogging business model.
I also use affiliate marketing plenty in my email marketing.   Some of my lists are purely content, some are purely affiliate marketing, others are a mix of the two.
But for this article focuses on affiliate programs specifically for bloggers.
Before listing the best affiliate programs, though, let's look a bit closer at how affiliate marketing fits into blogging.
You Can't Make Money Blogging
Alright.
I think every blogger on the planet has gotten involved in the discussion of whether or not you can make money blogging.
The prevailing attitude seems to be that you simply can't make money blogging.
My response is that you can't make money blogging if you're not doing it right.
So, I actually answer this question with both "yes" and "no."
"No" if you're just putting up haphazard content in a sloppy manner, or with no big strategy or purpose in mind.
If you are doing it right, though, then "yes," you can certainly build a nice business with your blog.
Many bloggers are discouraged because they think (and they hear) that you need a ton of traffic or celebrity status to make money blogging.
A ton of traffic is nice, and it never hurts to be a celebrity.
But you can build a great blogging business with just a modest, steady flow of traffic as long as it is well targeted for your products and services, as well as your marketing message.
You can quickly become a celebrity inside of this small universe you've created out of your followers, subscribers, clients and customers.
If the idea of "celebrity" makes you cringe, though, think of it as something more like a leader, an authority or just a blogger who knows how to help folks out and cares enough about them to do it.
Here's How To Do It
I don't like to talk about "make money blogging."  That seems so passive and whimsical, as if you can just start a blog and wait for cash to fall from the sky.
In fact, I think that's why a lot of people say you can't make money blogging.
In that way, I agree.
What you can do with your blog, though, is to build a real business.  Not "your   own personal 'ATM' machine"… a business.
A great way to turn your blog into a business is to feature your own products and services.
But first, you need to give your readers (prospects) a lot of great free content.  That's why you have a blog.
"Great" means that you are helping your readers to solve their problems.
But giving them free advice, tips and training is only one way to help them.
You don't need your own product, though.
Special: Start Your New Blog Today 
You can also do it by introducing them to affiliate products.
So, while featuring your own products and services is wonderful, you focus strictly on affiliate products and services instead.
The key here is to let your readers know that the affiliate products you are promoting will help them solve their problems.
Your affiliate products will make things happen faster, better and bigger.
It doesn't matter what the problem is, you have the solution.
It comes in the form of an affiliate product that you introduce in your blog posts.
The important thing about affiliate blogging is to never make your readers feel like you're trying to convince them to buy something.
Affiliate bloggers are not in the business of "selling."
They are in the business of giving people access to things they already want, but just don't know where to find.
Make your blog the resource they were looking for.
That's the heart of affiliate blogging.
Naturally, it doesn't work if you don't have great products for your readers to buy.
So, where do you find them?
The 9 Best Affiliate Programs For Bloggers
Okay, so here's my list of affiliate programs.
First, the ones you can use to find physical products.
Second, the best ones for finding digital products.
The first group of affiliate programs are usually for micro niche bloggers… those who run blogs about specific products or groups of products.
So, if I have a blog about cameras, I'll probably be writing about different types of cameras, camera parts, photographic equipment and so forth.
To find those products I can review and sell as an affiliate on that blog, I could go to places like Amazon, Commission Junction and the others.
I just grab their affiliate links, embed them in my blog posts, and I'm ready to make some money on my blog.
The second group of affiliate programs is more for information blogs.
Information products are usually digital, and those are the things I want to find to affiliate.
Special: Start Your New Blog Today
If, for instance, my blog is about photography, I could find photography courses, video trainings and such by going to Clickbank, JVZoo and the others.
I'd just grab my affiliate link for specific digital products, review them on my photography blog, and embed my link to make sales.
Obviously, you can combine both physical and digital products on a single blog.
Using the above examples, you might have a photography blog that gives information about photography, and includes posts about specific cameras and equipment.  So, then, I could affiliate both physical and digital products.
These are great resources, though.
There are many others, but in my experience, you probably will never need to search much further than these 9 sources.
That's the easy part.
The more complicated part is to set up a good strategy for using these resources and actually making affiliate sales on your blog.
Affiliate Blogging Strategy
I teach affiliate bloggers to think of their blogs as a magazine.
A magazine addresses a niche audience.
Maybe "parents" or "vegetarians," for example.
All their articles, like your blog posts, give readers free information and advice geared to solving their problems and concerns, or maybe offering them entertainment, insight or knowledge.
A vegetarian magazine, for example, might have articles about where to find restaurants, books or recipes to fit a vegetarian lifestyle.
A vegetarian "blog" should do the same.
But the magazine has a bigger strategy than to just give folks great free content.
It also needs to make money so it can stay in the business of providing that content.
So, it sells advertising space.
Magazines get paid for introducing their readers to products and services that are highly relevant to their interests.
So a vegetarian magazine might have advertisements throughout its pages for readers to buy vegetarian cookbooks, healthy eating guides and so forth.
The magazine uses ad space to introduce interested prospects to an offer.  Then the advertiser takes over with the process of making sales.
So, too, the affiliate blogger encourages readers to click a link, see an offer and make a purchase.
The main difference in this analogy is that most bloggers do not sell advertising space, but they do collect a commission when a prospect buys the affiliate product being promoted.
While affiliate blogging is a powerful business model, there's a lot that goes into making it pay off.
One key step is locating the right products.
That's why I've given you my "best list of affiliate programs for bloggers" in this article.
But that's just the beginning.
There are many other steps you must take to be successful.
That's why I've put together a special training called "Affiliate Blogging Blueprint."
On this training, you'll learn a lot more about how to make affiliate marketing a key part of your own blogging strategy.
So what's your blogging strategy?
Are you involved in affiliate blogging?
Do you agree with my list of the 9 Best Affiliate Programs For Bloggers?
Are there others you use that I haven't included here?

I'd love to hear you comments and discussion about affiliate blogging.