This post was most recently updated on July 29th, 2016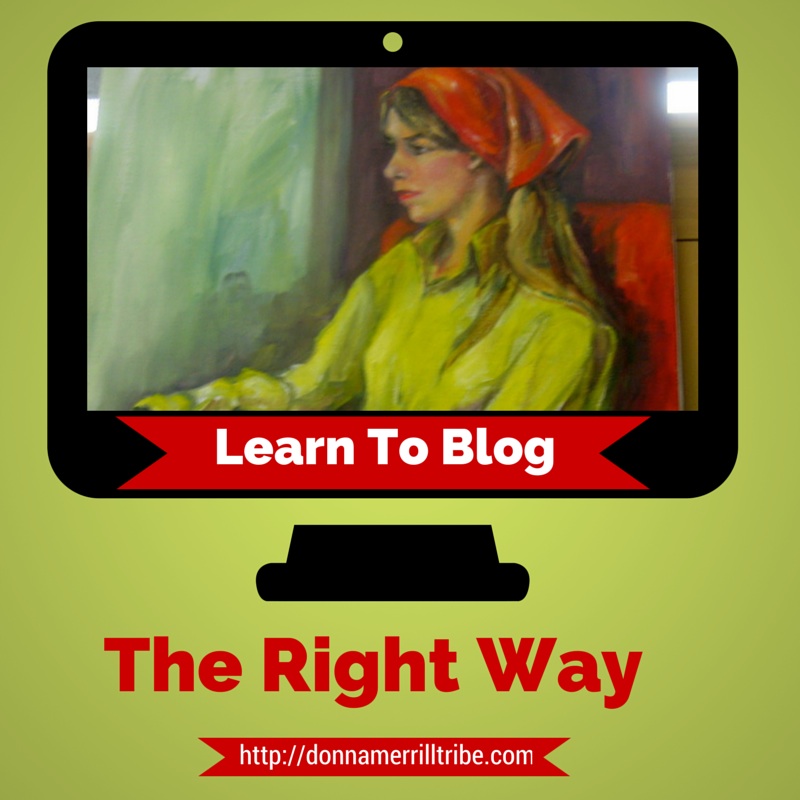 You can easily learn to blog, but very few bloggers ever learn to blog the right way.
Most of the bloggers I work with, mainly want to promote things.
Sometimes they want to brand themselves.  They might want to sell their products and services, or maybe the want to earn affiliate commissions by selling somebody else's products and services. 
Other bloggers are looking to draw prospects to their primary business opportunity, so they can build a productive team of downlines.
In any event, bloggers are typically looking to get prospects, customers and clients.
That doesn't mean that you want to go on your blog and just use it to promote things.
You can use it to build your business, and promotion is obviously part of that.
That's all fine, and blogging is great platform for generating business and commissions.
But far too many folks go about it the wrong way.
Latest: A Webinar… "About Webinars"
They make their blogs all about spamming folks with "buy me" links, and "buy me fast" blog posts, and "buy me now" banners all over their blogs.
You may want to sell stuff with your blog, but don't expect your readers to be interested unless you carefully present products and services that they perceive as being of value to them… not to you, but to them.
In the meanwhile, they'll be looking for something entirely different.
It could be information, entertainment or just some conversation.
Whatever they're looking for, it's mainly about finding something, or someone, to make their lives a little bit better.  They want something that will benefit them.
They're not on your blog to benefit you.  They're looking to find out what they can get from it.
If their lives can be made better, happier and more joyous, they'll be back for more
They won't return because they love your affiliate offers or your business opportunity, but because they enjoy being there, and they have a feeling that your blog adds value to their lives.
So the right way to blog, is to recognize that it is primarily about building relationships and engagement with your visitors, not just blasting out information and offers to them.
Tell Your Story
The best way to build that kind of relationship is to let your readers know exactly who you are.
I'm not talking about knowing how much authority you have in your niche, or how good a writer you are.  I'm not talking about how good your business is, or how great a product you have.
What I am talking about is letting people know "you" by telling them "your story."
Tell it in different ways, at different times, in a wide variety of contexts… but never stop telling it.
There are only so many business opportunities online. 
There is a finite group of affiliate products and services that bloggers can promote, and they do so in competition with others who also promote them.
But your story is unique to you.  You're the only person in the world with your story.  Use it to your advantage, and that means, use it to build relationships with people.
Remember, that's the main purpose of blogging.  That's blogging the right way.
Your story does not have to be a rags to riches story.  It does not have to be one of incredible achievement.
It just has to be real.
Breakthrough: Now, You Can Easily Present Your Own Webinars
Your story could be that you made a million dollars in 3 days with sales from your first $7 ebook.
That's an incredible story.
But will it really build great relationships?
On the one hand, it will "wow" people who want to make that kind of money, too.  Many of them may well want to "hang out" with you in hope that they can learn to duplicate your success.
But on the other hand, people won't relate closely with that story.  It doesn't feel real to them, and they don't really expect to duplicate it.  Plus, it's not really a story about "you," but a story about what you achieved.
Most people actually relate better to someone who has struggles, dreams, desires, even failures that are similar to their own.
So, for instance your story might be that you couldn't figure out how to profit with your online business.  You failed in your many attempts over several years.
Finally, you learned one little thing that made you realize what you had been doing wrong.  You adjusted this one thing and finally made enough money online to quit your day job.
That's a more realistic story, and one that people can resonate with.  They know they've had some of the same struggles and dreams, they've experience plenty of failures, too.
People are most likely to follow you closely when they see themselves in you, and in your experiences.
These are just two types of  "stories" that can be developed.
There are many others.  It's not so much a matter of what your story is, but how you deliver it, how you leverage it into a loyal following, and raving fans.
Blogging is about that.
It's about delivering your story up front and center, and in between all the lines.
If you don't believe me, ask any blogger what the single most visited page is on their blog.  I guarantee that almost all of them will tell you it's the "About Me" page.  That's because before reading anything at all on your blog, readers want to know who you are… they want you to tell them your story.
When people know who you are, where you've come from and where you're heading… they're going to want to follow you and re-visit your blog often.
Alert: New Webinar: Achieve Instant "Authority Status"
I know a blogger whose story is simply that he was a college wrestler.  So, when he talks about marketing and his online business, he relates it to his wrestling adventures.  Lots of people love following his blog because they relate to his story.
So if you haven't developed your story, yet, it's time to do it.
Write your story.
Maybe revise your "About Me" page, or create one if you haven't done so yet.
Don't like it?
Trash it and re-write it.
Get it right.  Make it true, sincere and simple.
You don't have just one story, of course. 
Bloggers, like anybody else, have experienced many things in life and in business.  It's up to you to choose the story you think your target audience will relate best to.
Develop your story. 
Tell it in front of the mirror, in an article, on a video or podcast.  It doesn't even matter if you make these things public.  Just do them so you get more and more comfortable telling your story in a variety of ways.
Then make it part of who you are to your readers, your prospects and your customers. 
Interweave it into your blog posts, your free offers, your sales pages and, as I mentioned, in your About Me page.
Everywhere you go, people should start saying… "I know that woman or guy… he/she is the one who was a college wrestler," or "who started his business in his parents' basement," or "who survived on food stamps until…".
When people get an instant image of who you are because of your story, you've begun branding yourself to be an intriguing, interesting and successful blogger that they'll want to follow.
There are many components that go into blogging.  I've talked about many of them in the past, and will do so in the future.
But developing and telling your story, is probably the single most important thing you can do to start blogging the right way.
It doesn't matter if you've been blogging for 5 days or 5 years.  If you haven't developed a compelling story, and promoted that story to make it "stick" to your brand… it's time to do it.
Nothing else you do with your blog is as important as this.
Special: A Webinar… "About Webinars"
Have you told your story?
Do you do it consistently in your content and in your marketing?
Are you having difficulty developing a compelling story to attach to your brand?
Let me know in the comments below.
I always love hearing from you, my readers!
-Donna