This post was most recently updated on July 29th, 2016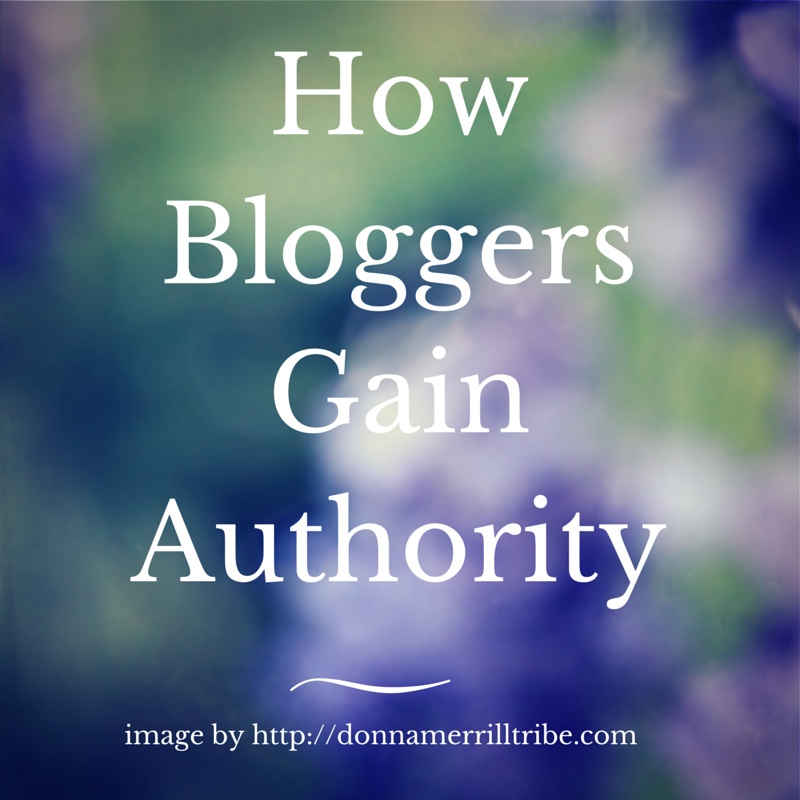 Bloggers are always looking for ways to gain authority with their readers. 
If you're a blogger, I'd say you're already on the right track.
I mean, just by the fact that you operate a blog means that you have some notion of the value of building authority.  Most bloggers, in fact, start blogging for just that reason… to gain authority with an audience that they want to influence in some way.
Maybe you want people to follow you in your business opportunity, or buy your books or your affiliate products. 
Whatever your reason for wanting to establish your authority online, you know it's a key ingredient to your success.
Who will join a team leader, or buy from a marketer if they don't consider him/her to carry any authority?
So how can you gain that authority?
How Bloggers Gain Authority
You can start building authority in your niche, and with your target audience, by creating a high quality content.
The content can't just be of high value, though, it needs to rise to the level of problem solving value.
As a blogger, you need to know your audience.  You need to know their aspirations, their goals, their pains and their problems.
Most of all, you need to be someone who delivers solutions to their problems.  When you post "solutions content" on a consistent basis, you gain authority in the eyes of your target audience.
Special: The Truth About Blogging
Re-purpose Your Content
You gain even greater authority by re-purposing your blog content.
Take your valuable blog posts and turn them into videos.
Give your audience the same kind of great value face to face, or with a PowerPoint presentation.
Put the video on YouTube with a link-back to your originating blog post.
You could do the same thing with a podcast hooked into your iTunes channel, or an e-book that you are selling, or its free version that you give away in a forum.
The idea is to share a blend of content formats with your audience.
All these different content versions can be run through your social media platforms, and even promoted with paid posts, tweets and the like.
The main thing you want to do is (1) originate a piece of content on your blog, and then (2) have it ripple out far and wide through a variety of platforms and content types.
When you blend a variation of your content in this way, your authority can be boosted immensely.
Go To The Head of the Class
I think you can see how to build your authority by delivering great content on your blog and re-purposing it off your blog site, while linking back to it.
Now, it's time to go to the head of the class.
Step up to the podium and give your lecture, read your book report or whatever.
You can do this in different ways.
Tutorials
One method you can use it to offer a series of tutorials on a specific niche topic.
This can be in the form of things like a 5-part blogging series to show your readers how to accomplish something, or a 3-part video series that you offer as a free giveaway.
You can think of lots of ways to deliver a tutorial series, but the main thing is to do it.
The reason is this.
If you write a blog post about something like "How to do Facebook Ads," your audience sees you as someone who knows something about the topic.
However much "authority status" you reap from a single blog post, though, is multiplied many times over by developing a whole series on the same topic.

Do you think people recognize your authority on the topic as much if you wrote a single blog post on it, as they would if you announced…
"Read my upcoming 5-part series on mastering Facebook ads," or

"get my free e-book called "The Easy Way To Master Facebook Ads," or

"opt in here for my 3-step video course to master Facebook Ads."
People instinctively believe that a person delivering a serialized training, or "course," has unquestioned authority to do so.
Interviews
When you interview a recognized authority on a niche topic, you actually gain some recognition as an authority on the topic yourself… especially if you interact on an equal footing with the person you're interviewing.
Think, for instance, what kind of authority would "rub off" on you if you interviewed 3 prominent herbalists.  If your blog was about herbal remedies, don't you think this would raise your authority level with your readers?
Now, even more…
If other herbalists started interviewing you on their blogs, or on a YouTube video or in a Google Hangout, you'd gain an even higher level of authority.
In that case, you'd be a recognized leader in your field because the perception is that others in the field are eagerly seeking your advice and expertise.
Getting interviewed by other influencers in your field doesn't just happen, of course.  You'll need to do some work to see that it does.
One way is to develop great content and share it with some of those influencers.  You can follow that up with a straight out request to be interviewed by them.  Or you can suggest an interview swap between the two of you:  "You interview me, a few months later, I'll interview you."
Yet another method is to simply interview some people who you know are influencers in your niche.  If some say no, others will say yes.
If you conduct these interviews on a fairly regular basis, some of the folks you interview will very likely offer to do the same for you.  If they don't, then you'll have some clout to yield in simply asking them to.
Presentations
The best way to go to the head of the class is to start hosting presentations.
Anyone who gives presentations to others gets awarded instant authority by those in attendance.
This is absolutely the fastest and most direct way to gain that instant authority for yourself.
Presentations can be in a variety of formats.
Doing a video series of tutorials, as we discussed above, is one type of presentation, and does ratchet up your credibility and authority.  But there are other methods, too.
One type of presentation that works really well here, is to offer a training course.  This is particularly effective when you charge for the course.
As a general rule of thumb, the more you can charge, the higher your authority can score.  But that's a bit of a tight rope to walk, because the higher your rates, the lower will be the number of your paying customers.
So keep your prices as high as you can while garnering the highest attendance possible.  The greater the attendance, the greater your exposure and therefore, authority ranking.
While video trainings and multiple week training courses are a great way to build your authority, nothing is faster and simpler for achieving this than webinars.
Webinars are an amazing way to fill the seats with adoring students, just waiting for you to take your position at the head of the class.
Free webinars give you the chance to showcase your skills, personality and expertise to large numbers of people.  Many of them will eagerly purchase your products and services at the end of the webinar, and in response to your follow up emails.
Paid webinars are a business all of their own, and have the potential of catapulting your authority through the ceiling.
Together, both free and paid webinars are unparalleled in the leverage they can give to your branding and authority campaign.
If you'd like to learn how to present your own webinars, from software set up to product sales, to the actual presentation itself…
Are you ready to start taking your authority level to new heights?
Are you already employing some of these techniques to gain authority?
What's working for you?
What are your biggest challenges?
What would most like help with?
I'd love to have your comments below.