This post was most recently updated on July 28th, 2016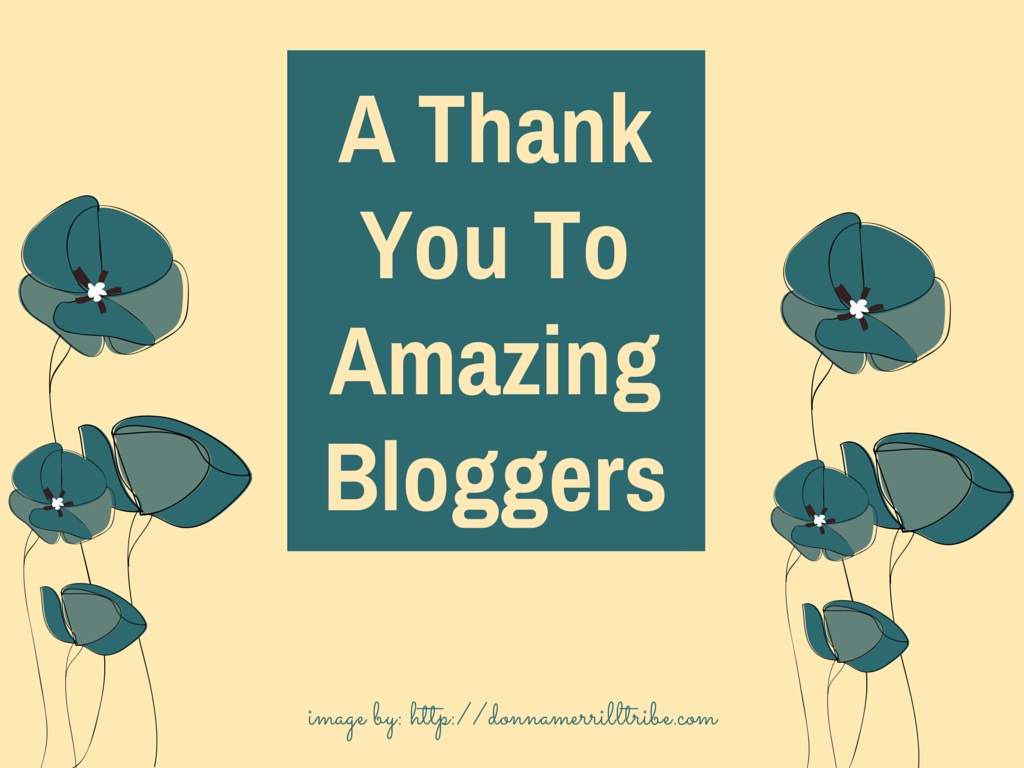 I want to take time out this week and give a special thank you to some amazing bloggers.  This is a group of bloggers who have dedicated some of their valuable time and effort to feature me in their own blogs. 
It seems like every time I turn around lately, I'm being referenced, mentioned and featured on so many blogs. I want to dedicate this post to acknowledging some of these amazing and highly professional bloggers. I am truly honored by each and every one of them.
So where have I been lately? Not only here on my own blog, but on some other wonderful blogs, too. I taking this time and space to link to their blogs, and I really hope that you will go check them out.  Some of them may be new to you, so you can make some new friends, today!  Others could be familiar to you, already, but maybe you haven't visited them for a while.  Here's your chance. 
Lots of times, people ask me "How do I get more readership to my blog?" The answer is always the same: Go out there and visit some great bloggers. Read their posts carefully because you will learn a lot. Then, take the time out to leave a good comment. After that, join their social media sites and share their posts.
This is good practice my friends. And it is the only way to increase your engagement from the grass roots… organically, as they say.
The results are easy to see, here. 
People I've built solid engagement with, are often happy to let their readers and friends know about me.  I am equally happy to let my readers know about what they're doing.
See how it works? 
So, here's a list of some amazing bloggers I'd like to introduce you to today.
JEFF SOLLEE
I love to watch the progress of up and coming bloggers and entrepreneurs who just plow forward with bold authenticity.
Jeff Sollee is among that group of bloggers.  He writes about being yourself, blog posting tactics and online relationship building.
He kindly put me in the company of a handful of pretty awesome bloggers when he featured me as one of his favorite bloggers:
"Donna is absolutely inspiring to me! She is such a positive and fun loving person. I have never had the honor to meet her, but I can see her personality through her writing! I have learned so much by reading her posts."
You can read Jeff's article here:
"So You Started A Blog…But What's Next?"
DON PURDUM
Don discusses a wide variety of  website strategies and overall online marketing on his "UNVEIL" site.
In an excellent article exploring the role of influential bloggers in highlighting the work of other online entrepreneurs, he cites one of my own blog posts.
Here's an excerpt from that article.
"In her most recent article, Donna Merrill talks about the importance of connecting within your niche, but she also shares how important it is to go so outside of your niche as you become an influencer with those who have different perspectives and ideas that you can share with your readers. She has a great quote about how you can become someone else's Google:

'…how are we going to keep ourselves in the know about things that have little to do with our tight little niche? I dare to say, to accomplish this, you must get out of your niche from time to time. Read people's blog posts in related areas, and learn from them. This is how you are going to expand your relationships.'

Are you being intentional about connecting with others? Are you being intentional about sharing what others have to say? Are your being purposeful about building your community that will help you grow your online influence and business?"
You can read Don's entire article here:
"Are You Someone's Google? A Strategy To Grow Your Online Influence and Business"
Don also mentions me in his blogging round up post.  I was so honored to be chosen among the top bloggers he reviewed there.
Here's an excerpt from that blog post: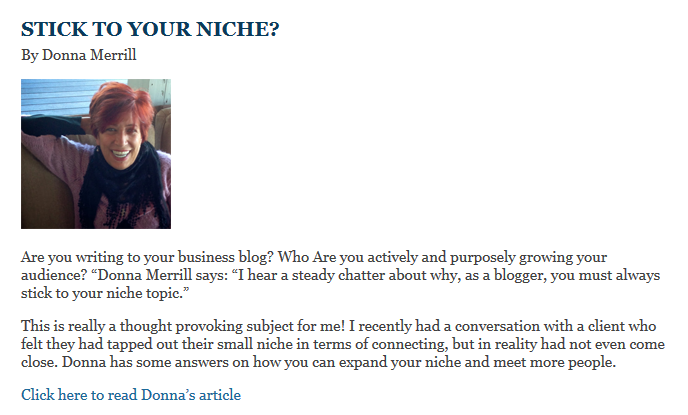 You can read Don's complete review of top bloggers here:
"Rewind Saturday – Top Bloggers The Week of 8/9/14 – 8/15/14"
ANDREW M. WARNER
Andrew impresses me, not only because he owns and operates Warner's Publishing International, but because he enthusiastically boasts of his "loving dog."  Now that's authenticity!
It was fun to see that he mentioned me in his amazing pillar post about generating blog traffic.
"Donna Merrill wrote a very interesting post recently," Andrew writes, "about commenting and engaging with bloggers outside your niche."
He continues on with a discussion about the role of syndication in driving traffic to your blog.
Check out Andrew's very interesting "Shade of Info" where he shares lots of top-notch information and guidance for budding online entrepreneurs.
You can read his blog traffic post here:
7 Effective Strategies You Could Use To Get Quality Traffic To Your Blog Immediately
 
SUE PRICE
Sue blogs about home-based businees and building residual income.
In a recent post about embracing the world as a Global Village, she kindly referred to me in this context:

"Effective communication online means remembering you are communicating globally when you put anything online… Donna Merrill wrote a post … called "Talking to the World" [in which she] reminds readers of the differences we need to be mindful of when communicating.  Donna's post was the catalyst for me shooting a video which I share here."
Read Sue's full article (and see her video), right here:
Effective Communication Online Means Remembering Differences
SHERMAN SMITH
I have incredible respect for Sherman Smith.  He's a great blogger, resourceful online marketer, and an amazing salsa dancer!
So I was quite honored when he featured me as one of the bloggers who has had a positive influence on his blogging success.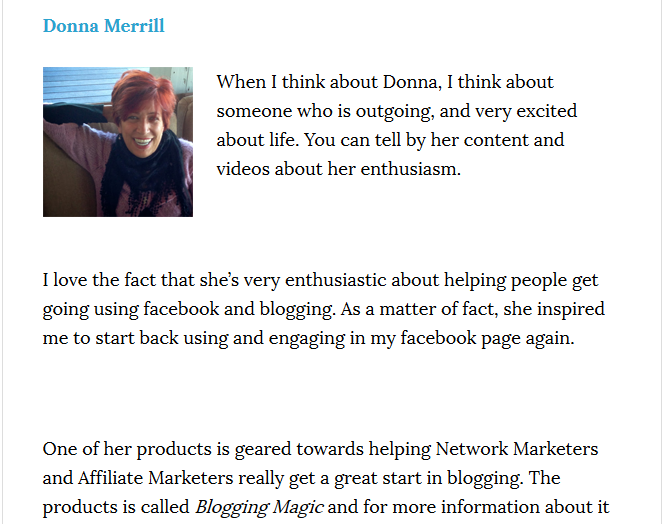 You can read what Sherman has to say about me, and other influential bloggers, here:
"Paying Homage To Some Influencial Bloggers"
JACKSON NWACHUKWU
Jackson is an unstoppable blogger and entrepreneur.
He recently featured me in his cutting edge blog, "Worth Blogger."
The article boasts such a fantastic line up world-renowned bloggers, that I was humbled to find myself featured among them.
It's a great article, and I thank Jackson for his acknowledgement of me and my blogging authority.
Learn about engagement blogging from the top experts:
"What Super Engagement Bloggers Say Is The Magic Ingredient In Blogging"
 
NISHA PANDEY
Nisha Pandey of "SEO Techy World" wrote a great round up of bloggers, each offering their tips and "top secrets"for driving traffic to their blogs.  The post is called:
"Amazing Blogging Tips To Drive Massive Traffic by 9 Expert Pro Bloggers – Top Secret Revealed"
I was honored that Nisha asked me to contribute to this article.  It's such an important topic for just about every blogger I know.
I thank Nisha for her lofty introduction of me:
"Donna Merrill is a famous blogger who came to limelight with her magical touch in 'Blogging Magic'. With this masterpiece, she not only helps starters to sail smoothly the paths of blogging but also the advanced bloggers to discover a new level in their career."
You can read my tips and "top secret" for traffic generation in this pretty awesome article.
And, of course, you'll get to read the tips and secrets of the other 8 expert pro bloggers, too!
"Amazing Blogging Tips to Drive Massive Traffic by 9 Expert Pro Bloggers – Top Secret Revealed"
 
ADRIENNE SMITH
If you don't know Adrienne Smith, yet, then you're missing out on one of the truly gracious and gifted bloggers I know.
Adrienne recently mentioneed me when talking about my blog post concerning "Loyal Customers."
Here is what she wrote:
A lot of my readers are just bloggers but a good bit of them are also business owners. In order for our businesses to thrive we need customers. What's even better though are to have loyal customers.
I fell in love with this story that Donna shared on her blog and I'm sure most of you have already stopped by to read it which of course is a very good thing. Just in case you haven't, you'll understand why having customers who respect, appreciate and truly care about you are so vital to having a long lasting business. By the way, this same thing can also apply to your own blog ya know.
Thanks Adrienne! 
It's such a pleasure to get mentioned on your amazing blog.
Read Adrienne's entire article here:
"Thankful Thursday: Content, Customers, Advice, BroadedNet, Backlinks"
 
So, one more time… thank you Amazing Bloggers
Thanks for your confidence in me and for sharing it with the world!

I had fun writing this post.
And to top it off, I'd love to hear what you think of all these great bloggers!
Please leave your comments below.