This post was most recently updated on July 28th, 2016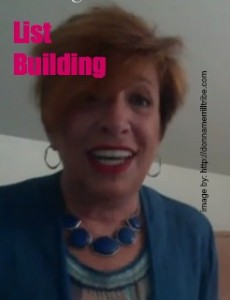 List building with social media is an excellent way to harness your following through natural, organic means.
List building, in fact, may be the single most important strategy that most online marketers, bloggers and network marketers need to develop. 
That's why so many entrepreneurs spend tons of money advertising.  It's not to sell products and services as much as it is to get people to join their email lists.  Then, they work hard to convert those subscribers into buyers and clients with great email content.
While there's nothing wrong with spending tons of money to build your list, I know most people don't have tons of money budgeted for this purpose.  That's where free, organic list building with social media comes in play.
There are two main tactics marketers use to build their list with social media.
Link Dropping
The first method is what I call link dropping. 
It's used primarily by novices, and others who don't really understand the power of social media marketing.  Unfortunately, it is often the only method that a lot of folks ever learn.  So it's the only one they use.
Link dropping is the tactic of blasting links to squeeze pages and sales pages all over the place.  So, say you are an affiliate of a Clickbank product called ABC, and your affiliate link is "ABC.com/your affiliate id".
How do you get people to buy ABC?
With this method, you go on Twitter, Facebook and other social media sites and post a whole lot of status updates and tweets.  They all say essentially the same thing. 
It goes something like this:
I can't believe how great ABC is.  Check it out here: ABC.com/your affiliate id

I made $250 this weekend by just sending out a simple email.  Here's how: ABC.com/your affiliate id

This is the fastest way ever to (loose weight/make money/get a date)… ABC.com/your affiliate id

The idea is to blast these links out in as many places as possible, and as often as possible
Link dropping is promoted as a legitimate way to promote products, systems and services.  It's promoted as a "numbers game."  The more links you drop, the more people will click, sign up and buy.  So maybe only 1 in a thousand people will buy from your link, but if you just get it in front of ten thousand people a week, you can expect 10 sales per week.  Send out more, and you'll earn more.
This is not the way to build a serious, long-term business. 
People will tire of seeing all your promotional links.  They'll report them as spam.  They'll ignore them.  You'll find it harder and harder to get them seen, and run the risk of being banned from social sites for spamming.
Those who promote this type of activity don't usually care about your reputation or if you get banned from Facebook or other sites.  They are just looking for short term gains by getting a lot of people to drop links that will help them sell their products or promote their business opportunity.
Relationship Building
The better way to build your list using social media is to concentrate on building relationships with people you meet there.
People are far more likely to buy your products or sign up for your business opportunity if they know who you are.
Talk with them on social media sites.  Find out what they like, what their concerns are, where they live.  Address those things in your posts and comments.
Don't complicate or over think it.  Just be casual.
Things like this:
I see you had a big snow storm yesterday, how are you doing?

I know you love horses, so I thought you'd like this.

Congratulations on your son's graduation.  I can't wait to hear how it went.
Take your time, enjoy yourself   Building strong relationships is what will move people into your camp, to buy your stuff and sign up for your business. 
Put some effort into maintaining the social media relationships your create.  It may take some time today, but it will pay off tomorrow in many more ways than just making a sale.
One of the important things to do is to make this effort on a daily basis.
Post a status update on your Facebook timeline, or on your Facebook Page, two or three times a day.  Tweet consistently in the same manner.  Contribute to your other social platforms in the same way… YouTube, Pinterest, whatever you use regularly.
Make sure all your social shares do several things:
offer updates in your niche (ie., "did you hear the latest about ____?")

showcase your personality (be social)

create your brand as an expert, authority, as entertaining or whatever your brand is.  Do this by being informative.
A particularly good way to accomplish your goals, is to offer lots of valuable information to people in your niche.  Find them in groups, circles, lists and so forth.  Wherever people of like interests congregate.
So if you're branding yourself as a weight loss consultant, hang out in communities where people are interested in health, fitness, and exercise.  Engage in conversations about weight loss when appropriate, and offer advice, valuable information, cool diets, recipes… anything that might have people in the niche view you as an authority who is willing to freely share value.  
Be personable, share your knowledge, and start making some friends and building lasting relationships.  You can further increase engagement by being humorous, friendly and approachable.
Social Media Strategies

Once you've engaged with folks for a while, and have built some good will on social media platforms, you can start your list building campaigns.
This is where you can actually combine the link dropping and relationship building tactics.
While I clearly prefer building relationships to just dropping links, when it's time to build your list you need to start linking to squeeze pages.  That's where people can sign up to join your email list, usually in exchange for something you'll give them.
Sharing squeeze page links with people who you've already developed some rapport with, is entirely different than blatant link dropping on folks who don't even know you.
Don't think you can never share list building links, just do it the right way.  When you do, people will actually be happy to join your list and receive your emails.  Especially when you offer them something of value in exchange for their subscription. 
You valuable offer should be positioned as something that is a "must have" in order to gain a certain benefit, and of course, it needs to be free.
Something like this:
To lose weight permanently, you need to develop the right mindset.  Enter your email address and I'll send you my free report called 'How To Create A Thin, Trim Mindset'. 
So, sure, promote your offers and build your list, but do it with people you have some sort of relationship with.  Do it with a compelling free offer for something of great perceived value… and, oh yes… one more thing:
Only drop links to offers in 10% to 20% of your links.
If you do it more often, people will start viewing you as being self-serving rather than as an authority who willingly shares great information on a regular basis.
You can put links on social media platforms to drive traffic from your social media accounts to opt-in offers.  Just do it the right way, and you'll be list building with social media in no time.
Do it the right way, and you can even generate viral traffic to your opt-in pages.  That works when people truly perceive you as a valuable go-to person, because they are far more likely to share your posts, even those with opt-in links, with their friends. 
Another way to make your social shares and link drops go viral, is to give clear calls to action such as 
"tell me your favorite___"
These engagement posts can  generate lots of talk, shares and even opt-ins when combined with list building links.
Keep in mind, too, that building your list of subscribers through value sharing and engagement will lead to more than just a list of people.  It will build a highly "qualified" list of people who have a sincere interest in your offers, and will therefore be more responsive. 
Being responsive in list building jargon means that they are far more likely to open your emails, read your newsletters, click through on links embedded there.  They will be more likely to buy your products or become paying clients. That's because they have demonstrated a genuine need and desire for what you have to offer, by virtue of following you on social media sites, and then taking additional action by joining your list.
This just scrapes the surface of the many way you can start building a great subscriber list from your social media platform interactions.
I'll be presenting a live webinar next week called
 "List Building Leverage With Social Media" 
I'll show you in much greater detail
ways to bond and build trust with people on social platforms

methods for finding and engaging with people in your target audience

ways to create and give away quality offers that  will entice folks to opt-in to your list

enhance your reputation as an expert in your niche
Get All The Details here for "List Building Leverage With Social Media." 

I'd love to have you leave a comment below.
Do you use Social Media to build your list?
What are your favorite List Building strategies?