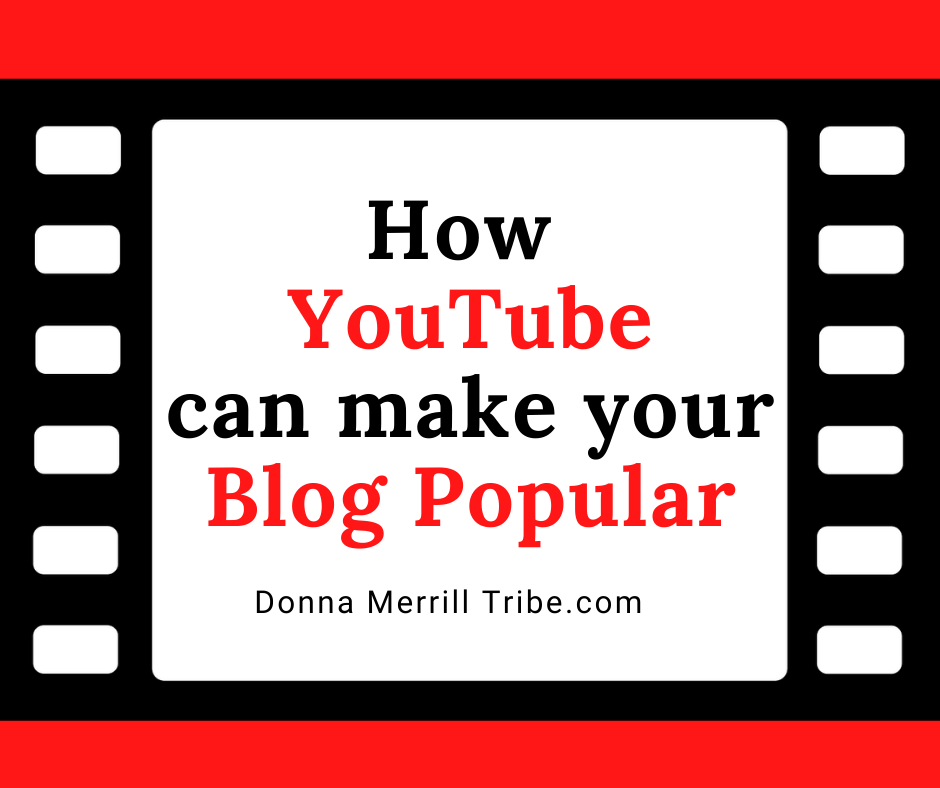 YouTube can help make your blog popular in various ways.
Developing an active YouTube presence can be a big bonus for bloggers.
In the last few years, video has become an essential medium for you to utilize.
And there's probably no better use of video than a YouTube channel.
It's the most visible and popular video upload platform.
And it's free to use!
So bloggers should definitely take advantage of it.
Here's why.
Host your videos
You see, YouTube is a free way to host your videos.
If you had to put your videos on your desktop, it would soon make your computer so slow and cluttered it would become unreliable.
It could even crash altogether.
So you have to find a way to host your videos somewhere other than your computer.
You can pay for storage.
Vimeo, Amazon S3 and others allow you to store lots of videos, but you have to pay for their service.
You can store your videos to the cloud with Google Drive or a similar cloud storage service.
Once again, though, that can get fairly costly.
You can also back up your videos to an external hard drive.
But once more, it can get costly, and also quite difficult to manage.
It becomes a hassle to always upload videos to an external device, then temporarily download them again each time you need them.
So YouTube provides a solution to these challenges.
Build a following with YouTube
YouTube is much more than a technical solution to these kinds of things.
More importantly, it's a great way to build a following.
Not just on YouTube, though.
On your blog, too.
That's how YouTube can make your blog popular.
Here's how it works.
You see, YouTube is not just a video storage platform.
It's also a search engine.
Not just any old search engine, either.
It's actually the second biggest search engine on the internet.
The only one bigger is Google.
So you can get lots of traffic to your videos with YouTube search.
Google search
But when you publish videos to YouTube, you actually get two search engines.
Yes, you optimize your videos for YouTube search.
But YouTube is owned by Google!
So your YouTube videos also get a good chance to be ranked by Google search as well.
That's a pretty big deal, especially since your videos can link directly to your blog.
Drive YouTube traffic to your blog
When you publish a video on YouTube, there are several ways you can send viewers to your blog.
One way is to simply link to your blog in the YouTube description field.
That's where you can describe what your video is about.
Part of that description can be a link to your blog, or to a specific blog post on your blog.
So if you just posted a video comparing one dog food with another, you might want to link it to an article on your blog called "Not all dog foods are the same"… or something like that.
After a YouTube viewer watches your video comparing two dog foods, they may be interested in learning a bit more.
So they could click the link in your video description, and end up on your blog.
Make this happen regularly and often enough, and you'll quickly see how YouTube can make your blog popular.
Build your email list
But you don't have to send viewers directly to your blog.
You might prefer to send them to your squeeze page.
Just offer something simple like this…
"Get my free article showing why Not all dog foods are the same."
Then send them a link to your blog post with that same title.
If you want to get fancy, create a pdf of your blog post.
Then deliver a download link to it when people join your list.
Market an affiliate product
After someone signs up for your email list, you could redirect them to a landing page designed to sell an affiliate product.
So, let's say they click submit on your squeeze page.
They get redirected to a page that says something like, "Thanks for signing up. Your free ebook will arrive at your Inbox in about 5 minutes. While you're waiting, I think you'll find this "Keeping Your Dog Healthy" manual very interesting. Click this link to learn more about it."
Only a tiny percentage of people who see this page will buy your affiliate offer.
But some will!
Meanwhile, you are going to be able to pitch the offer to them again, in your email messages.
So when they see it there, they'll recognize it from this offer page.
And naturally, you'll be pitching many affiliate offers to people who sign up for your email list.
Besides pitching offers, though, you'll be able to keep your subscribers up to date on every new blog post you publish.
By driving people continually to your articles in this manner, you can quickly make your blog popular.
This is called a sales funnel.
And, remember, it all started with a YouTube video.
Grow your audience with YouTube
Besides building an email list, YouTube can make your blog popular by helping it to grow an audience.
Here's how.
Social media links
One of the great things about YouTube is that it allows you to link directly to your blog.
I've already mentioned how you can put a link to your blog, or to any post on your blog, right in the description field of your YouTube video.
That's a great way to get people to click to your blog or blog post.
But it's also a great way to grow your audience with other social media links, too.
You might be seeking to connect with people on LinkedIn, Twitter, Facebook, Pinterest or any other social media platform.
No matter what platform you're using, you can post your YouTube videos on them.
And there's two really good things about that.
First, social media sites and their users just love video.
Because they get to see and connect with real people.
So it's social… just what social sites are looking for.
Therefore, when you post YouTube videos on social media, your posts will be given priority over all other posts.
That means, they'll get seen more than just text, or even image posts.
The second good thing about posting your YouTube videos on social media is that they all link back to your blog.
Well, they link to YouTube of course, and to your YouTube channel.
But they link indirectly, via your description links, to your blog.
So linking to your YouTube videos on social media sites is a really powerful way to grow an audience for your blog.
That, in turn, can quickly make your blog more popular.
Find a new audience
YouTube also helps you grow your blog audience through the YouTube search function.
And it does this in two ways.
First, of course, people can find your videos by doing a YouTube search.
Second, people can find your videos by doing a Google search.
And since Google owns YouTube, it gives preferential treatment to both your videos and your blog posts that have linked to YouTube videos, and embedded them within those posts.
No matter what size your audience is now, you must always be looking for ways to find new people, and expand your audience.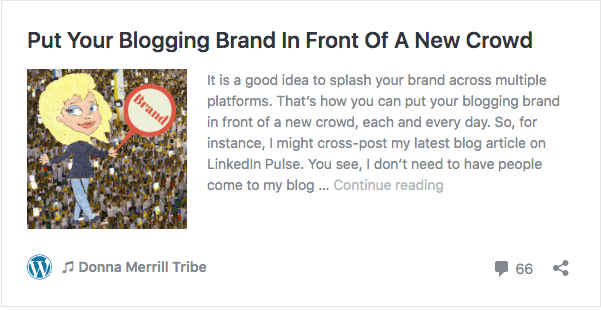 That's how your blog grows and thrives.
YouTube is an excellent place to find those new people.
Not only from your videos that you post there, but also from the right hand sidebar of YouTube's "related videos."
Those are videos related to the one a viewer is watching.
This is a great benefit to you if you don't have much of a YouTube following, or you don't get many views.
You see, if you use keywords and tags in your video that are related to a very popular video, then it stands a decent chance to get seen.
Let's say, for instance, there is a really popular video on "how to create an image on Canva."
Now, you make a video on the same topic.
So you use keywords similar to those of the really popular video.
When people go to see the high-ranking, very popular video, they may also see your video thumbnail on the "related videos" sidebar.
Since it's about the same topic as the other video they are watching, they may very well click to see what you have to say about it.
Therefore, you will actually benefit by having videos on very popular topics.
It's a great way to get noticed by a new crowd of people, and build a new audience to add to your existing one.
YouTube helps build engagement
People feel like they know you when they see you on a video.
Or, if you're not appearing on the video, they get to hear you.
And that's almost as engaging, sometimes even more.
Think of how you feel when you see someone on TV.
Do you feel like you know them?
Like they could be your neighbor or friend?
If you do, it's because you see them, so become real to you.
How do you feel about people you never see, but only hear them on the radio?
It's probably almost the same connection, isn't it?
Most people are far more likely to engage with you when they see and hear you on your YouTube video, than they would by simply reading a blog post you wrote.
That engagement will often lead to them taking important steps.
Like subscribing to your email list.
Or leaving a comment on your video or blog.
They might even start following you on other social media platforms, like Facebook, Twitter or others.
As your engagement level increases, you will find that your blog posts will become more popular.
And Google will see it as an important SEO factor, and start ranking both your blog posts and your videos higher.
So even more people will be able to connect with you.
You see, the kind of engagement level you can generate from YouTube can really have a snowball effect on your blog's popularity.
It's yet another way that YouTube can make your blog popular.
YouTube and your blog's brand
Your blog stands for something, right?
I mean, it has some kind of mission, or purpose.
Whatever it is… that's your blog's brand.
Does your blog try to help people learn more about WordPress?
Or maybe it walks people through a particular self-help journey?
How about making people healthier by eating right?
What is it that your blog is all about.
That's your blog's brand.
And as a blogger, it becomes your personal brand.
Well, YouTube can really help you build your brand.
If you're posting videos on a fairly regular basis, then people are going to increasingly come to know you.
And they're going to get familiar with your blog's brand.
When they see that you give good information on your videos, and really seem to care about your audience, they will not only know your brand, they will also come to trust it.
That means they'll be more likely to
click links to your blog,
sign up for your email list,
open your emails,
click on links inside your emails,
buy products you create or affiliate, and
hire you or someone you refer to perform services.
How YouTube can make your blog popular
YouTube can make your blog popular in so many ways.
Branding is one key way that it does that.
But I've also shown you other ways, like
building trust and engagement
expanding your target audience
building important social media links
host your videos
build your email list
improve your Google ranking
drive YouTube traffic to your blog
market affiliate products and services, as well as your own

So, now, I'd like to hear from you.
Do you have a YouTube channel?
Are you a regular contributor, or an occasional one?
How do you think YouTube might best help you to make your blog popular?
–Donna
PS: Please share this article with your social media friends, too 🙂