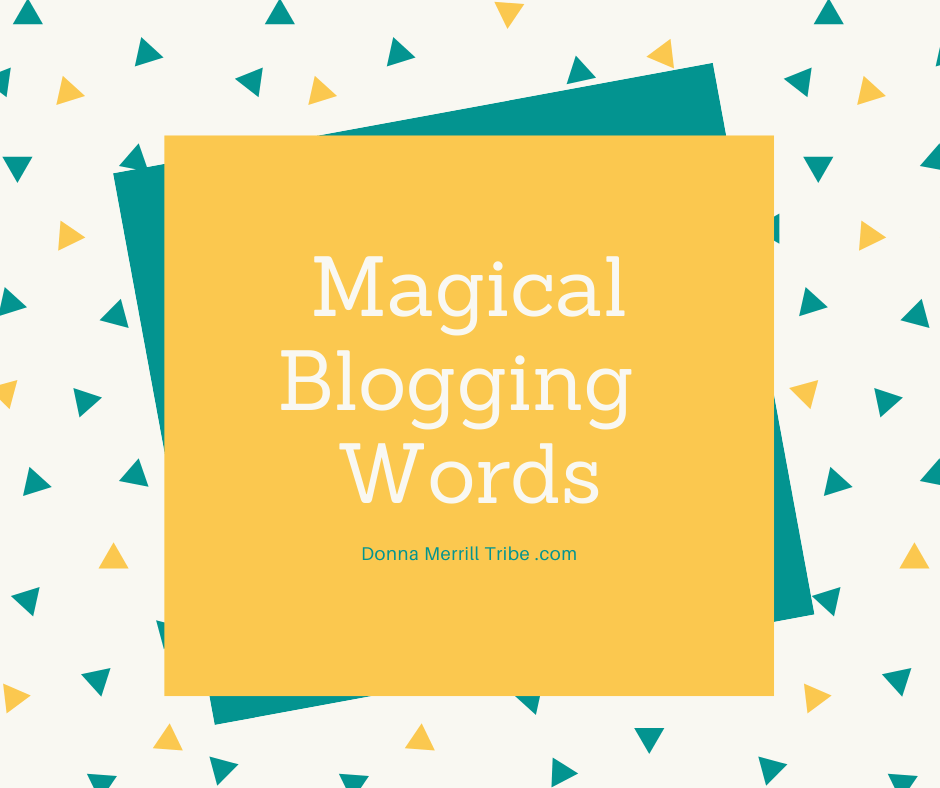 Do you use magical blogging words in your articles?
What are your favorite blogging words?
By favorite, I mean ones that you use most often.
You see, I read lots and lots of blog posts.
I read other bloggers in my niche.
And I read other niches, too, on topics that interest me.
I also read many blog posts from students and clients in order to help them blog more effectively.
So, here's what I've found over the years.
Most bloggers develop their own style.
Part of that style, is their personal use of words.
Knowledgeable bloggers
For instance, you might use words that let people know you are very knowledgeable in your field.
In so doing, you are probably trying to brand yourself as an expert in your niche.
So you'll find specialized words peculiar to your niche.
If you blog about horse racing, you might use special words like…
superfecta
mudder
odds board
miler
Using these sorts of words magically transforms you from just a casual observer, into an expert on horse racing.
That's because non-experts may not be familiar with the jargon that you seem perfectly comfortable with.
So, the magic of your knowledge-based blogging words, is that they
impart knowledge
transform you into an expert.
Helpful bloggers
Do you consider yourself to be a "helpful" blogger?
If so, you are probably helping people to find things they are looking for.
Or you help them to choose between several options.
For instance, the focus of your blog might be to review products.
Maybe you review vacuum cleaners, books or software.
So your blog helps people to find the right vacuum for their needs.
You might use words like,
best
cheapest, or
the "top 10"
But those kinds of words usually tell a reader that you're trying to sell them something, not just reviewing it.
If you say, for instance, "this is the best vacuum," you're probably trying to get them to buy it.
But you could say "this vacuum could be what you're looking for, if you want…"
Or, "I've found that this vacuum works well in situation A, but not so much for B."
You see, these words are magical because they
actually help people make an informed choice
show your readers that you want them to choose wisely
Inspirational bloggers
Inspirational bloggers try to inspire people to achieve their goals.
For instance, you might show people some meditations they could do to improve their self image.
Or you could help them get past their regrets or failures, by getting them to understand all the things they should be grateful for.
With these kind of insights, you lead people away from their negative inclinations and onto a more positive path.
You could inspire people to be more constructive by using words like
self-fulfillment
actualization
empowerment
The magic in these kinds of words is that they show people the way out of their descent into doom and gloom.
They inspire people to seek a better way.
And they show them that you understand what they're going through, and that you have sincere empathy for them.
The nature of magical words
Up to now, we've talked about the magical ways that words can help people.
They can improve their level of knowledge, information and inspiration.
When you blog using magical words to help people do these things, you are helping them improve their situations.
So, for instance, if they can't make enough money from their job to pay the rent, you might help them learn ways to supplement their income with a side hustle.
If they want to learn how to trade commodities, you could teach them.
And if they wanted to find an expert on juicing, you might show them how to buy a good juicer, as well as how to combine specific fruits, vegetables and supplements for their specific needs.
Transformative words
But words are only words.
They are not absolute.
I mean, they can't change people's lives in and of themselves.
People need to actually put the words to use, and do it correctly to effect the end result they're looking for.
That requires more than just knowledge or information.
It requires a transformation in your reader.
Words only become magical when they are transformative.
When they actually change people's lives.
Those are the magical blogging words you must use in order to build a real business.
A business that can have a real, profound and magical impact on people.
Persuasive words
Now don't confuse magical words with persuasive ones.
It may true that convincing people you are knowledgeable, helpful or inspirational can benefit you.
Or, at least, it can benefit your blogging business.
That's because your readers will be more likely to convert into buyers, clients, subscribers and fans after they have been convinced of your authenticity.
And authentic, you may well be.
But do you offer a transformational experience?
Blogging to change lives
When you help people to actually change their lives, then you are offering them a transformational experience.
But you can only do that when you learn to use magical blogging words.
That's because transformation is magical.
You see, words are logical.
Experience is not.
Words describe something that may be real, like "success."
But the words, themselves, are not real.
They are only symbols that can try to describe the how, what, when and where of "success."
But they are inadequate to actually transform someone so that they become successful.
Magical words, on the other hand, don't focus on logic.
They go above and beyond it.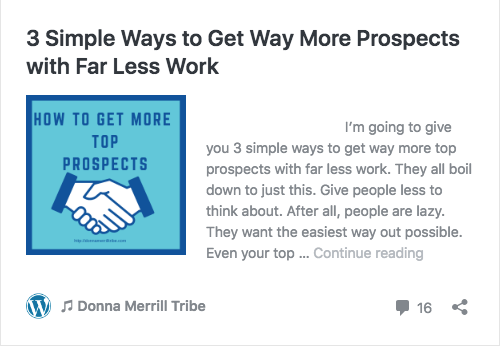 Rather than just teach or inform, they point the reader down the path to actually experiencing something… like success, for instance.
Like the Christmas ghosts in Dickens' Christmas Carol, you can point your readers see what their situation IS, or HAS BEEN, or CAN BE.
But their situation has to be experienced, not merely explained.
That's why the 3 Dickens ghosts don't merely tell Scrooge about his past, present and future.
They don't lecture him about it.
Instead, they take him there, and show him his past, present and future.
As a blogger, you can change people's lives when you help them change their situation.
But you have to demonstrate how.
And some words are key to this demonstration… to showing them how to change their situation.
Those are the magical blogging words.
How to use magical blogging words
Magical blogging words can be used to help your readers in two ways.
1- Demonstrating
First, by demonstrating what needs to be done.
You can demonstrate how something works by doing it yourself.
Use words, images, video… whatever it takes to show your readers exactly how you or someone else actually does it.
Example:
You write a blog post about "How to use YouTube marketing in your business."
Now, for this article to show people how to do this, it must go through all the key steps.
Something like this…
Open a YouTube account… here's how I do it.
Create a channel… here's how I do it.
etc., etc. … here's how I do it.
You see, the magical words here are "here's how I do it."
You don't need those exact words, but some equivalent form.
Maybe "watch how I did it," or "let me show you how," etc.
There's a million ways to say it, but the magical words must convey the key concept.
And that is:
"You are reading this blog because you want to do YouTube marketing in your business. I will demonstrate how I do it, and then you can do it."
Notice, the magical word here is "do."
It's not "learn" or "understand" or anything like that.
In order to make this a transformative experience for your reader, you must focus on what they need to do.
Because that's how they'll actually benefit from all this.
And it's how YouTube marketing can become a life-changing undertaking for them.
2- Sandboxing
I'm talking, here, about setting up a situation for people to copy what you just demonstrated.
Once you've shown people how you do something, you have to get them to do it.
That's what the sandbox is for.
Sit here, try it out, and if it falls apart, try it again.
Until you get it right.
The magical words are "Sit in the sandbox and try it yourself."
Or something that means the same.
The idea is that whatever gets done in a sandbox is only temporary.
So you're free to test and test and try and try until you get the feel for how to do it.
Then you can level the sand, walk away, and return to your business.
That's where you'll make things happen for real.
It really is magical for people to put something together and have it work.
That's what accomplishment is all about.
Magical blogging words you must use
Magical blogging words point the way to achievement and attainment.
They help people reach their goals.
Magical blogging words assure your readers that your heart is intent on helping them.
Whatever it takes.
To make your blog article transformational, you want to find the magical words that can
make a difference for people
improve their lives
change the way people think about things, and therefore, the way they do things
Magical blogging words can elevate somebody's situation.
They can help them get better results, larger profit, or whatever their goal is.
Moreover, they can transform the low achiever into a high achiever, the hopeless into the hopeful.
And they can turn a struggle into a dance.

Does your blog help people to transform their lives?
I would love to hear about you and your blog, and your journey.
What kind of magical blogging words do you think you could use to improve the lives of your readers?
-Donna
PS: Please share this article on your favorite social sites in addition to leaving your comment below.
Thanks 🙂