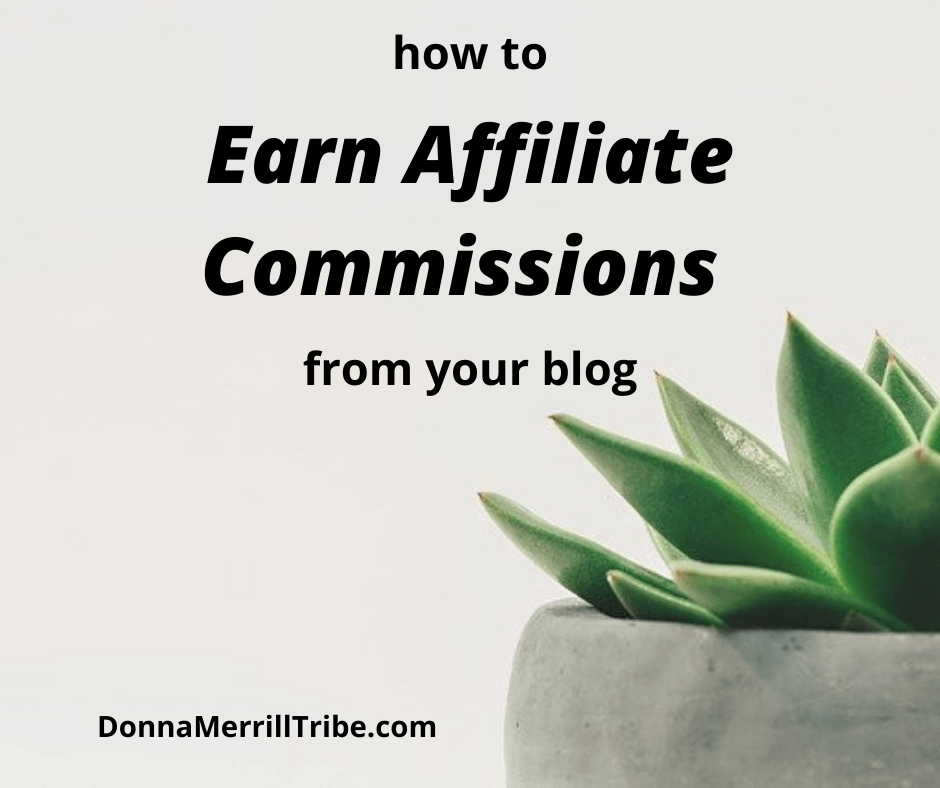 New bloggers often wonder how to earn affiliate commissions from their blog.
They may have heard that you have to promote affiliate products on social media in order to reach masses of people.
After all, aren't there a lot more people on Facebook or Twitter than on your blog?
This is especially true for new bloggers.
But really, any blogger would have to think that the big social media platforms are better places to earn affiliate commissions.
I'm going to show you, though, how your blog can actually be the biggest source of affiliate commissions.
How to earn affiliate commissions
So, here's what it takes to earn affiliate commissions from your blog, social media, or anywhere else.
You need to have an affiliate link for a product or service.
That can be obtained from any affiliate program.
For instance, Amazon has an affiliate program.
If you want to promote, let's say, a baby monitor…
Just get an Amazon affiliate link for a specific baby monitor.
Then you can write a blog post about it.
Simply link to it in your blog post.
Then, you can earn an affiliate commission if somebody clicks the link and buys the baby monitor.
You can earn an affiliate commission from just about any product or service in this way.
Earn affiliate commissions from social media
Even if you don't write a blog post about the baby monitor, you can still earn an affiliate commission from your link.
You can share that link anywhere.
Typically, this is done on social media.
Post your affiliate link on any social platform, like Facebook, Pinterest or anywhere else.
Again, if people click your link and make a purchase, you will earn an affiliate commission.
Why social media doesn't work
So here's the thing that new bloggers will often do.
Instead of taking the time to write a blog post, they'll just spread their affiliate link all over social media.
It's tempting.
I get it.
'
But it just doesn't work.
Simply pasting your affiliate link on Twitter, for instance, is not likely get you any commissions.
That's because everyone does it.
And unless people know who you are, or have developed a relationship with you, and really trust you… they will probably never buy anything from some random link you post.
Social media just doesn't do the job.
Or at least, social media alone doesn't do the job.
Earn affiliate commissions from your blog
The great value of having a blog is the recognition you gain from it.
If you combine that recognition with the power of social media, then you've got something worthwhile.
You see, if you write a good blog post about your affiliate product, then you have something of value to link to on social media.
Say you're in a Facebook of LinkedIn group that focuses on newborn babies.
First of all, you need to be actively involved with others in the group.
They need to know who you are.
Building relationships
And they need to see you in the group, interacting with others on a regular basis.
If you post your affiliate link to a baby monitor, you will still probably never earn an affiliate commission.
People just don't like being sold to.
But if you publish a blog post you wrote about the best baby monitors on the market, let's say, then you are giving value.
You might get quite a few people to check out your blog post.
And you could even start getting some people who will buy the baby monitor from the affiliate link you embed in your blog post.
That's because they know who you are.
And they have come to trust you because they see you being active in the social media group.
Also, because you actually blog about things that are helpful.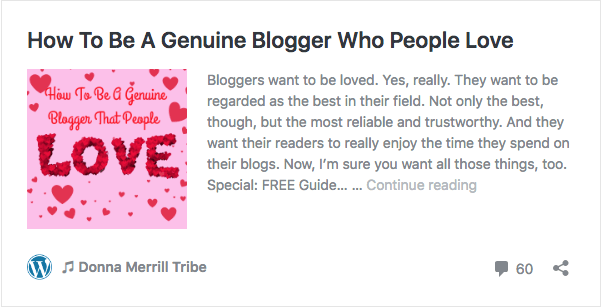 In this way, you've gone beyond just being an affiliate marketer trying to make a sale.
Instead, you've become a friend, maybe even a mentor, interested in building relationships with others.
How to get started
First of all, get yourself a domain name and a hosted blog.
One other thing that's essential… an automated email service.
This is the easy part.
Here's a quick look at how that all works…
Narrow your focus
Choose a niche to specialize in.
You can't promote everything to everyone.
By carefully choosing a niche for your blog, you'll be telling people that you specialize in something.
It might be juicers, web page design, legal advice.
No matter what it is, you can now focus on building your business around a very narrowly defined audience.
That will make it way easier to earn affiliate commissions from your blog.
Sell a few good products
Once you start posting articles on your blog, try to skew them toward a few specific products.
Don't try to sell everything to everyone.
And don't even try to sell everything to a target audience.
Instead, try to sell carefully chosen products and services to a clearly defined audience.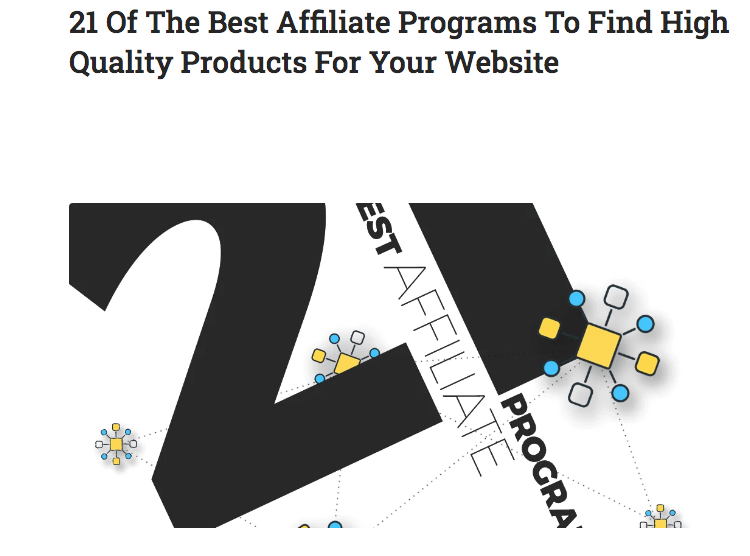 Click the link below to read the full article on nichhacks.com
21 Of The Best Affiliate Programs To Find High Quality Products For Your Website
Start by promoting just a very few products.
You can always add to this list of products over time.
Build an email list
Now, it's true that you can start earning affiliate commissions from visitors to your blog.
But, it's also true that a very low percentage of them will actually click your affiliate links and make a purchase directly from your blog post.
It will happen.
But the more reliable way to build your affiliate business from your blog, is this.
Use your blog as an opportunity to get interested people onto your email list.
When you do this, you will have many more chances to share your affiliate links to exactly the people who have indicated that they are interested in what you do, and what you sell.
They will indicate their interest by subscribing to your email list when you invite them to.
So, yes, include your sales links in your blog posts to earn those affiliate commissions.
But work even harder at getting people onto your email list.
That's where you can really grow those affiliate commissions into the online business you want.
Write compelling blog posts
The key to all of this is to write really good blog posts that help your viewers solve a problem, or that improves their lives in some other tangible way.
If somebody is looking for the best dog food supplements, and you give them some good guidance on that topic… you are improving their lives.
Nothing is too trivial or insignificant toward improving peoples lives.
I've had bloggers tell me that they write about cell phone plans or stationery supplies or other topics that may seem relatively insignificant.
But when you lead somebody to a better cell phone plan, or the stationery supplies they were having trouble locating, you are improving their lives to some extent.
If you weren't, then they wouldn't be reading your article in the first place.
So write really good content so that people learn to trust you, and value your articles.
That's when they'll start clicking on your affiliate links.
How to earn affiliate commissions from your blog
So many bloggers think that social media is the key to earning affiliate commissions.
They've heard it's a lot easier to just blast affiliate links on Facebook than to build a website and start developing high quality content.
So, I'll grant them this.
It is easier.
But it doesn't work.
As with most things, the easy, push-button shortcut is plenty alluring.
But it will lead you down a dead end.
If you want to build an affiliate business, then I suggest you take the steps outlined in this article.
They may mean more work and a small investment.
But they work.
Once you have a blog, and are adding valuable content to it regularly, then you can start promoting that blog on social media.
When people visit your blog and find it to be valuable… then you'll be getting somewhere.

What do you think?
Leave me a comment below.
Let me know…
Are you going to start exploring some of these ideas?
Do you agree that this is a good way to earn affiliate commissions from your blog?
-Donna
PS: Don't forget to share this article on your favorite social sites. Much thanks 🙂