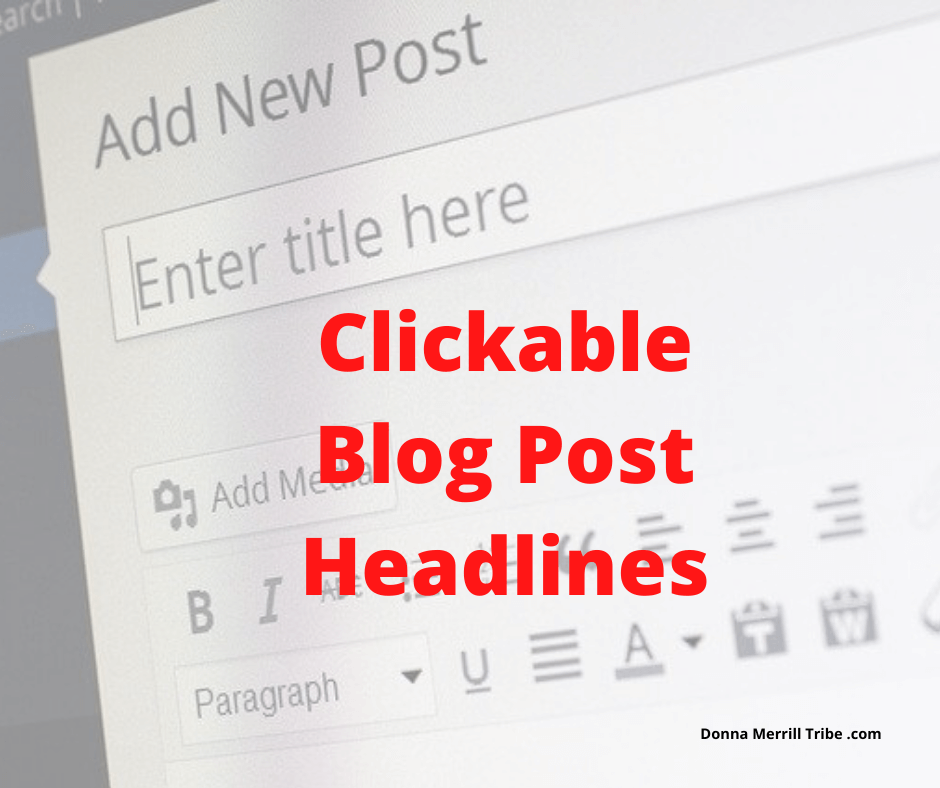 Everyone wants to write clickable blog post headlines.
That's the very first step in getting people to read your blog post.
If your headline sounds boring, too technical or of little interest, then people won't click through to your blog.
But if, on the other hand, it sounds exciting, promising and relatively simple, then you should be getting lots of clicks on it.
And the search engines will rank your post higher as it gets more and more clicks.
There's nothing Google and other search engines like more than popular sites.
That's why you want to always strive to use highly clickable blog post headlines.
The success of your article begins there.
How to write
good
blog post headlines
To write good blog post headlines, you need to summarize the main purpose of your blog post.
So let's see what that involves.
If you write an article about personal exercise programs to get in shape, for instance, here's what your outline might look like.
Different exercise routines for different lifestyles…
stay at home moms
commuters
students
office workers
weekend warriors
So, now, you look back over your article and see what kinds of things it covers.
Well, obviously, it talks about exercise.
But, what else?
Well, it goes over various kinds of exercises for a variety of settings.
Your readers might be people interested in home exercises.
But, you also show them exercises for the office, sitting in traffic and other types of settings.
So, the exercises your readers might be interested in will depend in large part on their lifestyle.
Writing the headline
Now, it's time to come up with a good headline for this blog post.
Your blog post talks about using a variety of exercise routines based on a person's particular lifestyle.
So how about something like this…
"Finding an exercise routine that fits your lifestyle."
Not bad, eh?
It gets right to the point.
I'd say this is a pretty good blog post headline for that article.
It tells your readers what the essence of the article is, and it does a nice job of summarizing it.
How to write
clickable
blog post headlines
It's okay to write a good headline.
But you want to do better.
You want to write clickable blog post headlines.
In other words, you want to write a headline that will get people to click on it so they can read your article.
So, let's do it.
Headline writing techniques
There are lots of techniques you could use.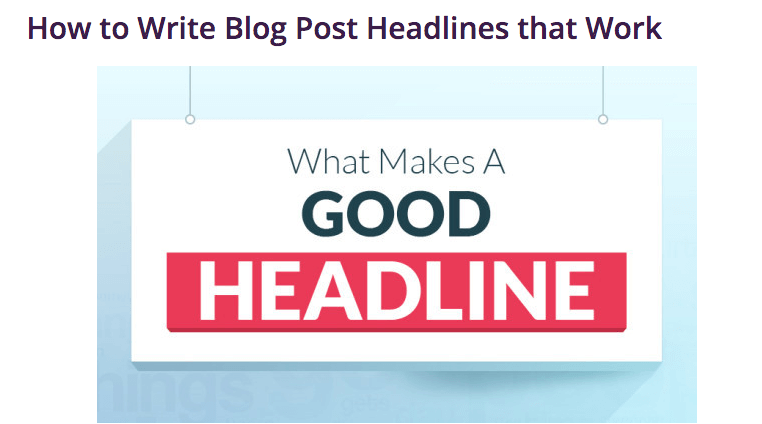 Mike Gingerich shows you exactly how to write
clickable blog post headlines that really work.
But this is the most important one…
Highlight the benefits
The most important technique of all is to use your headline to convey something that will benefit your readers.
After all, nobody wants to spend their valuable time reading something that does not benefit them in some way.
Your title could say something like "My favorite exercises."
But what sort of benefit does that shine a light on?
None, really.
I won't benefit your readers much by learning what YOUR favorite exercises are.
You might argue that it's a good headline because it summarizes the article accurately.
But so what?
It doesn't point out any clear benefit to your readers, so it's not a clickable blog post headline.
Sample of a clickable headline
I might go for something like this…
"Get in tip-top shape with these exercise routines."
It benefits me, as your readers because
it shows them how to get into "tip-top shape" (the main benefit)
they'll get some specific exercise routines to follow (a secondary benefit)
Here's why that is a clickable blog post headline.
If those are two benefits I'm looking for, I'm going to click to read your blog post.
I want those benefits.
How to write
incredibly clickable
blog post headlines
It takes some effort to write good headlines, and even more to write clickable ones.
But to write incredibly clickable blog post headlines, you have to think more like a marketer than a blogger.
Writing great content takes creativity, research and honing your writing skills.
But writing incredibly clickable blog post headlines takes keen marketing savvy.
So, looking at the above example, you can see how important it is to underscore the benefits your article offers to your reader.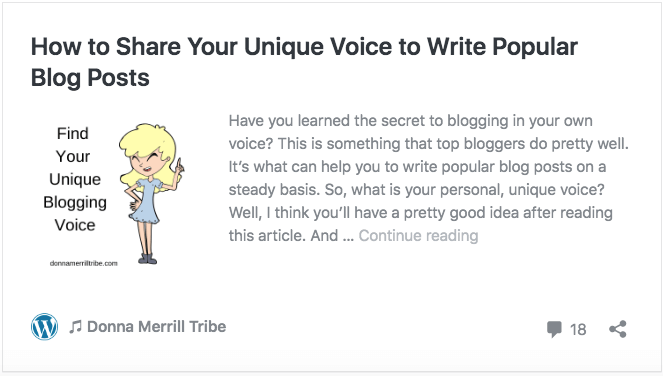 Now to market that article, and impress those benefits deeply into your readers' psyche, you need a headline that commands their attention.
To do that, you have to do several things.
Qualify the benefits
Don't just tell people that they'll benefit them from your blog post.
Use words that show them how.
Add power words to support the quality of those benefits.
Words like
easy,
fast,
amazing,
proven
and thousands of others…
will help you tap into the desires your readers have.
And by satisfying those desires, you are establishing clear, sometimes subconscious benefits.
Example of an incredibly clickable blog post headline
So let's write a headline that uses some of those features.
Here's an example…
"Easy 10-minute exercise plan guarantees a fabulous 'you' in just 30 days."
This headline is incredibly clickable because it is so alluring to people who are searching for the benefits it promises.
So let's break it down.
…Easy
The word "easy" is a major benefit to everyone.
Nobody wants to make things hard or difficult, especially exercise.
So "easy" is always a great descriptive word that packs both psychological and practical benefits to your readers.
…10-minute
This, again, let's people know it's easy, and they can obtain a benefit that won't take them all day to accomplish.
…Exercise plan
So, by using this phrase, you're letting your readers know that you're not just going to ramble on and on about some vague theories concerning exercise.
You're going to give them an actual plan.
That makes your blog post "actionable."
In other words, your readers can expect that by reading your blog post, they can come away with something they can put into action right away.
…Guarantees
This word shows your readers that you're serious.
You are guaranteeing them that they will be able to discover a "fabulous you" by following the exercise plan you are going to lay out for them.
People don't want to waste their time.
They don't want a lot of fluff and nonsense.
But your guarantee of value will often make the difference in whether or not your blog post is clickable.
…A fabulous you
Nobody likes to exercise.
But everybody wants the results they can attain from exercise.
What result is that?
Losing weight?
Improving muscle tone?
Looking better?
Feeling better?
I don't know.
And you don't know.
But we can all agree that everybody would be happy if they could become "fabulous" by following the regimen you are going to show them in this blog post.
They can define "fabulous" for themselves, as it pertains to their lives, dreams and ambitions.
And you can guarantee that your exercise plan is going to help them achieve it.
…In just 30 days
Here, again, you are appealing to the urgency of achieving a goal quickly.
If your readers can see results in just 30 days, they'll probably be pretty satisfied.
Now, they're getting excited about clicking on your blog post to see what you've got for them.
Avoid the Big Pitfall
Well, it all sounds pretty good, right?
Put together a powerful headline with some key concepts and phrases, and you've got yourself an incredibly clickable blog post headline.
That means you can get lots of clicks and traffic to your blog post.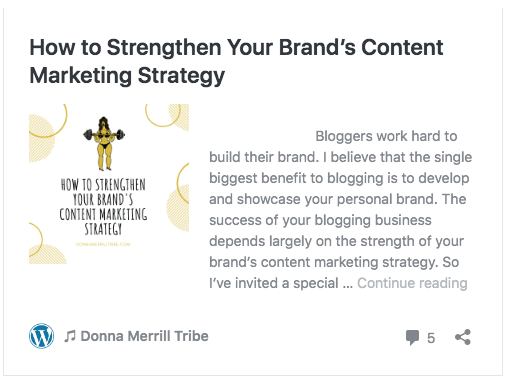 But wait.
Not so fast.
There's something else you have to consider.
And this is not an afterthought.
It's probably the most important piece of the puzzle.
You have to deliver!
Keep your promise.
A clickable headline is making a promise to your readers.
You're telling them, IF they click and read your blog post, they can expect to learn or obtain whatever it is that you've promised.
Caution
That's all great but here's what I'd suggest.
Don't oversell your promise.
If you promise to show people they can "learn how to swim," from your article, then you'd better write a blog post that teaches people how to swim.
Not just why swimming is a great activity and lots of fun, but how to do it.
You can make your promise big or small… but keep your promise… deliver what you said you would.
When to rewrite your headline
Read through your blog post very carefully when you've finished it.
Before editing, adding links, inserting images and all the rest, check to see if you kept your promise.
Does your blog post live up to the clickable headline you wrote to entice people to read it?
If so, that's great!
But if you've fallen short, you have two choices.
Continue rewriting it until it DOES live up to the billing you've given it.
or…
Rewrite your headline.
If your headline was "learn how to swim," but you find that you really only showed people how to tread water in a deep pool, then change your title.
Call it "learn how to tread water" instead.
In conclusion…
I've given you some different types of headlines you could write.
In the example above, we came up with three headlines.
Finding an exercise routine that fits your lifestyle.
Get in tip-top shape with these exercise routines.
Easy 10-minute exercise plan guarantees a fabulous you in just 30 days.
If you wrote that blog post, then you could choose any of the above headlines.
But you have to be sure that your blog post lives up to the various promises made.
Or, just choose another headline altogether.

I'd like to hear your thoughts on this.
Have you been writing good headlines?
Are they resulting in the level of traffic you hoped for?
Do you think this article will help you get to the point of writing some truly clickable blog post headlines?
-Donna
PS: Please share this article on your favorite social sites!