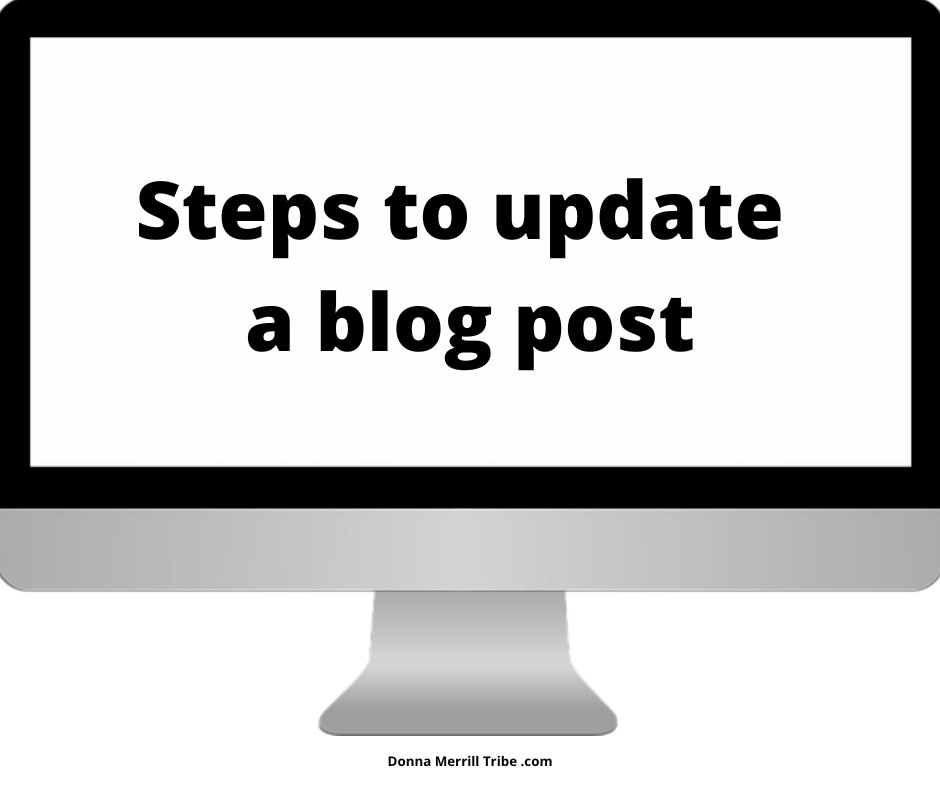 It's a good idea to update a blog post from time to time.
You don't need to do this for every single blog post you've ever published.
But key ones that you want to rank high for should be continually updated.
This keeps them current, of course.
But it also tells the search engines that you're keeping on top of things.
And for your blog, overall, the more of your blog posts that are updated, the higher the likelihood that search engines will give high authority ranking to your domain.
So think strategically.
Which of your blog posts need to be updated the most?
Next, develop a schedule for updating them.
Then, stick to it.
As for the actual updating process itself, here are 7 steps to guide you along the way.
Step 1. Blog post summary
The first thing you should look at is the summary of your original blog post.
Ordinarily, that would be found either in the first or last paragraph of your article.
What you're looking for here is a good sense of what your main conclusions were in your original article.
Your final conclusion
So, let's say you wrote a blog post about "Facebook ads for bloggers."
What was your conclusion?
For instance, you might have concluded that Facebook ads are effective, but really too expensive for the small, solo blogger.
Is that still your conclusion?
Or has your opinion or research made you change or in some way adjust your thinking?
It's possible that your updated blog post might have a different conclusion than the one you came up with in your original article.
But if your opinion is still the same, then you can update your blog post by making an even stronger argument for your position.
The general outline
Review the outline structure of your blog post.
Does it fit your revised blog post summary?
Suppose your updated "Facebook ads" article has basically the same conclusion as your original article.
Well, even so, you still need to do some additional research on the topic.
That's always necessary to update any blog post.
So your new research may require that you add a new section.
Or maybe you've just decided you should have added that section to begin with, so now it's time you do.
This will change your outline.
Maybe you never discussed what kind of images to use in Facebook ads, but now you want to.
So add that section. and revise your summary accordingly.
That's because your summary should repeat the main findings in your article.
For example, if you added a discussion on the use of images, you'll want to add that to your summary in order to accurately update your blog post.
Step 2. Outdated content
There are reasons you'll want to alter the structure of your article.
Most commonly, you need to add or delete new sections when your content becomes outdated.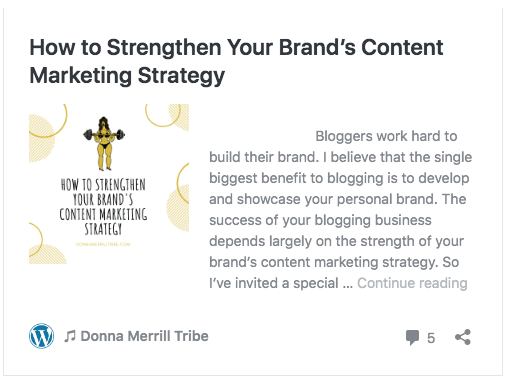 When you're writing about social media or blogging tools, this happens quite frequently.
Let's say you have an old blog post about the importance of sharing your content on the big social media platforms.
You might have a section dedicated to talking about how to use Google+.
Well, Google+ no longer exists.
So you'd have to delete that section.
If a new platform starts gaining recognition, you'd want to add a section about that.
It's important to update your blog post to keep it current, and correct any outdated content.
Step 3. Update links
Your blog posts should have plenty of embedded links.
Affiliate links
Some links may redirect to affiliate products.
So, if you're writing about fishing poles, you should be linking to fishing poles in your article.
You may be an Amazon affiliate, for instance.
So when you talk about your favorite fishing poles, embed some Amazon links to them so your readers can see if they'd like to buy any.
This is one of the most common ways that bloggers monetize their articles.
But it won't help you much if your affiliate links go to products no longer available, or to sites that have been taken down.
So make sure to review your affiliate and sale page links.
A big part of updating your blog post is updating your affiliate links.
And not only because you want to offer your readers an opportunity to make a purchase from your site.
But also because a big part of the SEO strength of your articles is whether or not they redirect to live, active sites.
So make sure all your links are good and current.
If not, replace them with ones that are when you update your blog post.
Content links
The same goes, of course, for content links.
If you are linking to one of your own articles so people can learn more about the topic you're writing about, make sure that link is in working order.
Even if it's your own link, it's possible that something happened to corrupt it between the time you first published your article, up to the time that you are reviewing it for updating.
Other content links will link out to other websites.
The same holds true.
Those content links should be in working order so that your readers can click over to outside articles to get some more information.
That creates a better user experience (UX), and establishes good SEO practice to help your blog post rank higher in the search engines.
Always check that your content links, like affiliate links, are in good working order when you update a blog post.
Step 4. Freshen up your images
Image links
While you're checking embedded links, take a look, too, at your image links.
If you tell people to "click this link" to be redirected to another site, or sign up for your email list, or whatever… the link in that image better take them to the site intended.
Otherwise, you need to fix it.
Image Alt tags
While you're at it, you should also make sure your images have Alt tags.
These are basically keywords that tell the search engines what your image is about.
So, for instance, say you're writing a blog post about "how blogging can help build your chiropractic practice."
Your featured image may be someone typing on a laptop keyboard.
Google has no way of knowing whether or not that image is relevant to your article.
But when you update your blog post, you can add Alt tags like "build your chiropractic practice," or "chiropractic blogging."
That gives a much better idea as to the relevance of your featured image.
Do this with all your images when you update a blog post.
Update your images
At the same time, you can swap out some of your old images for better, more up-to-date ones.
Or you can simply add some new images that will help make your blog post more visually appealing, or even offer some new information to your readers.
Step 5. New Calls To Action
Part of updating old blog posts should be to make sure your Calls to Action (CTA's) are the ones you still want.
Maybe a blog post you wrote a year ago asks people to get your free ebook to subscribe to your email list.
But, now, you might be offering a checklist or cheat sheet instead.
So, update your blog post to include your new Call to Action in place of the old one.
Or you might want to add a new CTA altogether.
Perhaps you just began offering a new service, like doing book covers for ebooks for instance.
You could add a new sales page link to make that pitch.
Or you might want people to answer a survey or take a quiz.
Review your calls to action and see if you can improve on them when you update your blog post.
Step 6. Develop a marketing strategy
What kind of marketing did you do for your original blog post?
Did you post it on social media platforms?
Which ones?
Did you reach out to people you mentioned in your article and ask them to help you promote it?
Or did you at least tag them in your social media posts?
These are just some basic social media strategies you might have used.
There are many others, of course.
What was your online marketing strategy when you first posted your article?
Or even in previous updates, if there were any.
So, now, when you update that blog post, you'll also want to update your marketing strategy for it.
See what worked when you originally published or updated the article.
Then use some of those things.
But, also, come up with some new strategies that you think might work better for your updated blog post.
Here's the thing.
As important as it is to update your blog post, it's at least equally important to update your marketing strategy to promote it.
Step 7. Review the title
After you're done with all your updates, and you have a new marketing strategy mapped out, you need to review your title.
The title is always the last thing to consider because you can't really tell what title to use until you've done everything else.
After all your revisions, the orignal title may not work anymore.
For instance, maybe your original title was something like "6 ways to build an email list."
You might have added 4 new sections during revision.
So now your title would have to be "10 ways to build an email list."
Or you might want to give it a title that shows it's current, so "6 ways to build an email list in xxxx" (and enter the current year).
You might have done even broader changes, and so your title would have to be changed even more.
7 steps to update a blog post
Now that you have the 7 steps for updating your blog post, it's time for you to get down to business.
Choose which blog posts are most important for updating.
Then schedule those updates to get done, with firm deadlines.
Doing this will help each of your updated blog posts rank higher.
And maintaining the process will go a long way to improving your entire blog domain's ranking and authority.
Now, I'd like to hear from you.
Leave me a comment below.
Tell me this.
Do you currently update each blog post you publish?
How often?
And do you have a specific process for doing it?
Has it helped you to learn of my 7 steps to update a blog post?
–Donna
PS: Please share this article on your favorite social sites