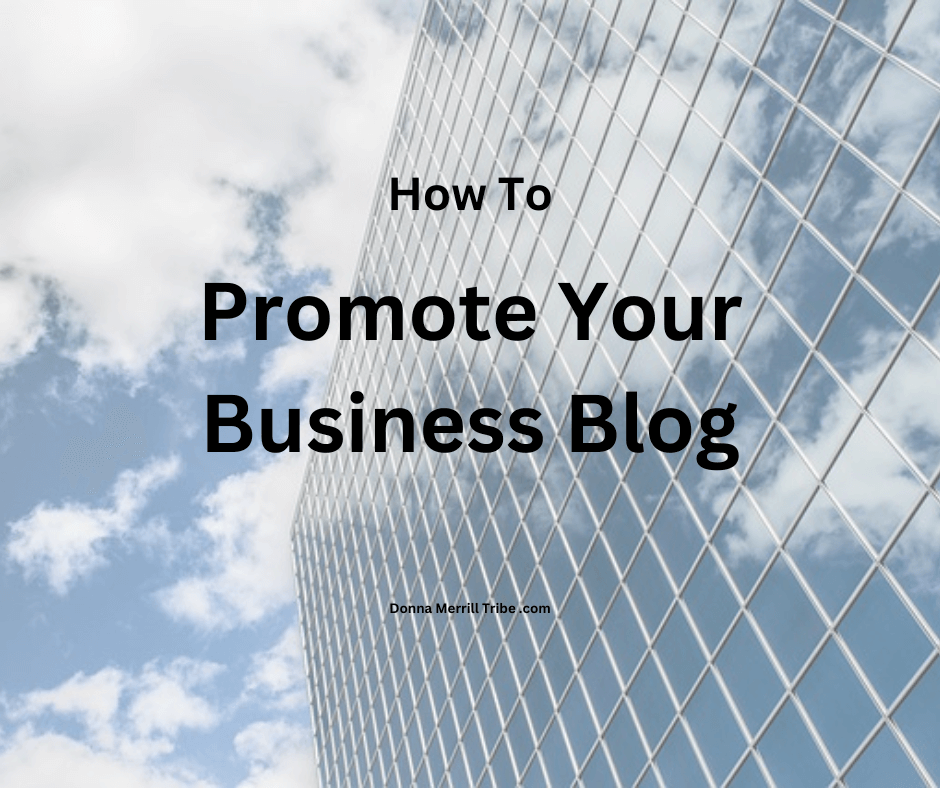 You need to promote your business blog if you want it to attract customers and clients.
It's important to be posting frequently to your business blog, of course.
But that won't get you far if you're not actually promoting the articles you post.
So let's talk about how you can promote those articles, and at the same time, promote your business blog.
Promote your business blog with email
If you have a business blog, one of the most important things for you to do is collect the names and email addresses of your followers.
Those are the people you need to keep in contact with.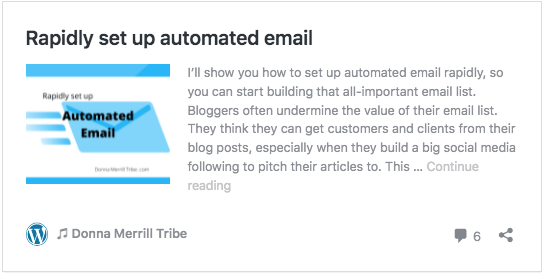 That's the biggest reason that most businesses even have a blog.
It's the best way to attract people who are interested in what you do.
And it's the best way to get them onto your email list.
How to get email subscribers
To attract good prospects for your business, you need to write blog posts that interest them.
Figure out what your target audience wants to know about.
More specifically, find out what their key problems and desires are.
This might take some market research.
Get to know the main demographics of your target audience.
Learn if they are male or female, for instance.
What age group do they fall in?
Determine their income level, interests and buying habits.
That's just a tiny sampling of the kind of market research you need to do.
The bottom line is this.
Get to know exactly who the people are you want to attract to your business blog.
Then develop content that will address their precise cares, concerns, problems and aspirations.
When they find your blog posts addressing those concerns, there is a good chance that they will want to follow you more closely.
That's a powerful way to promote your business blog.
And the whole process begins with people subscribing to your email list.
The best use of your email list
Once people have joined your email list, you have their permission to email them regularly.
people have joined your email list, you have their permission to email them regularly.
So you need to do that.
Over time, you'll learn how often your subscribers want to hear from you.
Remember, the goal here is to promote your business blog.
So you want to use your email list effectively to keep the attention of your subscribers.
If you're running a retail business and offering great deals, discounts and flash sales, then they might be happy to hear from you several times a week or more.
But that model doesn't work for all business blogs.
If you're a dentist, for instance, you might want to periodically send out emails about special procedures available in your practice.
But you can't do that every day.
People will get tired of seeing it and either unsubscribe to your list, or simply stop opening your emails.
Sending out emails once or twice a week is probably more appropriate for your dental practice email list.
Quality email messaging
No matter how often you decide to send out emails to your list, there is one thing of utmost importance.
That is the quality of the messages you're sending out.
Getting people the information they value is far more important than the frequency with which you send it.
And these are exactly the kind of communications you need to promote your business blog most effectively.
So, what is a high quality email message?
Well, first of all, you need to know what it is not.
It is not a message designed solely to promote your business blog.
Sure, that may be your ultimate goal.
But it's not what your readers are going to value.
They want answers to their questions and solutions to their problems.
And they're looking for strategies and resources to help them obtain their goals.
When you write email messages to deliver those things, your readers will be grateful.
That's the kind of high quality messaging that so few business emails give them.
And because of this, your email subscribers will be very likely to look anxiously for your next blog post.
So, yes, it's actually a great way to promote your business blog.
Promote your business blog through social media
Needless to say, social media is pretty much the king these days when it comes to any kind of promotion.
So it's not surprising that it's one of the best places to promote your business blog.
Choose a social media platform
Unless you have an unlimited budget for promotion, you'll want to choose carefully which social media platforms to focus your efforts on.
Facebook, Instagram, Pinterest and Twitter are just a few examples.
But they're probably among your best options.
You'll want to think about what platforms your audience frequents most.
Then start engaging with people on those platforms.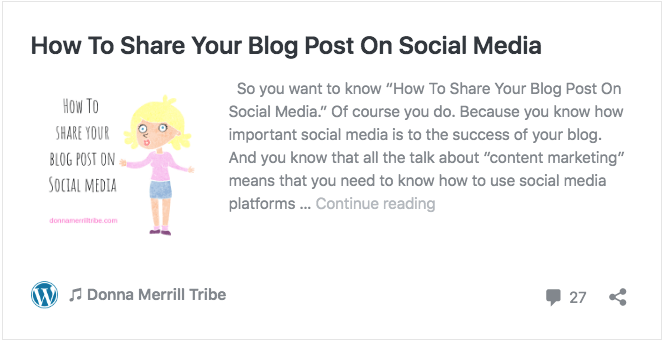 Not as a business, but as an individual trying to make connections and help others.
It's not important that people understand what your business is.
Just start giving helpful advice where it is needed.
Occasionally, you can start linking back to your blog posts.
This will help you promote your business blog without making direct pitches about your products and services.
It just flows naturally from your interactions with others.
Develop a consistent posting strategy.
Besides building relationships and making connections with others, you'll also want to post to your social media platforms.
The frequency with which you update your status on social media depends in part on which platform you're using.
Twitter, for instance, requires a pretty steady stream of posts, whereas you should only update your status on Facebook once or twice a day.
More important than the frequency of your posts, is the consistency.
WHen you make a habit of posting at regular intervals, people start depending on seeing you at those times.
If you change your pattern of posting often, then people become less interested in what you have to say.
You appear to be erratic and uninterested in your followers, so they lose interest in you.
So, if you really want to promote your business blog on social media, find a consistent pattern of sharing that works for you.
Then, pretty much stick to it.
Yes, social media is a commitment.
But it's a commitment well worth making.
The rewards can be immense.
Other ways to promote your business blog
Besides email and social media, you can find lots of other ways to promote your business blog.
This depends largely on your promotional budget (if you have one), or the skill sets you have available to you.
You might, for instance, write guest blog posts.
So, you could pay someone to write those for you, or you could have someone in your company write them, or you could even do it yourself.
You'll have to make that decision.
The same is true for other methods you could use.
These could include posting videos to YouTube, creating and sharing infographics, writing ebooks, and so forth.
In other words, create multiple types of digital assets that you can then use to promote your business blog.
Create as many of these as you are capable of, or budgeted for.
Then use them often and strategically, to reach your target audience.
This can go a very long way in helping you to promote your business blog.
How to promote your business blog
Promoting any blog requires careful strategy and consistent implementation.
Even more so with a business blog since it has the very definite goal of attracting clients and customers.
Email marketing and social media outreach are two key parts of any promotional efforts.
But there are others.
Put as many content pieces together as you can, and consistently market them.
What do you think is the best way to promote your business blog?
–Donna
PS: Please share this article on your favorite social sites. I really appreciate it 🙂