Pro Bloggers Don't Cry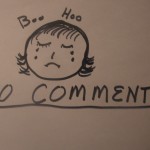 It has come to my attention this week that people are complaining that their blogs are not getting enough comments. There may be several reasons to combat this problem.
Are you writing good content?
Comprising good content, you must remember that you are writing to readers in your niche searching for answers to their questions. Your style can be informative or it can use story telling, humor, technical expertise, or any other way you find most suited to you. Giving quality information on a subject generally makes for the best niche blogs.
The Information Blog
An example of an information blog is this. If you are in the weight loss niche, you can write endless amounts of good content on things that are weight loss related. For instance, exercise, nutrition, low carb intake, state of mind and relaxation techniques come up for people on diets or otherwise trying to lose weight. I could list hundreds of articles related to this example.
Are you pushing a product… or business opportunity or system?
There are many blogs that I go to and cannot leave a comment because it is all about a product. What it says to me is "BUY IT BUY IT" That is a turn off to me and many others. Blogs are supposed to be comprised of original content bearing good information. Not sales or opportunity pages! We are no longer living in a push economy, but rather a "Thank You Economy" as Gary Vaynerchuck points out in his newest book "The Thank You Economy."
Illustrating the concept of "caring," Gary gives an example of the old Butcher shop in days gone by. The butcher knew every customer that came in. Socialized with them and knew what cut of meat they wanted, what the customer's family liked to eat, etc.
Apply this analogy to your readers. You need to know what your niche readers need from you. Then go the extra mile to provide it, and even more… get to know them. After a while your "readers" become your "subscribers", and ultimately, your "customers." Why? Because you expressed an authentic interest in them. This creates, not only customers, but loyal customers.
So, think about it. Does your approach need to be re-vamped?
ANOTHER way to Blog like a pro, is to leave good comments.
Don't leave a one-liner that says something like "hey, great blog!" That's what the easily identified hacks and spammers do. People are not likely to click your commentluv link, or follow you off the post when you do that.
You need to READ the blog and give a good, clear comment that reflects what is written. Doing so, you will most likely get that blogger's attention to come visit you and leave a reciprocal comment.
Comments are of utmost importance. I find that I attain a great many friends, subscribers and clients from my blog comments. Many of them come over to my social sites and blog because of what I wrote, and because I wrote it "genuinely" and thoughtfully.
Bottom line,
Besides the machinations one must undertake to spin out a blog in the technical sense, there are the human qualities to consider. And that's what really works when you want people to visit your blog and comment. I've had great success and profit by employing this technique carefully and consistently over a substantial period of time.
Blessings,
Donna