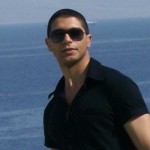 It is my pleasure to introduce you to my friend  M.Farouk Radwan, MSc.  
Farouk is a Full time blogger who makes a living selling his books online. His main website www.2knowmyself.com has more than 2000 psychology articles and gets over one million page view each month.
How to find your passion in life
If you read about the success stories of different successful people you will always find that they had passion for what they did no matter what it was.
While you can succeed in life without having passion still you will have a hard time because you will have no fuel to keep going forward when things go wrong.
The road to success Is full of obstacles and unless you are really motivated to go through it you might either give up or hate your life for doing something that you don't like.
In brief finding your passion in life is one of the best things you can do in order to achieve success
How can you find your passion?
  
 •    Try different things: some people can't find their passion simply because they never try new things. How come you can discover that you are passionate about computers before buying one? One of the keys to discovering your passion is to try new things whenever you get the chance
  
 •    invest time: many people try new hobbies but never give themselves enough time to practice them. People get busy with work or other stuff in their lives and put their hobbies aside not knowing that these hobbies can the reason for their success later on. When you like a new hobby don't ever give it up even if you don't have much time.
  
 •    What is the thing you are willing to do for free?: after trying different hobbies and giving yourself enough time you practice them you will find one thing that you won't mind to do for free. Stick to this thing because most probably its your passion!
How to turn your passion into a successful business
Once you find your passion spend more time educating yourself about it.
Start reading more, get more books, practice more often until you become an expert.
Once you become an expert in a certain field you will find it very easy to start a business that is based on it.
Many people make the mistake of trying to force a passion onto themselves and that's why they  never manage to continue to the end.
For example a person could hear about the success story of a friend then rush to do the same exact thing the friend did without having passion for it. This usually leads to failure.
Find your passion, don't force one onto yourself
Written by M.Farouk radwan
The founder of http://www.2knowmyself.com
As always, I appreciate your comments below, Donna.