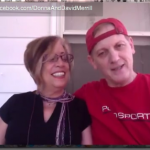 Finally David and I found a way to join our talents together.
I've talked about it on past blogs. At first, we went to the Empowered Network to start a joint blog.  But if you read my last blog, you would know that didn't work out so well.
After all the confusion and upheaval, we landed on a Facebook Business Page.  We just started it a few days ago, and it has already morphed into a pretty cool place to join our efforts.
This idea for this page was conceived during our joint "masterminding." 
Every morning when we have coffee, we sit in our kitchen or on one of our porches and talk about what we have learned and what we want to apply to our blogging and internet marketing ventures.
We also keep each other accountable for our actions during these impromptu "sessions".  
Now, many couples would have a problem with this, but fortunately we get along fine.  When it comes to our online business, we are all about it.   We have different strategies and perspectives, but we learn from one another.  
We look forward to our morning coffee because we discuss our passions about the business… what works, what doesn't and so forth.  So we came up with the idea of sharing our masterminds with you on our new Facebook Page.  
Now, don't get too excited….we have a lot of building to do there, but most importantly, we would like to welcome anyone to join us in our chats.  You'll learn a lot from our discussions and also have some laughs with us.   It's not so serious, but entertaining and enlightening because we are bringing you into the real time process of what we do.
Masterminding and accountability are two major things one needs to do in business.  If you don't have a partner, get one.  You will quickly find that you will hold true to your goals, and stick closer to those things that you are trying to implement.
We will be doing videos, chats and otherwise sharing some cool strategies and random ideas that can certainly give you some direction in your own business.  
I would also like to invite you to step up and join us.  
By this I mean, we can meet on a Google Hangout and chat about what you're doing in your business that might interest folks.  David and I will record it, and then put it up on our page.  If you are interested, just give us a shout.  We want to start a community of bloggers and internet marketers who are shooting for the stars, and sharing their journeys along the way.  
If that fits your fancy, let's do it!  
Sounds like fun to me.
Our FB Page is   https://www.facebook.com/DonnaAndDavidMerrill