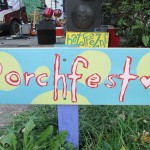 I've come to a point in my life where I am fine tuning my focus.  This entails a little R & R without any doubt or guilt in my mind that "work must me done."   I'm just taking time on the weekend and focusing on enjoying the moment. 
Welcome to My neighborhood, Ithaca, New York.  Where many talented folks come out on this day for what we call "Porchfest" – A magical event because all I have to do is walk out my door and there is entertainment all day long.  
The Lesson Here is to take a few moments and sit back.  There is nothing to learn, noting to take action on, but only one thing….RELAX……ENJOY……SHARE!
JUST IN TIME: 
LOVE THE LIFE YOU LIVE: 
Put Your Dancing Shoes On Now
So there you have it!  A little entertainment during the day as you visit blogs.  This one is for your entertainment.  Lesson:  Focus on taking time out of your day to ENJOY!
Blessings,  
Donna
P.S.   Did you have fun?  Did you get out of your chair and Dance? lol