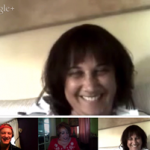 I enjoyed an incredible Google+ Hangout with Patricia Gozlan this week.  I've really been having a lot of fun with the Google+
Hangouts that my husband, David, and I have been conducting since we started our new fan page about a month ago.
It's amazing how many people I've met online that cross paths we me in so many ways.
Patricia and I are  both consider personal development to be our niches.  And we both rely heavily on intuition in reaching and helping our clients.
I've actually had a private practice as an intuitive consultant for many years.  And Patricia, as an NLP facilitator, uses intuition as a cornerstone of her personal development sessions.
Here's the recording of our Google+ hangout.
Now, just a quick word about NLP facilitating.
The greatest power of your mind manifests through your subconscious.  It has been programmed through your past experiences which are typically so subtle that you hardly know where your reactions, behaviors and habits come from.  For instance, while one person believes they deserve to be successful, another is full of self doubt.  Even though the doubter may truly "want" success, she doesn't believe… in her soul… in her DNA… She just doesn't believe she'll ever be able to see it happen.
That's why it's so important that you learn to master your subconscious mind to the extent that you can actually "re-program" it to match your intentions… your active "envisioning".  Only when you sincerely believe that you deserve and are fully capable of the success you envision, will you bring it to fruition.  That kind of belief can only occur at the intuitive level.
That's the level an NLP facilitator seeks to help you reach.
So it was a pretty interesting chat we had with Patricia, to hear how she integrates NLP into her consults.
You can find Patrica Gozlan's recorded Google+ Hangout on our new Fan Page.  Love to have you visit there, give it a "like" and look
around a bit.
You can learn more about Patricia on her blog: PatriciaGozlan.com.
Love to have your social shares of this post, and, of course, your comments below.
Let me know what sorts of issues you've had that you think NLP facilitating could help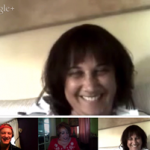 with.
And tell me what you thought of the Google+ Hangout With Patricia Gozlan.
-Donna