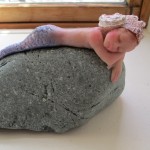 You must have heard this so many times before… the word "Gratitude" which is pretty common these days.  We can say we are grateful for things in our lives, but do we live in gratitude?  In my video below, there is a example of how to incorporate your gratefulness into your lifestyle.  It's one easy method to practice each day so it becomes a habit.
Gratitude is like the cover of a book for the "Law of Attraction" – another key term we hear so much about.  When people try to focus on attracting good things into their lives, I find that they encounter considerable difficulty if they have not first mastered the art of being Grateful.
A grateful mindset that you can incorporate into all your actions and relationships, can be so powerful when practiced each day.  I know… you are too busy, life bungles up your mind with so many daily tasks… and on and on.  Yes my friends, all that is true.  BUT… If you practice this once a day for 30 days it will simply become part of you.  You will see how much more easily the law of attraction will open a flood of gifts from the universe.
So you see my friends, it is quite simple.  Just take that one moment when you first awake.  Stretch and find one simple thing you are grateful for at that moment.  You can also go down a list of the many gifts you have in your life.  You do have such a list, you know!  This will help you keep mindful of all the goodness around you.
You may hear that alarm clock ringing in the morning that provokes a knee jerk reaction to "Oh no…  I have to do these 10 things before I leave the house!"  But instead, take a moment, be grateful, and those 10 things you are thinking about will get done, but in peace and harmony.
Please share this post on your social sites, and leave a comment below.  I'd love to hear of the experiences you've had with gratitude.
Donna