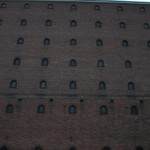 There was a time when people were forced to focus on the task at hand.  When I say focus, I mean purely, 100%.  That's what adult and child laborers alike were forced to do in textile factories that thrived in 19th century Biddeford and Saco, Maine (United States).
On my recent vacation, I happened to pass by several of these early industrial-age industrial sites.  I was awestruck to see the tiny little portals that barely peeked through massive brick and concrete structures that served as the "workplace" of countless poor souls who worked there for 12 and 15 hour days, 6 and 7 days a week.
The reason the windows were so tiny, I am told, was to limit the distraction of the outdoors to children who should be only concerned about their task at hand.  Sunshine, trees, people walking in the streets, sounds of dogs or birds… these things would only divert folks from their duties.  Production would deteriorate and quality of production would diminish.
I couldn't help but snap a few photos as I drove by, just to remind me of these past times.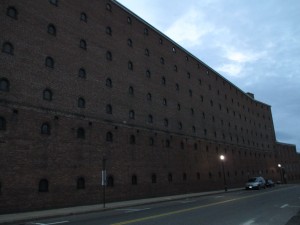 Imagine working in these old fortresses of brick, cold and damp in the winter, hot and devoid of airflow in the summer.  Imagine this being your whole life.  Long hours, days and weeks would go by, and your only satisfaction would be your production level. 
Wages were paltry, social life barren and education confined to traveling tutors who might pass by on occasion.  Health and safety standards were horrendous, and there was no such thing as access to management, much less a complaint board.
This all occurred while I was on "vacation", a brief getaway from my own little "factory" on the internet, where sit,  hourly and daily within the confines of my home office "factory".  I had actually been feeling a bit guilty that I was off the grid for a while, not tending to my blog, social sites, emails and my  psychic reading clientele.
But after seeing the extremes under which people in these bygone days had been confined and forced to "focus" purely on their work, I found myself a bit more relaxed about taking some time off; about looking outside the window, feeling the breeze, taking in the sun, hearing the sounds of everyday life that I often deprive myself of because I have set such rigorous standards for myself.
I keep this vision clearly in mind now, as I return to my work. 
I think I've set a higher priority on taking some time off every day, now… taking a walk, playing with the dogs, cooking in the kitchen… whatever I might feel like.
We are often taught that in order to succeed in our business goals, we must stay focused on the task at hand, and not allow our attention to be diverted.  That's true, of course, but I also know many people who take the it to the extreme of living with blinders on.  They lose touch with their non-entrepreneurial needs and desires.  They find little time for recreation, healthy activities like exercise, prayer,  meditation, or even their families and spouse.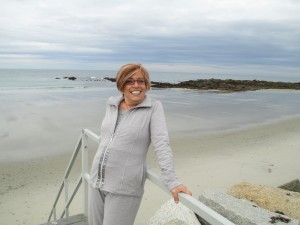 I've earned a new respect for taking time from work and enjoying my life, and developing my "self", not just my business.  It pains me to ponder, though, how many people have walked through life without any of the joys I have of spontaneity, recreation and self-determination.  It's a lesson to keep in mind.
Prior to this, I have been working on self hypnosis.  And that is really working on focusing on a task, completing it and moving on.  But I was moving on to more work!  
This whole experience I have undergone was a confirmation that being an Entrepreneur is true freedom.  I know this, but I am giving my life priority spending more time doing what I want to do and putting my responsibilities in order in less time.
Call To Action:  Are you spending more time working than you are playing?  I would love to know your thoughts.  
Blessings,
Donna