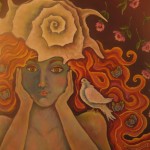 We all hit those roadblocks where we find ourselves overloaded.  Sometimes we lose energy and burn out from completing even our simplest daily tasks. We may even lose our desire for success.  Once that happens, you'll find an instant drop in your self-confidence level.  To prevent this downward spiral, there is a solution:  Condition Yourself!
People usually speak of "conditioning" in terms of physical exercise, running, eating well and conditioning our muscles and bodies.
But we should also condition our subconscious mind, so that in times of stress and challenge, we are able to respond positively and vigorously.
One such conditioning method is to control your thoughts.  I call it "self talk" and it usually works well.  When your thoughts say to you "I just don't have the energy for this", flip the script.  Tell yourself,  "I have the energy to accomplish all my tasks."  Don't worry that you "feel" depleted, just tell yourself you don't.  Say it over and over again.  Your body will respond to the messages you give your subconscious, and you really will find a new sense of energy.
Another method is to visualize.  
To visualize, you must be in a relaxed state. Find a quiet space where you will be undisturbed. Sit in a comfortable position, relax your muscles from head to toe.  Breath deeply and calmly, instructing yourself to "relax my face, relax my neck", and so on. Do it to the tip of your toes.
Then give yourself a positive affirmation pertaining to the situation you are in.  An example is that if you are overwhelmed with your daily tasks, say to yourself "I am accomplishing everything I need to do today, with a calm focus and abundance of energy."
Get the idea?  I will discuss this in more detail in the future.
Let me know your thoughts about this and also if you have ever tried it.
Blessings,
Donna