This post was most recently updated on February 3rd, 2013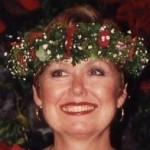 It is my pleasure to introduce you to my blogging friend  Marquita Herald.
Marquita is  a personal growth specialist, a "Top 50 Personal Development Blog Award" recipient for IGG-Tips, Tools & Tantalizing Ideas, and the published author of 4 books on the art of living your life by design.
I've known Marquita for quite some time and visit her blog on a regular basis.  It is a place where one can learn and grow. Her she  is going to share with you the importance of Branding!  So Take it away Marquita…………..

Branding is one of those elusive activities that we're all aware of, and probably even considered in the creation of our marketing plan, but more often than not gets lost in the hectic pace of day to day life and business activities.
But the truth is branding has never been more important. It's not about you being better than the competition – it's about narrowing your focus, and getting clear on what you're passionate about. It's about creating a dynamic reputation that elevates you to the top of your field. One that highlights your expertness, but that also constantly finds ways to put you front and center in your audience's point of view.
What do you want your brand identity (reputation) to say about you?
Your brand identity is basically what you stand for condensed into a single sentence or brief statement. For example, my brand statement is "Inspiring you to become the person you are meant to be." That single statement reflects my mission and the purpose behind everything I do and write about online or off.
Once you know what you stand for, you can use this as the basis for everything else that you do to create awareness and trust in your brand for your audience. When they know and love you for who you are, and what you stand for, they will do the hard work to spread the word about you. But first they must get to know you – and that's where we come full circle back to branding.
Following are 8 simple strategies to help you nurture and grow your online brand.
1. Maintain a central philosophy throughout all of your online business activities. For example, if your intention is to establish your reputation as a high-end provider, you can't suddenly start offering flashy bargain basement deals, and not expect to confuse your target audience, and weaken your brand.
2. Regularly assess your online identity. Do you know how the world sees you? Have you ever Googled your own name? I guarantee you, others have. Your first page of search results is what people are using to make critical decisions about you. There are a number of tools you can enlist to keep track of your online presence, one of my favorites is BrandYourself (BrandYourself dot com). They have a premium service, but I've been very happy with the free basic account. They provide many useful tips on how to manage your online reputation and send you regular updates on your brand ranking.
3. Make the most of Google Alerts. Set up a Google Alert for your name, the name of your blog, your books or any other products you'd like to keep track of, and you'll automatically receive an alert when they are mentioned on the Internet.
Here's a great example of how well this works. I recently received an alert that my inspirational quotation book had been referenced on YouTube. Turned out to be a UK blogger, who didn't just reference the book, he read from it and ended the video by promoting my other books! It was a great feeling to be able to send him a timely "thank you!" for his support.
When you brand yourself properly, the competition becomes irrelevant. ~Author Unknown
4. Establish Google Authorship. Google authorship is all about linking your content to your Google profile, which is yet another way of growing your brand. That makes it sound so simple, but it really is a big deal, and getting bigger all the time. Let me show you just one reason why you should care. Below is a snapshot of a Google search for my name – and to the right is my profile. That is just one of the perks of being an "established" author with Google.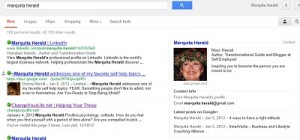 5. Rethink your article marketing strategy. For better or worse, article marketing is most often associated with increasing links and online traffic. Whatever usefulness the strategy may have lost during the various Google updates, it has come back stronger than ever as an effective way to establish and grow your brand. Each profile you create, and each quality article that you publish, help to establish credibility, further building your reputation as an expert in your field.
6. Manage your profiles. As terrific as it can be to have opportunities to spread the word about you and your business, if you don't create a system from the beginning to keep track of all of the places you set up your profiles, you'll never be able to effectively manage the growth of your brand. Make a point of periodically reviewing your profiles to add any particular achievements or awards, and make sure your description still accurately reflects your brand.
7. Add a signature to your emails. This is so simple it's easily forgotten. You can add your own special tagline and a link to your blog or a favorite profile. Look under the "Options" tab on your email to find the directions to add signature and hyperlink to your emails.
8. Ensure that your current brand is adaptable. While a strong brand is a good thing, don't forget to leave yourself a little wiggle room to evolve as you grow. There is always the risk of making a brand so definitive that you can't do much with it, or worse yet, without realizing it, you begin sending conflicting messages as you grow beyond your brand.
Of course these are just a few of the strategies that you can use to grow your online brand. The most important thing to remember is that, if you do not take control of your own professional brand, somebody else will. Branding YOU has never been more important in today's online marketplace.