This post was most recently updated on January 26th, 2013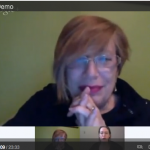 My readers know by now I am not a technical person.  Heck, I have to ask someone to put in a plug in on my blog because I just don't have that kind of mind!
I have a good friend, Kimberly Castleberry, who is one of my mentors when it comes to all these new- fangled things.  Kim is always on the leading edge of techie things related to web pages, blogs, social sites and whatever else lives out there on the world wide web.  She is also lots of fun and we sometimes fool around on Facebook late nights.
It was 2 a.m. and I was doing some work online in the quiet of the evening.  I received a message on Facebook from Kim asking me "Are You Up?"
"Yep,"  I replied.
She asked me if I can join her on a spontaneous Google+ Hangout.
"Sure…no problem."  So, I did.  I had no clue what she wanted to talk about, but hey, that's what friends are for, right?
I WAS CAUGHT WITH MY PANTS DOWN!
Kim had something up her clever little sleeve!  She needed a person like me to do something spontaneous.  O.K.  I'm game!
So here is what happened: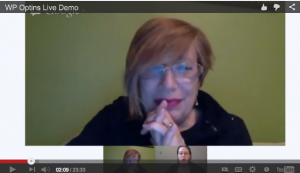 A feeling of joy overtook me.  
You know the feeling of completing a task?  Especially one you never thought you'd even attempt?
No longer do I have to depend on my husband to create these web page for me. I CAN DO IT MYSELF!
I never, in my wildest dreams thought I could create a squeeze page on the fly in just 20 minutes.  And, have it coordinated with my autoresponder list.
I was so excited by my new accomplishment that I stayed up until 5 am with adrenaline coursing through my body, and spilling out into my talented little techie fingers.
So my friends, it just goes to prove that a non-techie person like me can install this plugin and have a squeeze page done in just a few minutes.
Whoopie!
Donna