This post was most recently updated on March 26th, 2014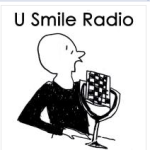 I had the pleasure of being interviewed by Lesly Federici on her radio show on "U Smile Radio" recently.
I have known Lesly for a few years now.  We went from blogging buddies to Google+ Hangouts and so on.
Lesly has done such wonderful work with her business. 
Part of it is her radio show on U Smile Radio.  Here she interviews people and shares their lives and passions to inspire her audience.  She conducts guest promotions and offers resources for creative network marketing.  Pretty cool!
In this interview, I mention how I got started in the blogging world, starting at the beginning with the development of my psychic practice.  Then I give some tips on blogging and of course, social media.  So, grab a cup of coffee, sit back and enjoy the show.

It was a fun and uplifting conversation, and I'm happy to share it with you here.
We covered so much information in 30 minutes.  I invite you to return to hear it if you don't have the time right now.
You'll find out the WHY of what prompted me to start blogging, get some special nuggets of information about how an online newbie can get moving in the right direction, and other good stuff.
I'd love to hear what you think about my story, and about my interview with Lesly Federici.