This post was most recently updated on March 26th, 2014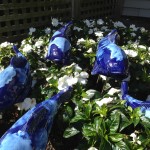 2013 has been a fascinating year! 
There have been so many old and new friends that have made a difference to me. I want to take this opportunity to give my sincere thanks to just a tiny few of them.  This is how great relationships and partnerships are built online.

I am so grateful for so many of my fellow bloggers.  Naturally, I cannot possibly list everybody I'm thankful to in this post.  But here's a few, that I picked who has touched my life in 2013.

Adam Connell – Fantastic blogger.  I was so honored to be featured in this post.
Harleena Singh –  who is not only a great blogger but a friend.  Thank you for the interviewing me this year in this post.  It was fun!   

Mayura De Silva – To me you are my teacher when it comes to all the tech stuff I prefer not to do.  Mayura's blog is a step-by-step friendly blog.  He teaches me something every week and makes it easy for me to do.  I'm blessed to have him as a friend.
Lisa Buben – A fabulous blogger who writes about blogging, SEO and of course Social Media. Thanks Lisa for always keeping me up to date on the latest Social Media Trends.  I wouldn't know half of the things going on without you.
Ryan Biddulph– – Now this guy is a dedicated blogger pumping out a few posts per day.  And he does it all while he travels the world.  How does he do it?  Ryan, I thank you for being such a great role model for bloggers.
Beth Hewitt – I've known Beth forever.  She not only blogs, but hosts a 30 day blogging challenge on Google+ encouraging people to blog effectively.   Beth, I am so happy to be working with you again!
Then, there's my Thursday Night Google+ Hangout group of Gals.
Thank you girls for always being there for me.  We not only help one another, but laugh and cry together, too.  You have all been a great support system in my life!
I don't know how I'd get by without your knowledge, assistance and encouragement each week:
Adrienne Smith – Many of you know her as the "Relationship Queen" and she sure is!  Just take a peek at her blog and her comments.  She answers them all!  I see her around all the social sites each and every day.   Adrienne, you have taught me how to be more consistent. 
Sylviane Nuccio – Professional Writer, Self Development Coach and so much more.  Thank you, Sylviane, for helping me with my writing!
Sue Price – Sue has so much experience with Self Development.  It goes way back from when she worked with Robert Kiyosaki.  She really knows her stuff! 
Barbara Charles – Barbara leaves no stone unturned.  If there is a problem out there, she just loves to fix it.  Barbara gives me information that goes way over my head.  Thank you, Barbara, for always being there and digging into areas in which few of have your expertise.
Now these are just a few of the folks I blog with regularly. 
I am so grateful to ALL my blogging friends, but if I put them all in this post, I would probably  crash the internet!  At least I've scratched the surface, here, of all you online marketers who have also become wonderful friends. Thanks so much to all my fellow bloggers.
If you don't know anyone on this post, I suggest you click their links, my friends.  I know you'll like what you see. 
Blessings,
Donna
P.S.  Reminder that I still have that Captcha code here so be careful..copy your comment before you submit so you won't loose it.