This post was most recently updated on March 26th, 2014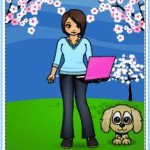 I find that many bloggers get stuck when trying to come up with things to write about on a regular basis.  I've found that using an avatar when I'm blogging really helps a lot.  
An Avatar is simply a representation of your audience. 
It's a profile of the person that is most likely to need your help.  When you put content on your blog that is specifically geared to solving this person's problems, and answering all of her/his questions… you are really writing to your entire targeted audience.
Even if you don't quite know who your audience is, it helps to create an avatar.  This helps you define who you are writing to.
I did created an avatar a long time ago and wanted to share this little secret nugget with you in this short video:  
So here's how it works

:
Start off by making a list.
What does this person need to know?
Is this person a new blogger? Intermediate?
How much money does he or she make?
What is their education level?
Where do they live?
Are they married or single?
What is the passion and goal of this person?
How much time, effort and money does this person spend assimilating information related to your niche?
What are the biggest obstacles they face that you can help them to overcome?
This is just a tiny sampling of what your profiling list could look, but I'm sure you get the picture.
Speaking of pictures, it's actually a great idea to have an image of what your Avatar looks like.  This helps you visualize who you are writing to when developing blogging content.
Want to know what my Avatar looks like?
Well, after developing a very long extensive list of characteristics I wanted to embody in my Avatar, I went over to the free version "zwinky dot com" and created her.  I know from my own analytics that I attract more women then men.  I also know that the age group I deal with mostly is 30 to 50.  So here she is: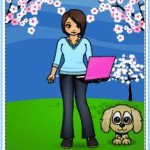 Notice the background.  
It is springtime and she just loves to work outdoors under a blue sky and beautiful flowering trees.  She is dressed  semi-conservatively but still relaxed.  Of course she has a dog because she is a loving, giving woman.  I did her make up and hair so she was not too done up, but more casual.  I compiled this image with a long list of specific needs and voila!  
She is my inspiration!  I have been using her for a long time when I write a post.
What's important, here, is that you want to learn to write to one specific person… your Avatar.  When you write to a general audience, your message gets confused and rambling, often off point and irrelevant. 
When you write to this one person as if she were your only audience, you are writing effectively to everyone who reads your article, watches your video or views the images you've posted.
Now it's your turn.
What is your inspiration?  Who do you write to when you are blogging?  Please share in the comment section below
Thanks and be blessed,
-Donna
Please note there is a Captcha at the comment section.  It's a good idea to copy your comment so it won't get lost.  Sorry for the inconvenience.