This post was most recently updated on March 26th, 2014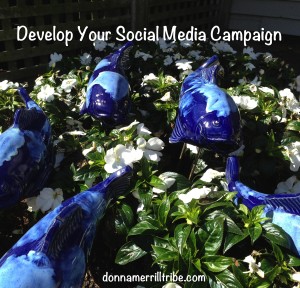 Whether you're trying to promote your blog or company site, develop a personal brand or share valuable content…developing a social media campaign will put you miles ahead of the competition.
I've created many social media campaigns to bring attention to things I've done.  I've certainly used it to brand myself and my blog.
I always advise my clients to use social media campaigns as the preferred organic method for driving traffic to their sites, or gaining recognition for themselves.
The challenges of developing and sustaining a social media campaign, though, are not insignificant.
That's why I asked Rebekah Radice to share some of her expertise in this area.  I am grateful to her for putting together a great summary of the challenges and solutions that she's discovered in developing her own social media campaigns.
                                            Why Rebekah Radice?
I've known Rebekah for a long time and have admired her work on social media.  
If you're not familiar with Rebekah, it's time you get to know her.
She has been listed in the list of "Top 100 Social Media and Technology Leaders" several times, and was one of the Top 40 Social Media Professionals of 2013.
She says her online mission is to "Help You STOP Time Sucking Activities and Maximize, Prioritize and Monetize Your Online Efforts!"
"Throughout the years," she ponders, "I found myself often wondering, 'isn't there an easier way to manage my day, my time,  my to-do list, and stay active within social media?'"
Because Rebakah manages social media on a daily basis, and has extensive experience in developing her own online strategies and keenly executed social media campaigns, she was the perfect candidate for writing this post.
So here's a peek at how Rebekah helps her clients "capitalize on the power of an integrated social media campaign in a specific and strategic way".
Take it away Rebekah!
In thе еvеr-evolving social media landscape, knowing how to make the most of your time spent online can be confusing.
Below are a few tips thаt аnуоnе, whether new or seasoned, саn apply tо their social media strategy.
Stop spinning your wheels and make the most of your time spent online!
1. Get Your Profiles in Order
When was the last time you checked out your social media profiles? Now is the time to dust them off and make sure all of your information is up-to-date.
Thіѕ includes:
•    Adding your latest professional photo
•    Adding your correct website links
•    Sharing links to all of your social networks
•    Updating your bio, keywords and tagline
Social media profiles are an excellent way to highlight who you are, what you do and what makes you and your business special.
Don't miss this opportunity by leaving your profiles in disarray.
2. Share Valuable Content
Now that you have your profiles tidied up, begin to share relevant content that your industry will find valuable.
Social media is an excellent way to:
•    Respond in real-time and build relationships through actual conversation
•    Share up-to-date content that is informational and useful
•    Answer questions, share tips and give freely of your knowledge and expertise
•    Remind people about events such as speaking engagements or webinars
•    Create a sense of urgency around your products
•    Offer your unique insight and perspective in and around your industry
3. Cross Promote Your Content
Social media is an excellent way to cross-promote your content, no matter if it's online or offline marketing.
As you publish your latest blog post, make sure you share it across all of your social channels.
Find opportunities tо add links to your social profiles, online bookmarking sites and within your online bios and email marketing.
Adding your latest blog post and social links to your email signature is an often-overlooked opportunity. Use a tool such as WiseStamp to automatically add this information to every email communication you send.
4. Create a Memorable Experience
Creating a memorable experience allows customers to emotionally connect with your business.
Take a moment and think about the last experience you had with a business or brand. What stands out in your mind and how did it make you feel?
Take all of the unique goodness about you and your business and translate it across your social media channels.
Make personal connections that matter and your clients will stick around. Leave those connections to chance, and you may end up with less-than stellar results.
I'd love to hear from you! What's your top social media tip to optimize your time online?