This post was most recently updated on October 7th, 2014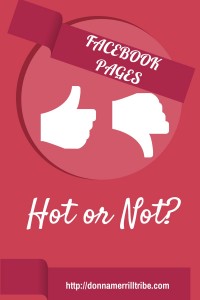 People ask me if they're better off building their online business by blogging or with Facebook Pages.
 I usually tell them to use both.
In fact, the trick is to learn to get people to know you a little bit on your Facebook Page, and then have them follow you onto your blog.
I think of it like this.
When you have a Facebook Page, you try to get people interested in you as a person.  
When they get on your page, they start learning what you like to do, how you think, and they starting hanging out with you.
You talk family, vacation, shoes… all the fun stuff that creates friends with people you like.
Whenever the chance arises, you remind them about your niche, your passion, your business… all that stuff.
The key to this "reminder" is your call to action.  
That's when you tell your Facebook Page friend to "click here" and find you on your blog.  That's where you develop more of a business relationship.
So, here's how I see it.
Let's say my passion, my interests and even my little brick and mortar retail shop are all about dogs.  My special, special passion is about Blue Tick hounds… like my dog, Giuseppi 🙂
So I go to a party with tons of people everywhere and I wander around until I find people talking about dogs.
Cool.  I start chatting with them.  About dogs, kids, my favorite tv show… whatever.
Eventually I figure out who the hound owners are, and even those who have Blue Ticks.
Now, we talk more seriously about dogs, especially Blue Tick hounds.  We share pictures, stories, training tricks, etc.
So, it's getting late. Gotta run.
I quickly grab the folks I've been talking with and say something like this…
"hey, it was great seeing you.  I'm going to give you my business card.  This is my doggie shop, and I know you love dogs like I do, so drop by and see my.  I'll take special care of you, now that we're friends."
I think of the party being like Facebook.
Everybody's there.
There little circles of dog lovers is like a Facebook Page.  That's where I get to chat with people who share my passion for dogs.
My little doggie retail shop on the corner is like my blog.  That's where we actually get more serious about dogs, and even do business together.  
Maybe you want a cute collar, a great chewie or something else for your dog.  You'll probably love buying it from me instead of going to the mall. 
We're friends now.  You trust me more and we even like each other.  
Win-win!
So I tell folks that it's important to have a Facebook Page.  That's where you'll start finding quality traffic for your blog.
When your Facebook friends find their way to your blog, they're ready to do business!  That means read your posts and comment on them, opt in to your newsletter, and even buy your products and services.
So here's the process.
Get traffic to your Facebook Page.
Build engagement with folks and drive this traffic to your blog.
"Do business" with people right on your Facebook Page.
Do business with them on your blog.
Some people prefer doing business with you on Facebook, others won't get to that level until they get to learn more about you on your blog.
The overall process is simple, but of course, all the baby steps required to make it all work is where the strategy and implementation is.
Many of my blogging buddies and clients find it confusing and difficult.  They think they have to start spending lot of money on Facebook ads in order to get anywhere.
While Facebook ads are hot right now, there are many ways to start building your list and driving traffic to your blog for free using Facebook Pages.
You've just got to know how to do it.
I'll be doing a webinar next week that will walk you through the process of using Facebook Pages to
drive traffic to your blog

build a list in the process

start getting folks to
… buy your products
… sign up for your services, and


… join your business
If you want to know how to use Facebook Pages in your online business, sign up for my "Facebook Pages Mastery" event today.
It's not about getting huge numbers of fans, or blasting out paid ads.  
It's about attracting quality folks to your blog and your business, and converting them into subscribers and buyers.
I hope to see you there.
So tell me.
Are you using Facebook Pages as part of your business?
If not, what's stopping you?
If you are, how is it working out for you?
Let me know in the comments below.
I always love hearing from my readers! 
Blessings,
-Donna