This post was most recently updated on July 28th, 2016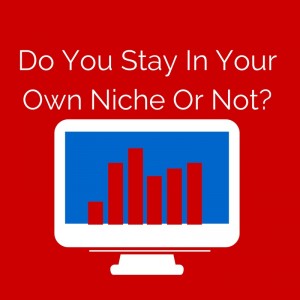 I hear a steady chatter about why, as a blogger, you must always stick to your niche topic. 
I agree that it's important to have a well defined niche.  There are times, though, when you can actually expand your focus by exploring other niches, particularly ones that are related to your own.
Bloggers often stick to their niche almost exclusively.  
They only visit and comment on blogs with their niche, they only promote their articles to focus audiences within their niche, and they only write about topics clearly limited to their niche readers.
They usually do this for SEO purposes.  They want to rank only blog posts that are pertinent to their niche, are tagged only to niche-focused topics and keywords, and only back-link within their niche.
I think it's important to "focus" on your niche.  I think it was probably more important when only such things were important for blog and page ranking.
Today, though, we work within a different blogosphere.  
Keyword and relevancy metrics are no longer the only thing to consider.  Some would argue that they're not even important any longer, though I think that's a bit rash.
What I can tell you for certain, is that your blog and post rankings will now be weighed very heavily by search engines on your ability to build relationships and engage with people.
At the heart of building these relationships is your ability and willingness to reach out to your readers and give them incredible value, with a strong sense of sincerity.
Now those are no easily measured metrics, but ones you need to conform to nonetheless.
Many commenters on my last post, Create Your Awesome Authority, remarked that "I never heard that term before" … referring to "awesome authority."  Actually,  it was just the title of my blog post, but I kind of like the term, too, and have actually decided to make it the topic of my next premium webinar.
That's because the very concept of "awesome authority" as I developed it, seemed to be foreign to many folks.  So it really got me thinking.
Maybe not everyone understands the importance of building relationships first.  Maybe they stick to their niche first, engage their readers second.
But the very first thing a blogger needs to do, is give to others.  Share the knowledge you have, things you have just learned that.  
That's cool.
Share valuable information with your followers and knock their socks off.
Don't tie yourself into knots trying to stick to your niche.
Just offer great value with sincerity, and I think you'll be surprised at your uptick in rankings, and more importantly, in the elevation of your credibility.
Another thing is to learn.  Yes, boys and girls, we must be on a constant learning curve. That means we need to actively curate information that will, in fact, rise to the level of actual "value" to our readers.
This usually requires researching information that does not lie strictly within niche.
The biggest thrill I get is when I go to a blog that is out of my niche and learn something new.  This not only saves me time in searching out things I'm interested in but also teaches me …  and I love learning!
Most of all, I then need to show my readers how that information is useful to them, even though it may not be strictly within my niche.
But how are we going to keep ourselves in the know about things that have little to do with our tight little niche?

I dare to say, to accomplish this, you must get out of  your niche from time to time.  Read people's blog post in related areas, and learn from them.  
This is how you are going to expand your relationships.  

For example, if you are the creator of a fantastic WordPress plugin, and you want to expand it's exposure beyond your tech-centered "web developer" niche, where are you going to start?  
Begin by engaging with those that are already actively engaged in those related niches you want to target.
You might start engaging with bloggers, for instance.  Or, perhaps network marketers.  These are people that are not in the web development niche, but certainly can see the value of your plugin.
You will probably pick up some great things to share with your own niche from these "outsiders."
For instance, if you get involved with some self-development folks, you might end up writing a post about inspiration.  
What's that go to do with web development.  
On the surface, very little, but with a little thought, you'll realize it actually has a lot to do with it.  
And your "inspiration" post may help your web development audience more that you would have thought.  
That means, you've gone outside of your niche to procure value for folks within your niche… get the picture?
Now, rather than sounding like I'm just ranting about this, let me show you how it has worked for me.
My audience is focused on my niche, which is blogging.

But I routinely get people on my blog from different niches.  We even engage with each other on social sites.  
In fact, my relationship with many of these people actually helps me develop better quality posts, with higher value for my primary target audience… bloggers.
Let me mention but a few of the bloggers I have built this kind of relationship with.
Marquita Herald:  When I go to Marquita's blog, there is time for reflection, time to grow within myself because she is all about inspiration.
Now, don't we need inspiration as bloggers?  In life?
Sure we do, so I'm an avid reader of her blog.
Kumar Guaraw:  I never met Kumar, I wouldn't be able to keep my blog running so smoothly.
Now, I'm not an affiliate of his Krishna World Wide hosting company.  I can tell you, though, that once I switched my hosting management over to his company, the look and functioning of my blog was greatly improved.  
I am not one to fiddle around with c-panels, plugins, and all that stuff.   My journey does not include stopping my life and important online work, in order to fix things that I don't even understand.  
Now, I know I'm safe because Kumar actually contacts me when he finds something going wrong with one of my blogs.  Come on now… who else does that?   
His blog is fantastic also.  Talking about giving value,
Kumar always writes great content for people and I always learn cool things on his blog.
Then I turn around and share that information with my blogging-niche readers, and they love it!
Enstine Muki:  Enstine actually does write a lot about blogging (my niche), but most of all he does a lot of interviews.  
He just created a plugin called  "MyComment Authors"  
Check this one out my friends.  
And talk about go-giving… Enstine does many interviews on his blog that share the great things other online folks are doing.  
When he posted a blog post interviewing me, I received so many new visitors.  His friends are mostly technical folks, but at least I can learn from them and become engaged with people I would have never met.
Most importantly, once again… I can learn techie things that I would never have known, and share the information back to my readers when it is relevant to blogging.
Ravi Chahar of  "Blogging Love:"  Ravi teaches me so much about plugins and WordPress structure.  
He always writes a step-by-step tutorial showing how to use various plugins, and so much more.  
Like I said before, I am not about fiddling around with plugins, but I gain the necessary jargon relevant to them so that I can ask my blog creator if I need them or gain a "working knowledge" of them for myself… and for my followers.
Arleen Harry:  Arleen writes a blog called Garret Specialties.

She writes great articles about how to promote your business.  She keeps me updated with the latest from her niche.  
Now, the Garrett Specialties blog offers tons of promotional items for your business… from pens to hats and way beyond.  
Again, I'm not an affiliate here, but if I want to purchase something with my brand on it for customer appreciation, I know I can get right over to Arleen's business site to get a great, tangible product.
I did this sort of thing with my offline business, and heck… why not do it with an online business?  People love getting a tangible product in the mail.
I've given you just a few examples of great bloggers I know that are outside of my niche.
Once again, the key here is not exactly WHO you turn to, but that you make the effort to get outside of your niche once in a while.  
Find interesting and relevant blogs to follow that are outside of your niche a bit.  See what's going on there that might help your business, and of course, that of your readers.

So, I ask you my friends.  What do you think?

Is it better to just stick to your niche, or do you reach out to others for engagement and for learning something new?
-Blessings,
Donna