This post was most recently updated on July 28th, 2016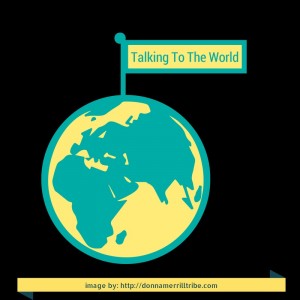 When you blog, know that you are writing to the entire world.  It has to be part of your mindset when you are blogging.  This is why they call it the World Wide Web!
Ever think of that?
So, when you are writing your blog post, there are many things to consider before you push that "publish" button.  Check your grammar, spelling, SEO, and so on.  But, are you always mindful that you are writing to the entire world?
Take that into consideration as your fingers fly across the keyboard.  There are many cultures, religions, non religions and so on.  If you make one little mistake and insult someone, you may have lost that reader forever.
As you prepare your content, remember that yo are talking to the world.  
Keep the following 10 things in mind:
1.  Make sure your grammar is correct so that people who read English as their second language can follow along.
2.  Keep in mind that some phrases you take for granted, might not be understood by people of differing cultures and localities.
3.  Be respectful!  Remember you are not writing to one specific ethnic, religious or political group, but to multitudes with diverse backgrounds.
4.  Never use foul language.  Many people will be turned off by that.  There are blogs out there that try to be edgy and use profanity a lot.  Think for a moment who their followers are?  Are they portraying themselves as business people?
5.  Be ethical!  I previously wrote a post about the "ethics" of blogging. 
6.  Never write anything you will regret later.  If you want to rant a little, that's OK, but do it in a way where you are not putting down or talking over your readers.
7.  Realize that there are many different kinds of blogs out there.  Some are literary, others are review blogs.  There are magazine style blogs, humorous, techie and all types of blogs.  Some bloggers may be part of a network, and address themselves mostly to others in their crowd.  Be respectful of everyone!  If it's not for you, just move along.
8.  Give yourself a "character" check!  Sometimes you'll need to take a long look in the mirror to see what you are projecting to others.  I know this one is difficult to do, so I wrote a post about it a while back, called "Building Character For Online Success."
9. You are a reflection of your brand.  Everything you post on your blog will be a part of who "you" are perceived to be.  After all, it's the only thing your visitors have to go by.
10. Never try to be someone other than yourself!  Most folks are pretty savvy when it comes to this.  People have a way of noticing when you are trying to be someone or something that you're not.  They know, instantly whether or not you are being genuine and authentic.
BLOGGERS ON SOCIAL MEDIA
Most bloggers are also fairly active on social media sites.
Yes, you can clown around and have a few laughs out there.  You can share your thoughts and perspective, and even get a little personal.
But be careful because people of varying cultures or belief systems make take exception with something you say, or even how you say it.  It may seem harmless enough to you among your friends, and considering your cultural background.
Somehow, though, others may find it insensitive and crude for reason you don't even understand.  And when you inadvertently or carelessly often people, a funny thing happens.  They easily forget so many wonderful things you've contributed, but forever hold your feet to the fire for some dumb or thoughtless thing that somehow rolled off your keyboard.
Meanwhile, you may find yourself equally offended by something said by someone coming at a topic from a different cultural perspective.  If you see something on a social site that may offend you in this way, don't get into an argument about it.  You will only be fueling the fire and contributing to the negativity or misunderstanding.
Social media is a big playground.  You may be following someone with great content on their blog, and may get even closer to them on social media sites.  You're out there having fun and learning cool stuff… then suddenly, BOOM… they talk about something in a way that simply appalls you.
It may not be about that person as much as it is about the different way of seeing things in different countries or through the lens of a different culture.  Don't be hasty to judge others, as I'm sure you wouldn't want them to judge you without fully understanding your background.
Beware, too, the many political debates on social media, and many have strong international tones.
If you are running a business on the one hand, while taking political sides on the other, or just generally being a naysayer, it will only cause conflict.
You are the Chief CEO of your business.  If the CEO of a large company comes out with a hot-button, highly controversial political statement related to international affairs, it hits the news like wildfire.  People get outraged!  So, keep that in mind.  The same can happen to you in your smaller circle of associates, friends and followers.
Be personal on social media sites, but not nakedly so!
There's always a way to share your point of view without seeming callous and ignorant about people who don't share your geography and culture.  Just be careful how you phrase things out there.
Social media is a great way to connect with people all over the world.  Remember to use it to connect, not offend.

Do you ever have difficulty speaking to such a diverse audience as "the world"?
Do you make a conscious effort to be ever mindful that you are talking to the world?
Please share your comments and experiences below.
I always love to hear from my friends and readers from all around the world!
Blessings,
-Donna