This post was most recently updated on July 28th, 2016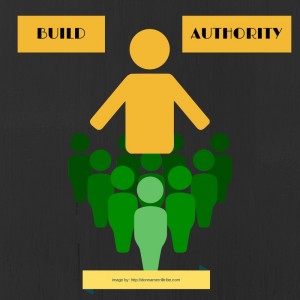 Bloggers and online entrepreneurs need to get some "awesome authority" for themselves.  That's how they can jump the line of all those who are patiently waiting to establish some kind of ordinary, same-old authority that nobody cares about.
Here's the difference.
When you gain recognition as an authority… that milestone that folks labor and struggle for months and years to achieve, you might get some people who view you as an expert.  That's cool.  Everybody wants somebody to think they're an expert at something.  It makes them feel good about themselves, they can show it off in Facebook groups and maybe even write an ebook about it.
People think you've got  "awesome authority," when you've successfully convinced them that they can finally accomplish that thing they've trying to do for so long.
You see, authority is all about you.
It's about
how good you are at something,

how much you know,

how much more you know that other leaders in your field,  and mostly

how much success you've had doing that thing you're so smart about.
Awesome authority is about
how much trust you've earned,

how much desire you've instilled for whatever you service or offer is, and mostly

how much confidence you've built up in your followers… confidence that they can finally accomplish that thing you're helping them with.
Authority is all about you.
Awesome authority is all about your readers, fans, followers, subscribers… those who trust you because you've given them unshakeable confidence, not in you, but in themselves.
Create Awesome Authority
Here's your action plan.  Follow it, and you're sure to create awesome authority.
Know what Critical Problem your target audience needs to overcome.
If you don't know it, find it out.  Know why it's so important, why it's such a common stumbling block and what the big steps are to overcoming it.
This shows your students that you know who they are, you know their needs and desires, you've been there, too, and you completely empathize with them.
Assure them they will overcome this Critical Problem if they can achieve a set goal.
Assure them, further, that when they follow a list of tasks you've outlined for them, they will achieve that goal.
Outline the the 3, 5, 7 or however many tasks they need to accomplish in order to achieve their end-desire.
Make sure these are short, punchy tasks that can get done quickly when you know how.
Create a tutorial for each task.
Make sure your students can complete each of the tasks before they complete the tutorial.
As they accomplish each task, their confidence will build.
By the end of the tutorials, your students will have overcome what they once thought was an almost insurmountable Critical Problem.  They will infer from that experience, that they can overcome all obstacles, and achieve their goals.
Special:  My Free Gift To You!  I Show You How To Build An Amazing Email List
Review How Your Awesome Authority Developed
When you told your students, prospects, followers… that you knew their Critical Problem, they started to trust you.
Once you are trusted, you are positioned to be an authority.
When you showed them how to overcome that problem, you convinced them that you were an authority.
Side Note:  This is the level of "authority" that most online entrepreneurs are on that long line for.
When you made sure that your students accomplished the tasks you set for them, they no longer needed to trust you.  Now, they had the confidence to trust themselves.  Perhaps for the first time, they realized that THEY could achieve their goals.  They realized it was unimportant whether or not you had reached yours, or whether or not you knew more than anyone else on Planet Z about your niche.  This is where you jump the line and achieve Awesome Authority.
Everyone likes to know somebody who knows more than they do about something that is important to them… especially if it's Critical.
These same people will not only like you, though.  They will follow you to the ends of the earth… even onto your Facebook Page, lol… when you've demonstrated them, not that You can accomplish something.  You've demonstrated to them that they can accomplish it, and in fact, they've already begun doing it.
You've demonstrated you can help them because you just… helped them.  (This is a not so little concept I learned from Frank Kern).
You've helped them accomplish a set of tasks to overcome a Critical Problem.
Much more, though, you've helped them to trust themselves.  
Now you've shown them they don't really need you at all.  They can trust themselves.
This self trust, strangely, automatically neuro-links to an "internal trust" in You.  ("External trust" is when you bat your head against the wall trying to convince them they can trust you).
Now you've achieved undeniable, eternal, Awesome Authority.
And all it required was for you to stop telling folks you could help them, and just do it.
Next step, show your students, fans and followers how to be responsive to their "internal trust" in you, in order to  achieve even more benefits for themselves.  In other words, convert them into long-term, loyal customers.
This is one of the key benefits to you, for having taken the step required to create your awesome authority.

I look forward to your comments and opinions.  What do You think? 
Blessings,
-Donna