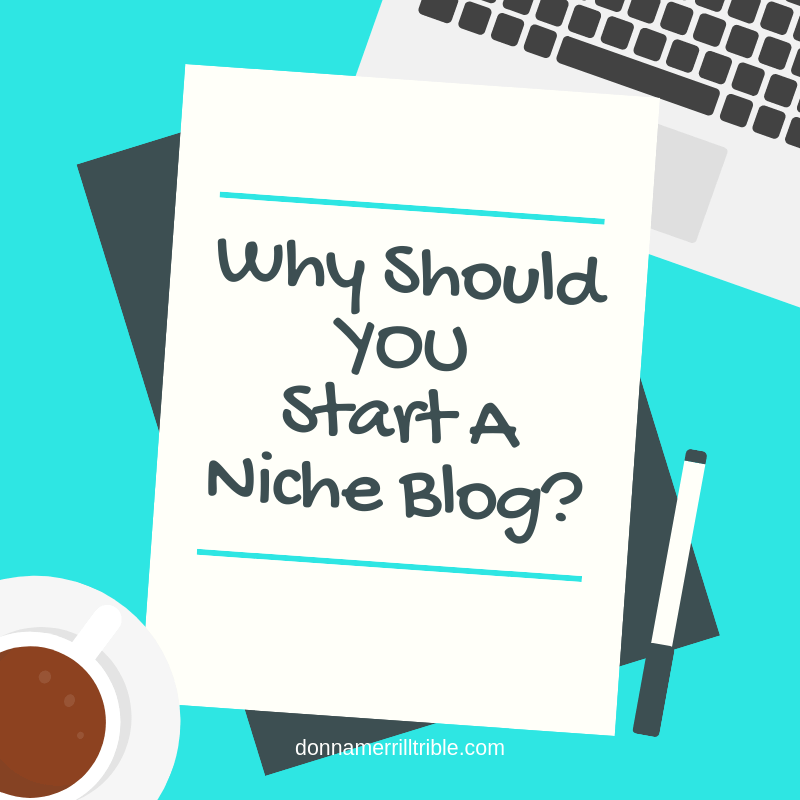 Why should you start a niche blog?
Well, there could be many reasons.
Maybe you have a special interest in a niche.
Or perhaps you have reason to think that it's a "hot" topic to pursue.
Someone might have told you that the way to profit from blogging is to offer products to a very narrowly defined audience.
I coach many bloggers who want to start a niche blog because they haven't been able to turn their blogs into a profitable business.
Typically, they have an overly generalized blog about broad topics like living a healthy lifestyle, or having a positive mindset, or how to optimize a website for search engine rankings (SEO) or some such thing.
Some bloggers have simply been writing a blog about their lives.
It's pretty difficult to monetize these extremely broad-based blogs.
So, it's not surprising when these bloggers inquire about starting up a niche blog.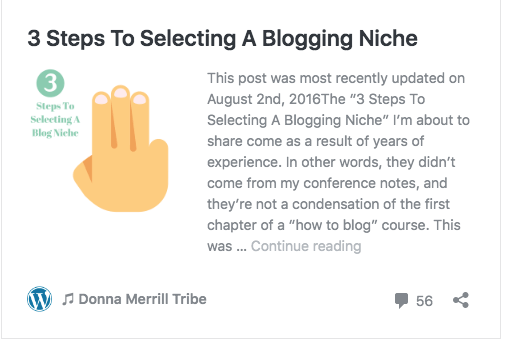 What is a niche blog?
When I talk about a niche blog, it's probably more accurate to refer to it as a micro-niche blog.
Call it what you like, the key concept here is that a niche or micro-niche blog opens you to a whole new world.
That world is called a highly targeted audience.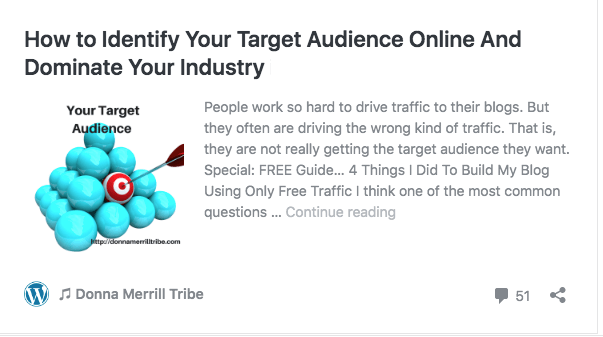 It's pretty difficult to appeal to a highly targeted audience as a blogger.
In fact, establishing yourself as an authority or leader in a micro-niche is the best way to do that.
A niche blog is like a specialty blog.
It's a blog designed to appeal to a very specific crowd of people.
When you start a niche blog, you do it with the intention of marketing to that specific crowd of people.
When is it a good idea?
It's a good idea to start a niche blog when you can use it to appeals a target audience.
And that audience should consist primarily of people who are likely prospects for specific products and services you plan to promote.
So, for instance, you might want to sell ski equipment.
Your niche would be skiing.
Maybe your blog would feature skiing tips.
Like these…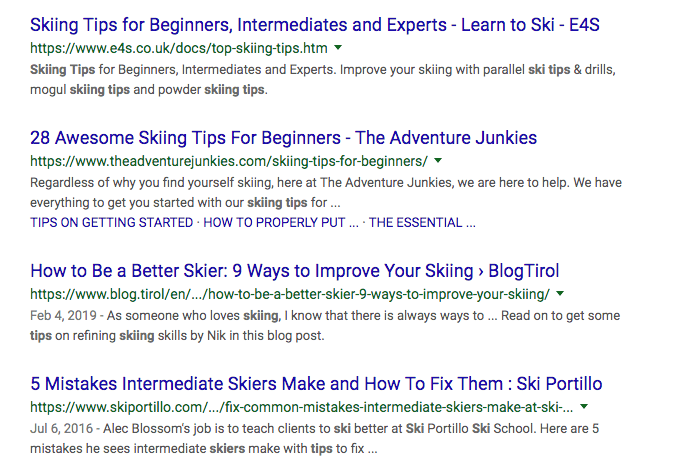 You could include related videos on your blog like these…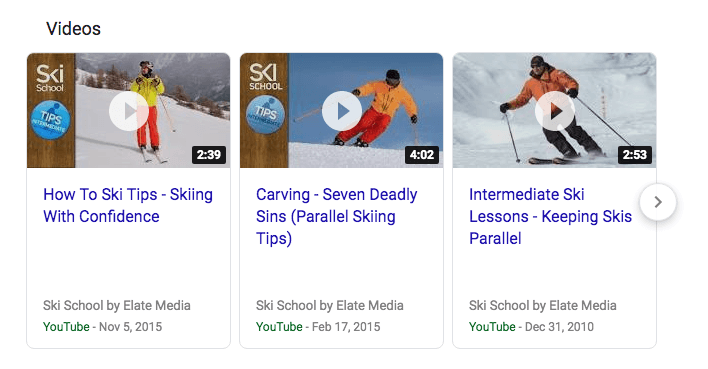 Or you might even create your own skiing videos if you are an expert.
And you could develop a list of content ideas to help solve the problems your targeted audience has.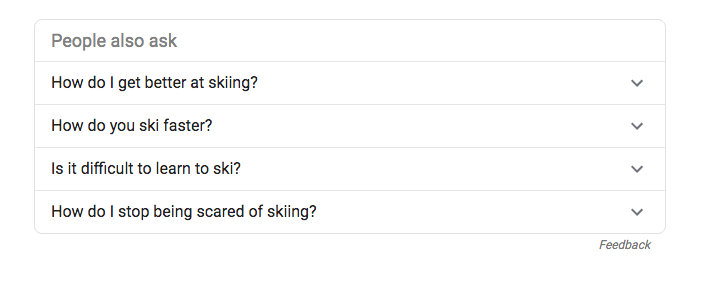 It would be a good idea to create a niche blog for skiers if you could provide this kind of content on a steady basis.
And you could even narrow this niche.
How about writing a blog in a micro-niche like
New England skiing

or… skiing in Vermont

how about… skiing in Stowe, Vermont
Those would be geographical niches.
Or, you could consider a topical micro-niche like "beginner skiing tips"…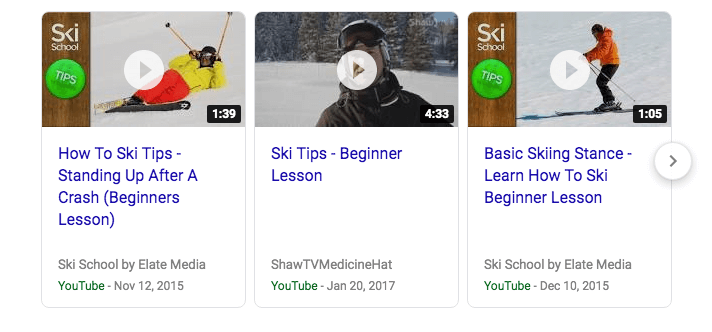 How about a micro-niche based on age…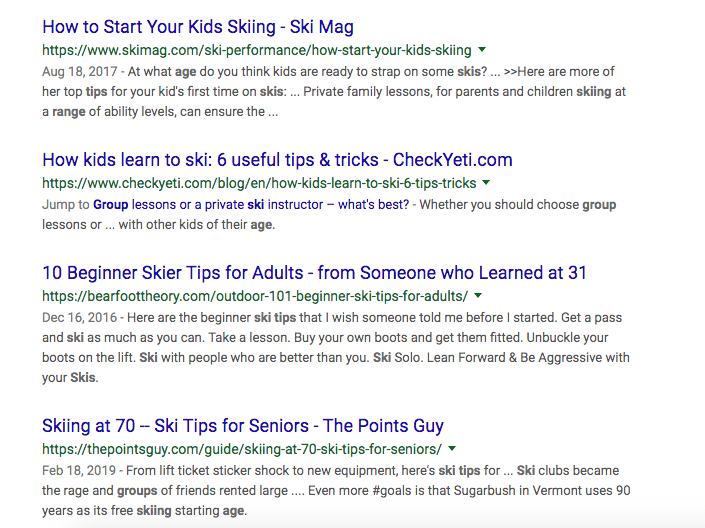 You see, it's a good idea to start a niche blog if you can identify a specific audience to market to.
And if you have a good idea of products and services you can offer them.
When is it a bad idea?
There are a few times when it might be a bad idea to start a niche blog.
No Market
First of all, you have to do the research to confirm that your niche topic has a realistic chance to make money.
If your niche topic has profit potential, you should see that other blogs are already making money in the niche.
You can even expand your research to include things other than blogs.
Are there a lot of books being sold in your niche topic?
Build "Content Upgrades" + "Landing Pages" Into Your Blog Posts, Seamlessly & Fast
[/box]
Check Amazon and do a quick book search on your topic.
This should give you a quick idea of how profitable your niche might be.
You won't see a lot of books, or a lot of book sales on topics that are not profitable.
And you could also check to see if there have been any "Dummies" books written on your topic.
A lot of market research goes into creating a "Dummies" book.
These people know their stuff.
If there's no market for your topic, there won't be a "Dummies" book for it.
And if there's no market for your topic, it's a bad idea to start a niche blog for it.
No Products
The second reason it might be a bad idea to start a niche blog, is this.
If you don't have a good source of products and services to promote on it, you won't be able to monetize it well.
So before you rush off and start writing on a niche topic, plan what products and services you will be promoting.
If you have a blog in the skiing niche, what would you promote and sell?
There are many ways you can go with this, including
Skiing equipment
travel packages to ski resorts
skiing instructions
Here's a British skiing blog that has just tons of ways they are monetizing their blog…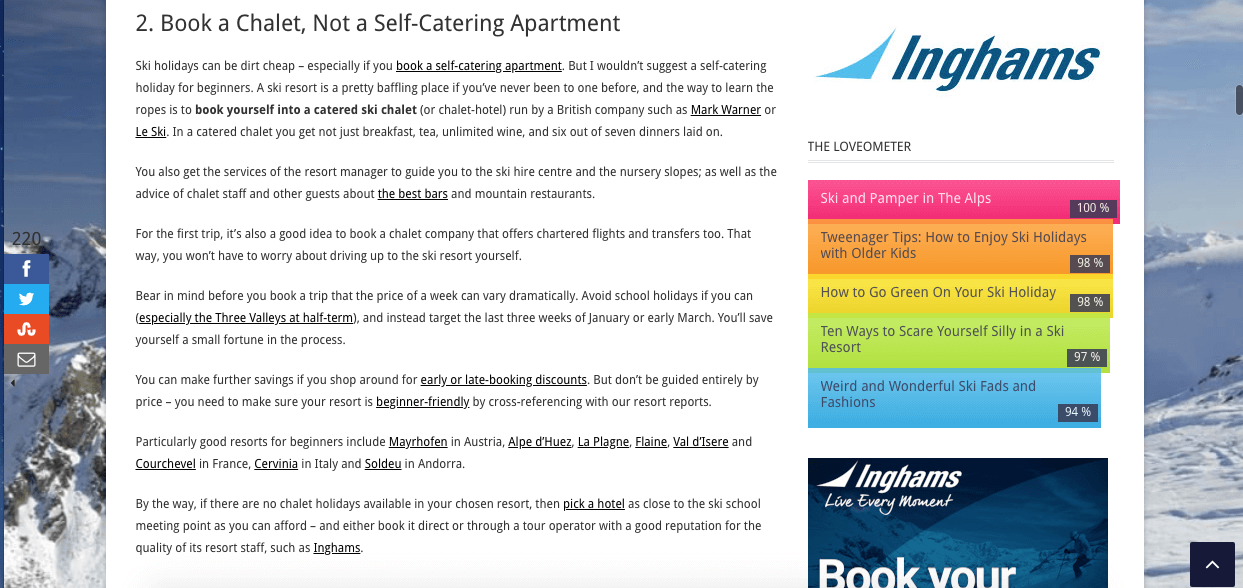 And those are just a FEW of the ways this blog is monetizing!
Think of all the ways you could monetize your niche, too.
Now, you don't have to sell everything under the sun.
You could have a real micro-niche blog that is focused on just one little thing, like say "Ski Boots" or "Skiing Getaway Packages."
So think of what style you want to develop and grow your blogging business.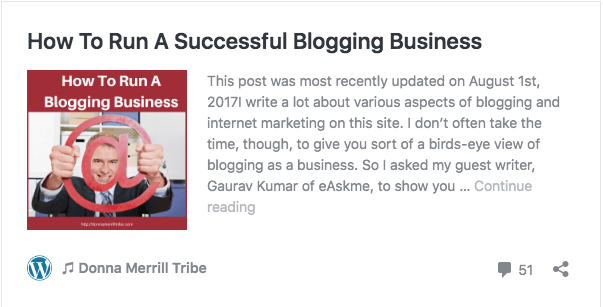 It doesn't matter so much WHAT strategy you choose, as long as it's well thought out, deeply researched, and all mapped out BEFORE you start your new niche blog.
Why should you start a niche blog?
So how about a little brain storming, here.
Or just a little day dreaming for a few minutes.
What kind of niche blog would you find interesting to start?
Why do you think it could be profitable?
Would you run it along with your current blog, if you have one?
Or change your entire business model and focus purely on your new blog?
I'd love to hear from you in the comments below…
Why should you start a niche blog?
-Donna
PS: Don't forget to share this article on your social sites 🙂