This post was most recently updated on July 28th, 2016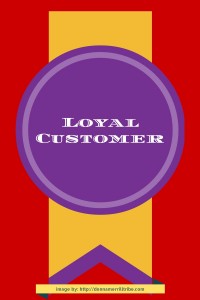 It's one thing to have a database of customers, but quite another to have loyal customers.  Online entrepreneurs work hard to build a list of subscribers, then convert them into customers.  Sad to say, many of them think that's the end of the story.
I guess it is, if you want your business to end with some faceless number of people who have been converted into buyers.
If you want those buyers to continue doing business with you, though… if you want them to be happy, repeat buyers, raving fans, partners, affiliates and loyal customers… the initial sale is only the beginning of the story, not the end.
TRUE STORY
Let me tell you a true story that illustrates how a supermarket chain forged and unbreakable bond with its customers.
A supermarket chain?  Brick and mortars are not typically fueled by this sort of deep customer rapport, but this one is.
So listen closely, online marketers.  You have even more opportunity to build this kind of customer loyalty via social media, responsive emails and the rest.
Here, in the North Eastern part of the U.S. there is a large, Boston-based supermarket chain called Market Basket.  It's a family owned business that was nearly destroyed by a feud between one of the family members, CEO "Arthur T." and his cousin.
In short, Arthur T. was always great to his employees.  They loved this guy!  He knew people throughout his chain of stores by first name.  He attended their kids' graduations, and visited them if they were in the hospital.
That's his employees!
Why Market Basket Customers LOVE Arthur T.
Market Basket customers love Arthur T. because his mission has always been to keep consumer prices low and quality high while stocking the shelves with a wide array of high quality foods that weren't even found in many of the competing stores.
But his cousin wanted to raise prices to improve the company's "bottom line."  He wanted to alter the entire way Market Basket had been doing business since 1954.  He portrayed Arthur T. as a soft-hearted guy who just didn't know how to run a business.  So he and other family members got together and fired Arthur T.
END OF STORY?
Now, with most grocery stores, that would be the end of it.
But this true story has a true happy ending (as of late last week).
People got wind of the takeover.  Instantly, the employees, who Arthur T. typically and voluntarily paid above minimum wage, went on strike.  They stood in parking lots and on street corners with signs saying "Bring Back Arthur T.", and an amazing thing happened.
Customers not only refused to break the strike lines, but they parked their cars and joined them.  Truckers refused to deliver supplies beyond strike lines.  Market Basket strike lines actually became popular events for the 6 weeks or so that the strike lasted!
This is when it grabbed my attention.
The employees and customers joined hands in an unprecedented effort to restore Arthur T. to the CEO position.  Even the Governor Patrick of Massachusetts got involved to try to end the mess.
It was a major local story that quickly blew up into a national debate as people marveled at the rally cry of ordinary folks on behalf of a company CEO.
The Story of "Loyal Customers"
Now why do you think people would take their time as customers, make up signs and join picket lines to bring back Arthur T.?  My answer is simple.  Because Arthur T. was all about customer service and fairness to his employees!
Since 1954 people were happy to shop at Market Basket because of fair prices, great employees that were helpful and enjoyed working there, and a CEO who thought the company made plenty of money, and didn't need to improve their bottom line at the expense of loyal employees and customers.
Now I don't really know the nitty gritty details of this story, but if you're interested, just Google "Market Basket strike".
The battle was ended when, a few days ago, Arthur T. put together the funding to buy 51% interest of the company, and resume his role as CEO.
People rejoiced!  Spontaneous parties with dancing and singing broke out in striking parking lots everywhere.  As trucks started rolling into the stores with supplies to refurbish empty shelves, striking employees left the picket lines, and took their own time to return without pay to re-stock the shelves so that business could resume as soon as possible.
But what sticks out most in my mind, is how customers flooded the strike zones to give the employees a hand in their zeal to restore Arthur T.  Off-duty employees and exhilarated customers were stocking shelves as the media trucks interviewed folks at huge parties in store parking lots.
Happily Ever After
It ended like all good stories do.  Happily ever after!
It was a pretty amazing scene to experience, and one I'll never forget.  I mean, when was the last time you ever heard of customers being so happy that they volunteered to help a large food chain stock the shelves?
Even the truckers were happy to fuel up and deliver produce as fast as they could.  They put in extra hours to get it there well ahead of schedule.
What happy news!
So my friends, I wanted to share this story to illustrate the power of customer loyalty.
Arthur T. could have raised prices and cut out some employees and benefits, but he stuck to his ethics.  He put his customers first.
Sure, he made money, but he wasn't money hungry.  This created a strong business and great rapport with eternally loyal customers.
The Marketing Moral of the Story
Let's all take a lesson from this real life story and think to ourselves, as online marketers and entrepreneurs: What am I doing to create customer loyalty?
•    Are you pitching products without engaging with the people you are selling to?
•    Are you on the shiny object wagon, where you sell something that looks great, but is only here today and gone tomorrow?
•    Do you check in with your customers to see how they are doing?
•    Do you check in with your customers to see how you can help them succeed, not just with your product, but with their bigger online goals?
•    Do you write your customers emails to help them implement the features and strategies behind Product X?
•    Do you have the mindset to keep an eye out for your customers and catch them if they had made a mistake?
•    Do you treat your customers like they are your peers?
•    Do you show them your great appreciation for them?
•    Do you sincerely have great appreciation for them?

Take some time to examine your business, and how you are actually serving your customers and clients the best you can.  Because when you do, and when you demonstrate that you are not out for just the quick buck… you will begin to reap the well deserved benefits of having a business supported by long-term, loyal customers.
Many blessings,
-Donna