This post was most recently updated on August 1st, 2016
My dear readers, have you reached your 2015 goals?
Each year we make goals for our blogs and our business.
We reach some of them successfully, but others never even get started on.
Sometimes we pursue our goals through to the end, and sometimes we change our course or just get lost and distracted altogether.
So, have you reached your 2015 goals?
I just wanted to ask this question as 2015 comes to a close because, no matter how things have worked out this year, it is imperative that we set up our goals each year.   
Now, I'm not trying to brag, but David and I completed our goals for 2015 in November.  So that gives us the opportunity to work on next year's goals during the month of December.
Past experience tells me that all the holiday preparations and events that happen during this month keep many people away from business. 
With all that goes on in December, their minds just aren't focused on work in the same way as during the first 11 months of the year. 
Instead, they get totally caught up holiday cheer, scouting out gorgeous decorated houses and spending plenty of time with friends and loved ones.
December is just like that for lots of folks.
In addition, it is typically a season that brings on uncommonly high emotions.
People often get anxious and unsettled when they see the year coming to a close. 
They look back at things that happened that didn't work out the way they hoped.  Maybe they committed some business blunders, failed to complete some things they started, or never started some things they intended to. 
An honest assessment of your past year will often reveal plenty of missteps, miscues, missed opportunities…You get the picture.
Not everything goes wrong, though.
Special: Learn To Blog… (My Video Inside)
A lot of things you did in the past year may have worked out perfectly, too.  Others may have been less than perfect, but still yielding some pretty impressive results.
Usually, when you review the past year, you'll find a number of key things that went wrong, as well as some that went right.
You really need to give yourself some time to make sense of it all before rushing headlong into the next year that starts in January.
That's why I usually like to think of my "business year" as ending at the end of November.  This gives me the month of December for reflection on the past, and planning for the future.
Could it be that you'd benefit, too, from giving yourself that one month leeway to start planning the next year?
This is not a matter of a yes or no question, but rather something to ponder in your life and especially your business.   
Your answer will depend on exactly how you conduct your business.
Setting Goals
Consider the way you set up your business operation.
Do you plan goals for your business?
Are they written down?
Is it organized?
Let me show you quick example for those of you who are visual learners like me.
Here is something I use myself in order to get to the finish line with my goal achievement plans.
As you can see, my goal setting chart is a simple pyramid.
I start at the top of the pyramid, by setting my Big Goal.
As I work my way down the pyramid, I fill in the steps with each of the tasks required to reach my goal. 
I start with the larger tasks, and progressively break those down into the smaller and even mundane tasks that I know I'm going to have to complete in order to reach my bigger goals. 
I further break my pyramid down into months, weeks, days, and even hours for some things. 
Now don't get me wrong, I don't do this in one sitting, he he.
That's why I give myself the entire month of December to work on this.
Of course, I don't do it all by myself.  I work on it with my husband and business partner, David.
We often start with one set of plans, then put them down for a few days, and come back to it to make changes.
We like to work with the pyramid scheme, usually on our whiteboard, because it is visual.  This makes the path we set for ourselves more clear than just a vague set of ideas, hopes and dreams.
Mindmapping
Do you use a mind map?
I know there are a lot of software programs that help you do this.
One of the very best (and it's free) is called "freemind."
We actually use a pretty simple type of a mind map.
It looks something like this…

As you can see here, this is something we use for projects, such as a "Basic Blogging" guide we put together.
But we also use the same kind of mind map to chart out the intermediate steps we'll need to take toward achieving our big goal for the year.
We simply break our big goal into a series of smaller goals called "milestones." In order to achieve our big goal, we must first complete each milestone task.
So essentially, a mind map is a way to visualize exactly how we can reach our big goal by chunking it into a different group of tasks.
Special: Learn To Blog… (My Video Inside)
Once you get your big goal all mapped out in this way, you will have such a clear picture and plan of  exactly what you are going to do.
Seeing it in this way does make it easier to do your daily tasks, and as you do them consistently, you will be able to reach that big annual goal.
Believe me, when I didn't do this, everything was random and I was like a hamster on a wheel.  Working so hard and never taking a break.
Day By Day
Now that I follow a master plan, and have my goals and mind map in front of me, I know exactly what the day is going to be like when I wake up.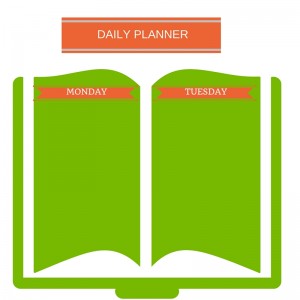 That leads to another piece in the puzzle.
You guessed it… my daily planner.
If I didn't have this, I could never achieve  anything all.
I plan not only what I need to do every day business wise, but also what meals I'm going to prepare and times for exercise and relaxation.  That my dear friends is so important to incorporate in your day.
So there you have it!
This is how I have finished my 2015 goals, and it's the same method I'm using right now to plot my goals for next year.
Oh, I see one of you didn't have a plan at all in 2015.  Let me know how that worked out, lol.
I was there once and feel your pain.  Feels crappy doesn't it.
I've learned that I can't live without my goal planning and implementation strategies.
So I decided a blog post in the middle of December would be the perfect place to share what I do myself in order to get my business going.  I hope you can get some ideas and inspiration from seeing what I do.

How are you doing?
Have you reached your 2015 goals?
Have you started mapping out your goals for next year?
Does your planning process look anything like mine?
Or do you have a different system.
I'd love to hear all about it in the comments below.
-Donna