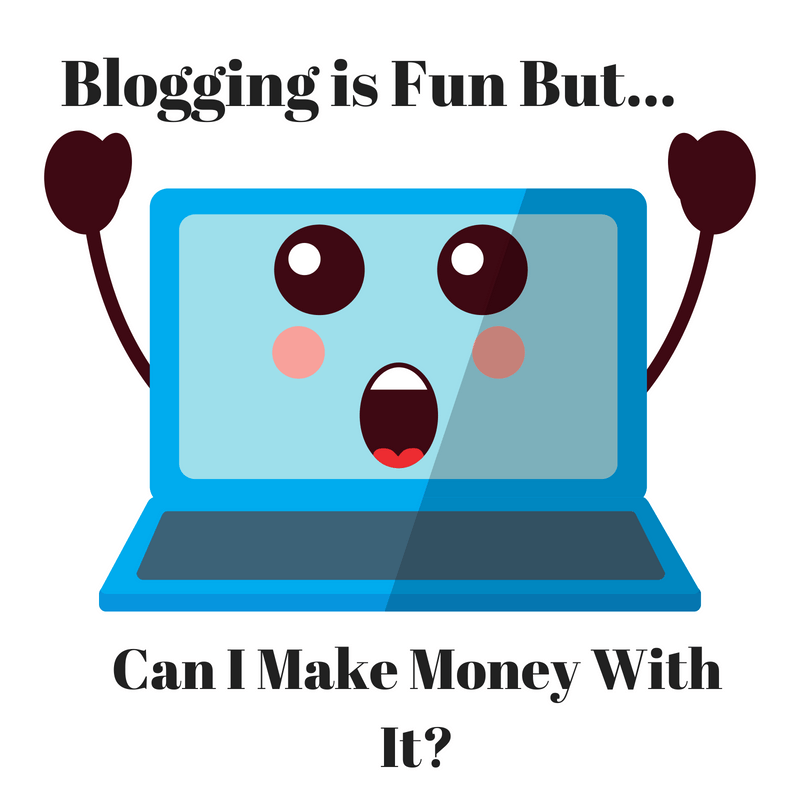 "Blogging Is Fun But Can I Make Money At It?"
I hear this so often.
And it's a really important question that newbie and expert bloggers alike must answer.
So, let me ask you this.
How much fun is blogging for you?
For myself, I have a great time blogging.
Meeting people from all around the world.
And hearing their different points of view, and fascinating personal stories.
It's also a lot of fun to come up with content in your niche, which, I'm assuming… is something you have great passion for.
I mean, isn't that one of the first things you learned as a budding blogger?
Blog Your Passion
"You have to blog what you're passionate about."
I know I tell people that.
And one of the main reasons I always give for that, is that when you are passionate about your main topic, your hard work is not so hard after all.
It's fun.
You're actually having a good time digging for content, talking to people in your niche and even facing the challenges that are unique to your niche.
So let me tell you, blogging can certainly be fun.
Blogging certainly is fun for me.
But the fun has it's limits.
When Blogging Is More Than Just Fun
Think of the times when you have to struggle to get your blog post done.
Maybe you can't come up with a good topic for your audience.
Or perhaps you just can't find the time to sit down and put together a really thorough job with it.
Then there's the time involved.
So the thing is that you might be having a lot of fun blogging.
But it's not always so much fun trying to build a business from blogging.
Turning Your Blog Into A Business
Blogging is not all fun.
By that I mean that the things you need to do to make your blog profitable, may not be the things that you got into blogging for.
So, for instance, if you blog about self improvement through mind control… you may really be passionate about that topic.
You may love researching methods and techniques that are being used and developed for mind control.
And you may have tons of fun putting all that research together into a really cool blog post that you just know your readers are going to love.
Maybe you do a video about it, or get interviewed on somebody's podcast to talk about it.
All fun things, right?
But wait a minute.
Didn't we say that you are trying to turn your blog into a business?
And make your blog profitable?
When Is Payday?
Here you are, having all this fun doing cool stuff that you love.
But there's no paycheck at the end of the week.
Your spouse, friend or somebody else asks you "why are you doing all this work if you're not making any money?"
Fair question, no?
Your answer is probably something like this.
Well, I'm so passionate about my topic, and people really love the stuff I'm doing, that I know one day it will turn into profit… somehow.

The first thing I have to do is just develop a lot of great content and connect with people who love it, and want to see even more.
Okay, so you want blogging to be both fun and profitable.
I get it.
It's the best of both worlds.
All Play and No Work
The problem I have with this approach is that bloggers who tell me they're "pursuing their passion" are usually doing ONLY the fun stuff, and none of the business stuff.
Let's face it, getting your blog to be profitable means that have to put systems in place to make that happen.
It's not very often that someone just starts blogging away and their blog posts start going viral.
Even if you say it doesn't matter if it goes viral, you just want to attract a very specific niche crowd… well it's not likely that they will appear out of thin air either.
The truth is, in order to make your blog more than "just" fun, you have to also put systems into place if you want that fun to turn into profit.
By the way, profit is fun too, isn't it?
I mean, in a different way, for sure.
But it's still fun to see your Paypal or Stripe account start to grow while you're having fun blogging.
Blogging Profit Systems
So what kind of systems do you have to put into place in order to start seeing profits?
Well, they're really not all that complicated.
The trouble is that many bloggers just don't really want to do them because it involves work that they might not enjoy.
To me, that's kind of like the "writer" who only writes when she's inspired to.
Not a whole lot production coming out from that approach, I'm afraid.
Most of those writers never produce much of anything because they never make it their business to sit down and write.
I mean, write a specific number of hours, 5 days a week.
Those are the professional writers who really do get their books and articles published, as opposed to those who talk about it for years, but nothing happens.
So what are the systems you need to put into place to make your blog profitable?
Of course, there's no one answer because there are many different ways to monetize your blog.
A lot depends on the business model you choose.
But let's look at some things that would help most bloggers get the ball rolling.
Private Domain & Hosting
Don't even begin to think that you can really run a business on somebody else's web site, and through their hosting.
In other words, don't try to run a "free blog" where you are given blog space.
That includes Facebook pages, Medium and all the other places where you can "set up shop" without being bothered with hosting, or buying a private domain.
Now, that's not to say that these sites are worthless to your business.
Far from it.
You can get lots of traffic to your private blog, by posting good content on some of the free platforms like the ones I just mentioned… and many others.
But if you want your blog to be a profit-center for your business, then you want to be able to control what you do on it.
Can Your Make Money Online Without A Website?
Now I know you've heard that you can "make money online" even if you don't have your own website or blog.
That's true.
But I'm not talking, here, about grabbing some commissions on YouTube or dropping affiliate links on Facebook or Twitter.
I'm talking about building a business structure that is
long-term,
growth-based and that
consistently delivers revenue.
It's like the difference between owning a corner pizza shop and selling slices across a fold-up table at your local street fair.
You can sell pizza in both ways, but which one do you think represents a stable, consistently profitable business model?
Your Own Private Domain & Self-Hosting
So, the first thing you need to do as a blogger and as a business person, is to buy a business and blog domain of your own.
Then you need to find a good hosting plan to put it on.
One of my favorite web hosts is BlueHost.
Set up hosting with BlueHost, and they'll even throw in your blog's domain for free.
So you can kill 3 birds with one stone.
An Opt-in Offer
One of the most important business functions of most blogs is to collect leads.
You want to have people who are interested in what you do, sign up for your email list.
This gives you the right, and the ability, to promote products and services to them that are relevant to your niche.
Sounds great, right?
Well of course it is.
And no matter what you might hear from anywhere else… more people purchase through your email list than anywhere else.
Or at least, that's the case for most bloggers.
So it's critical from a business perspective, to build an email list.
Well, in order to do that, you typically need to offer people something for free in exchange for their email address.
The thing you give away for free is your "lead magnet."
It's called that because it is a free offer that attracts and captures leads for your business.
Your lead magnet needs to be something that people will truly value.
Otherwise, they won't sign up for your email list in order to obtain it.
So come up with something that your specific audience will value.
Then offer it to them as a free gift for subscribing to your email list.
This is one of the best ways to build a profitable email list with your blog.
A Squeeze Page
Once you have your lead magnet, you need to promote it.
You need to let people know what you've got for them.
That's the purpose of a squeeze page.
A squeeze page is a single web page that simply tells people to give you their email address in exchange for your free offer.
This is a very simple web page to set up.
But it's probably the most important way to make your blog profitable.
With a good squeeze page, you will attract lots of subscribers to your email list.
Every single time that you mail to that list, you have an opportunity to make sales or sign up new clients.
And it happens almost instantly.
Send out an email at 10:00 a.m. and by noon, you should be seeing sales piling up inside of your Paypal account.
An Autoresponder
With private hosting and a squeeze page, you can start building your email list.
People who sign up are telling you they like what your free offer is.
This qualifies them as members of your target audience.
You can then monetize your email list by sending out a regular emails to them.
First, build a relationship by letting people know that you are on the same journey they are on.
If your audience wants to know all about dog training, for instance, let them know you've got exactly that kind of information to share with them.
Then, let them know what things they can buy to help them further along on that journey.
What You Sell To Your Email Subscribers
Offer them your products and services.
Offer them other people's products and services.
And always keep in touch with them to see how they're doing, and what more they'd like to learn about.
That's all there is to it.
As soon as somebody signs up to your email list, you can start earning a profit from them.
And you don't have to do anything.
It all happens through the magic of your autoresponder.
That's an email software that automatically starts sending your promotional and relationship emails.
Your Autoresponder
Now, on the subject of autoresponders, it's always important to choose the right one.
One of the things I've been seeing a lot of lately is marketers encouraging you to get rid of your autoresponder service.
They tell you to rely instead, on their autoresponder plugin or software.
I would caution you about doing that.
You see, the email list that you work so very hard to build, is the greatest asset you can have in your business.
I've already told you why.
Now, your part is to make sure to protect that list.
Make sure it doesn't disappear or get hacked into.
I don't know about you, but personally, I'd never entrust that to a software or plugin.
What happens if it fails?
Or if it just disappears overnight?
What happens to your precious list if that software only rarely gets updated with critical security upgrades?
Yes, those things may be cheaper to use, but is your list safe there?
I strongly encourage you to use an established autoresponder service.
The Best Autoresponder
My favorite autoresponder, the one I've used for years now, is GetResponse.
It not only secures your list, but maximizes the amount of emails that will actually get sent out, and that will actually get received.
Oh, maybe you didn't know that.
Unless you use a highly trusted service like GetResponse, you run the risk of having a very low "delivery rate"… that is, the percentage of your emails that will actually be delivered to the people on your list.
And the number of people who will actually see it, open it and read it.
I especially love GetResponse because of it's gold standard customer service.
Sponsored … 
Build Your Email List …
Anytime you have a problem, or question, or want to know how to improve or optimize your email marketing… just call them.
Yes, you can call them on the phone.
Not only do you get to talk to a live rep, but in my experience, you don't even get put on hold for 10 to 20 minutes.
I usually get to talk to a live rep with a hold time of 60 seconds or less.
And not only do they help you fix or understand things… they actually help you figure out ways to improve your email marketing methods and techniques.
And as if that's not enough… GetResponse even has a landing page platform.
So remember how important I told you a squeeze page is?
Do you know how to build a squeeze page?
If not, you can do it right through GetResponse!
And not only squeeze pages… any landing pages, including sales pages for your products and services.
So sign up for a free 30 Day Trial and test drive it for yourself.
"Blogging Is Fun But Can I Make Money At It?"
So, the simple answer is yes.
The more complicated answer is this.
To make money blogging, you need to set up some very specific systems.
The ones I just described are the bare basics.
In upcoming articles, I'll show you other, more advanced systems that you can use to monetize your blog.
Yes, blogging is fun and yes, you can make money at it.
But that means, you have to build it into a real business.
Now, I'd love to hear your comments and questions.
And make sure to share this article on your social sites.
Thanks much 🙂
-Donna