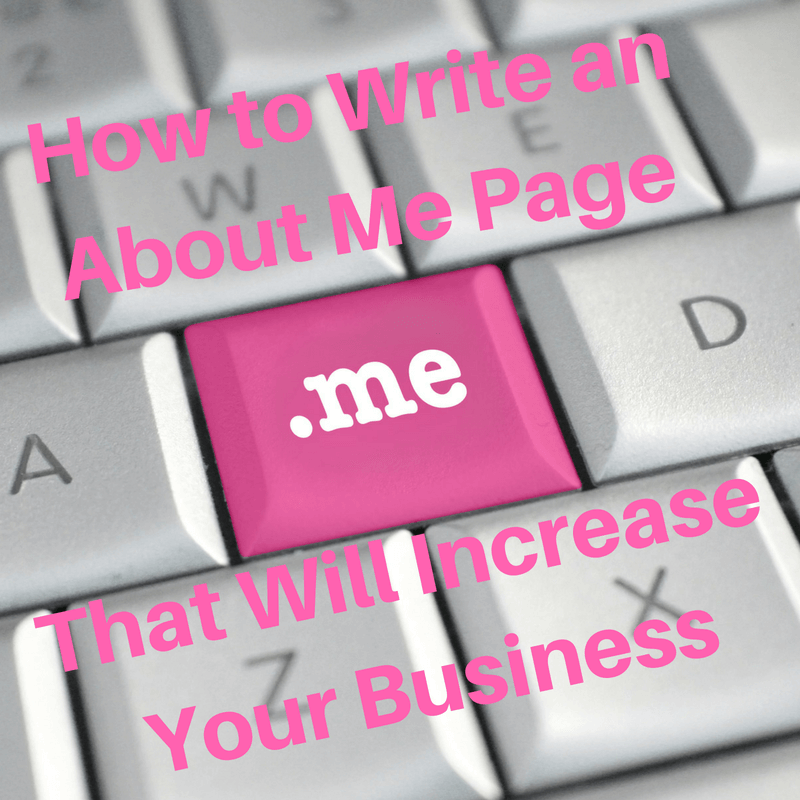 Do you know how to write an About Me page that will increase your business?
Now, so many of you want to know how you can make money blogging.
Well, it really begins with your About Me page.
I'm always amazed how few bloggers take advantage of their "About Me" page.
You see, one of the most important reasons that you blog at all is to build a relationship with your audience.
Let's face it.
When you just run ads to sales pages, or drop links to affiliate products on social media sites, you're not building a relationship with anyone.
You're just some sales hack looking for somebody… anybody… to buy your stuff.
Let People Know Who You Are
Sure, you can put videos on YouTube, and maybe that's a step above paid ads or link dropping.
But still, you're not reaching people in a very direct or personal manner.
And if you're not reaching people in that way, then they're not going to really know who you are.
Now, you might not care about that.
But they do.
Build Trust
And because they don't really know you, they are not going to trust you.
When you tell them to buy a new software, or recommend your favorite web hosting plan… they're not going to be likely to purchase from the link you provide.
That's because they just don't trust you.
They may not distrust you.
But when it comes to buying something, or seriously considering someone's recommendation for products or service, they'll turn to someone they know and therefore trust.
A Quick Story
If you don't understand why, let me give you a quick little example.
Let's say you want to hire somebody to renovate your bathroom.
You need someone to come in and rip up all the plumbing and fixtures and replace it.
If they mess up the job, you could be facing all kinds of problems from water leaks to faulty electric fixtures.
Then what would you do?
Well, you don't want those problems so you want to be sure to get somebody really reliable .
You also want to pay a fair price.
Maybe not the cheapest price, but you certainly don't want to get ripped off by somebody.
You don't want to get a bill for $20,000 for a $5,000 job.
But how do you know who is good, honest, reliable and all that?
Well, you could do a Google search and find all the people in your town who do that kind of work.
Get Personal
The problem is, the ads just tell you that everybody's great, reliable and cheap.
Everybody seems to be "the best" if you're just looking at ads.
So, still, you don't know which way to turn.
I'll tell you what you'll probably do.
This is what most people do.
You ask a friend.
Right?
Maybe your co-worker, brother-in-law or neighbor.
The point is this.
You don't care what "experts" tell you.
You're going to trust the word of someone you know, someone you engage with regularly, someone you have a personal relationship with.
Hey, I even know people with cancer who took the advice of a parent or sibling as to treatment choices or the best place for treatment, or the top oncologist.
That's how powerful the personal trust factor is.
Imagine if your doctor told you you should take a certain medicine, but you decided against it because your father-in-law recommended something else that he "heard about?"
It seems amazing.
But this is what people do.
They really do.
This is a Unique Opportunity
So here's what I'm saying.
Your About Me page gives you a unique opportunity to build a real relationship, an authentic human connection with your readers, prospects… your audience.
Now you might now think much about your About Me page.
You might not even have one!
Why am I telling you it's so important when you barely give a second thought to your About Me page?
Because it doesn't matter what you think about it.
What matters is what your readers think about it.
And they think a lot about it.
The fact is, your About Me page is probably the most visited page on your entire blog.
That's right.
Your About Me page that you might have put together 6 months ago, or a year or more… is your most important page.
Sure, you may have forgotten all about it because you did it a long time ago.
It's old news for you.
But for new people visiting your blog, it's new information.
It's a new opportunity for them to get to know who the person is behind your blog.
Don't miss this opportunity.
The Weak "About Me" Page
If you think of your "About Me" Page as something to just rush through so you can get it done, it's going to look like it.
I mention this because I know a lot of bloggers do this.
They just want to focus on their blog posts, and setting up an "About Me" page is just a chore to them.
So they make it really short and uninspiring.
Here's some of the mistakes you might make.
Write a Boring Biography
This is the biggest mistake I see.
You might not really know what to say about yourself, so you just start jotting down a biographical sketch.
Maybe you start with where you were born and raised.
Then you could get into your school experiences, your first job, your professional honors.
I can tell you right now, very few people will find this interesting or compelling.
You probably wrote all this stuff because you found the "About Me" task tedious.
Your readers will pick up on that right away.
They'll either be bored or annoyed.
Either way, they could just leave your blog and never return.
They won't even see your great content because they'll figure that if you are not an interesting person, anything you write about won't be interesting either.
Talk about yourself in 3rd person.
What do you think when someone talks about themselves like they're just an impartial observer?
Weird, right?
I don't trust when people do that, and yea, I've probably done it too.
But you know what, you want readers to trust you.
That's the most important reason to blog.
So write your About Me in first person.
Let people know it's you, talking about yourself.
Much better.
Much more trustworthy and believable.
Be Overly Promotional
Another common feature of the weak About Me page is being overly promotional.
Don't just sell your business or service or whatever.
Sure, you can and should do that.
But make sure it is natively embedded in your story about yourself.
Your story first, and then, just weave in your self promotion where it really fits into your theme.
The Strong "About Me" Page
Okay, so avoid all the weak things I talked about above.
Then you're well on your way to having a strong About Me page.
Now, on top of that, be personal.
Be engaging and interesting.
Even conversational and intriguing.
This usually means that you don't want to write an autobiography.
Tell Your Story
Instead, write a story.
Tell a story about your experiences, your journey that have led you to now be in a unique position to help your readers.
Let them know, through your story, that you are uniquely positioned to help them overcome their challenges… the same ones you had to overcome.
And let them know you want to help them, you want to improve their lives and that you really care about the.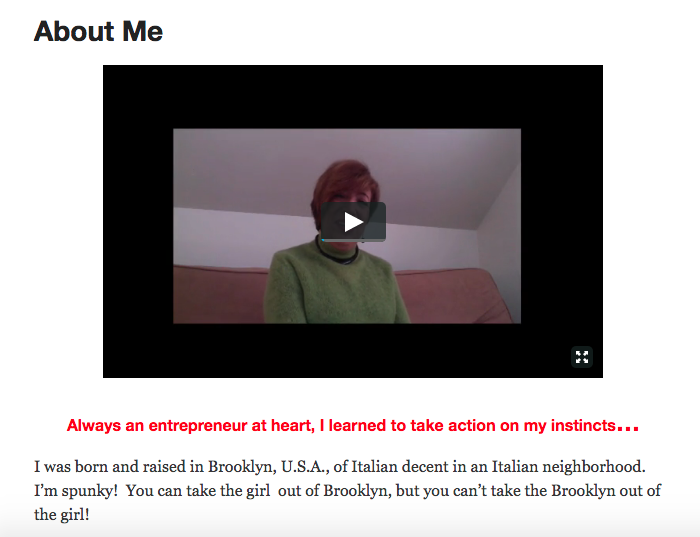 To make your story "pop" and be really personal, try adding a video to your About Me page.
Remember, you want to be personal and engaging.
Is there any better way to do that than through a video?
I don't think so.
Do you?
Promote Yourself
And remember what I said about being promotional.
Do it.
Let people know what you do, what your great service is that will help them, or your incredible product that will show them the way.
Just do it smartly, natively, interestingly and personably.
Don't cram it down people's throats, but make sure they get the message that YOU are the person they want to connect with, build a relationship with, and yes, do business with.
Update Your About Me Page
I don't want to end this article until I repeat a point I made earlier.
Because this is really important.
And this is something that I haven't been too good at, but I know I should work at it.
So do as I say, not as I do, here 🙂
Here's my point…
Update your About Me page.
It's not a "set and forget" deal.
Your business changes.
You grow, your journey twists and turns.
Take people along with you.
Don't write your About Me page and never look at it again.
Try to revisit it, maybe once a year or so.
Just little tweaks usually, maybe something big if you suddenly dive into something new.
How Is Your About Me Page?
So how is your About Me page?
Time to make changes?
Maybe yes, maybe no.
But why not give it a look if it's been posted up for a while and you kind of forgot what it looks like.
Oh, one more thing.
Some people don't think they need an About Me page at all.
Again, it's probably the most important page on your site.
So if you don't have one yet, do it now.
Do you know how to write an about me page that will increase your business?
So, what about it.

Do you know how to write an about me page that will increase your business?
I'd love to hear from you in the comments below.
Thanks for joining the conversation 🙂
-Donna