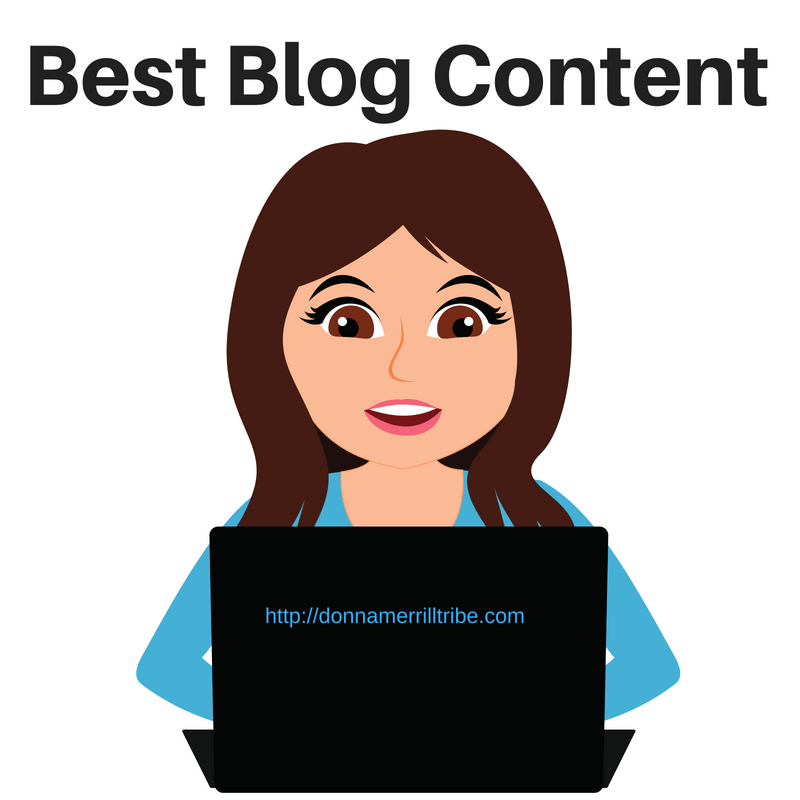 The Best Kind Of Content To Offer On Your Blog is content that engages your readers.
I recently wrote about how bloggers build a following when they lead the way.
Well, the best way to do that is to give your readers content that they
can resonate with…
will easily digest…
understand without a dictionary…
consume quickly.
Content That Resonates
You want to make sure that people can relate to what you're writing about.
It has to be something that they're really interested in.
And it has to resonate with them on a deeper level than meets the eye.
That usually means that your content needs to help your readers solve key problems that challenge them regularly.
Now, when you know what problems people in your niche have, you can easily tap in to their desires and pains.
Develop content that gets right to the heart of the matter,
This will draw them in to your articles, and keep them reading well beyond the first few sentences or paragraphs.
Content that resonates with your readers begins with your title.
Your title should make clear exactly what problem you are about to solve in your article.
It should clearly define what promise you are making.
It has to be something that will right away get your readers thinking
"this is just what I was looking for," or
"yes, this is exactly what I need" or
"this is what will help me most right now."
That's the kind of problem solving content… those are the kinds of solution-oriented promises… that your readers will most strongly resonate with.
Easily Digested Content
Understand, too, that readers don't have the patience to wade through tons of information or dry, boring narrative.
They want to get right to the heart of the matter.
Yes, they want their problems solved, but they don't want to work too hard at it.
Now you might think that the solutions that you're offering require hard work.
That may be.
Except, that's the kind of content your readers will get too excited about.
It won't draw them in, or hold them once they're there.
If you make things too complicated, convoluted and obscure… then people will just turn away and look for someone else to follow.
The key here is to not try to solve every crummy little aspect of every problem your niche crowd has to deal with.
Most problems that your readers have will be complex and require many steps.
But take just one tiny little step at a time.
See each blog post as a tiny stepping stone to solving key problems, not the total, complete and final solution.
Each piece of content you post on your blog should solve just one tiny little part of a much bigger and far more complicated problem.
If you try to help your readers solve everything in one blog post, then you will probably not help them solve anything at all.
They will just feel overwhelmed.
In fact, they'll probably just bounce away and look for something that promises a simpler solution to their problems.
Strive to make each piece of content you deliver be easy to digest and consume.
Nobody Should Need a Dictionary to Comprehend Your Content
Try to write on a simple, basic level.
Keep your blog posts simple and straightforward.
Don't see them as an opportunity to show off how much you know.
And never try to overwhelm people with language in order to try to prove how much you know about your topic.
People don't care how much you know about your topic.
They only care if you are able to help them solve their problems.
You know… the WIIFM… "What's In It For Me" mentality.
So try to write so that a fifth or sixth grader would understand what you're saying.
That's not because your readers are dumb.
It's because they are looking to uncover the solution to their problems… not to get overwhelmed with lengthy or complicated language.
In fact, it's a really good idea to try to supplement text with video infographic and other types of nonverbal content.
People are more engaged with non-verbal content, especially when it is interspersed with chippy, snippet style text.
For that reason…
Infographics are one of the best ways to boost your blog.
And video is the king of building engagement.
Remember… engagement is what really leads to conversions on your blog.
Engagement is they key to converting your readers into
loyal followers
Subscribers
Customers
Clients
Need any of those?
This is why video is so important for bloggers.
And it vastly lightens the burden on your readers as they try to understand the points you are making… or the information you are relaying.
Create Content For Quick Consumption
Recognize the fact that your readers are probably very busy.
They have problems and are desperately seeking solutions for them.
So, first, you need to get to know your target audience.
I don't care if you have a flashlight niche site.
It has a specific, target audience.
That audience undoubtedly consists of people who are seriously looking for a very specific kind of flashlight.
It's important to them, or they wouldn't be on your site.
But they can easily get overwhelmed with all the information online.
So strive to be different than other bloggers.
Strive to give people what they want right up front.
Offer quick solutions to their pressing problems.
This again will often mean that you'll replace a lot of long-drawn-out, tedious text with nonverbal content forms.
As I said before, video and images are great way to teach people things.
Infographics, too, because they commingle text with images.
That helps people understand a complex subject with just a quick glance.
Or surveys that draw people into your theme, and encourage them to actually participate by answering some simple questions related to your topic.
Surveys are wonderful because they get people engaged and active.
Otherwise, they might feel more like they're sitting in school trying to understand something.
My favorite is short videos.
They instantly draw people into your solution, and into your branded way of delivering it.
In fact, the best kind of content you can possibly offer is something short and simple, yet highly engaging.
The Best Kind Of Content To Offer On Your Blog
Let me summarize.
Like I've said…
the best kind of content is that which allows you to get your point across to your readers in a simple fashion, while simultaneously compelling their engagement.
Successful blogging is not so much about producing great information as it is about fostering strong relationships.
That is done mostly through content that is highly engaging.

So what do you think?
How could you make your blog more engaging?
What kind of content do you rely on most in your blogging?
How could you simplify it and make it more relevant to your readers?
What content forms might help get people more engaged in your blog?
Give this some thought.
What do you think is the Best Kind Of Content To Offer On Your Blog?
I'd love to read your comment below.
And please, make sure to share this around on your social sites.
Thanks so much 🙂
-Donna