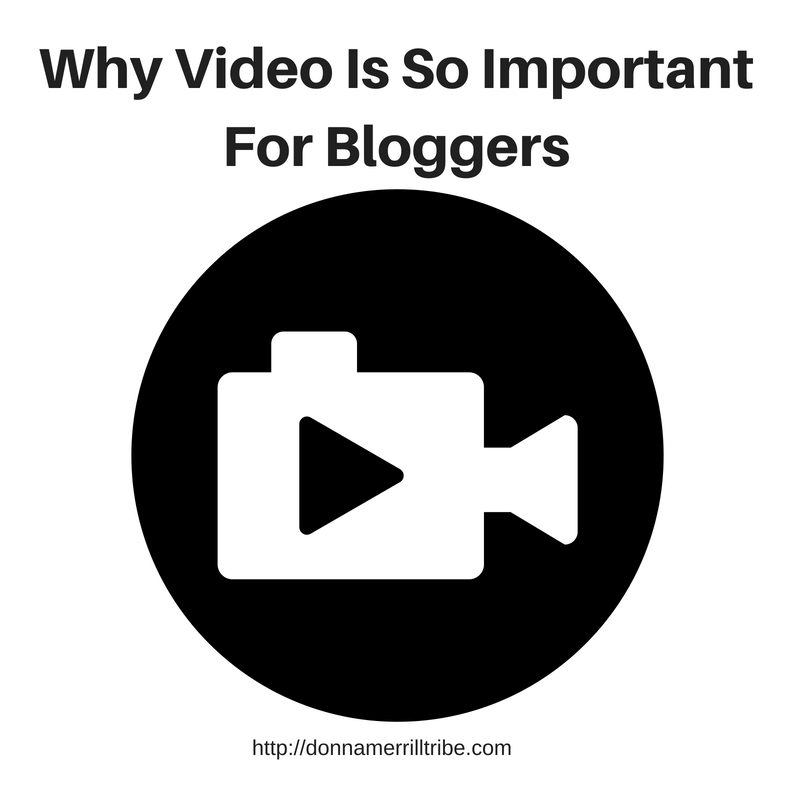 There are many reasons Why Video Is So Important For Bloggers.
Bloggers need to connect with their audience.
They need to build a relationship with them.
Most of all, they need to earn their trust.
Oh, and don't forget… you want to drive traffic to your blog, too, don't you?
Video is probably the best way to do all of these things.
What challenges do you face as a blogger?
Are you trying to get more traffic?
Maybe you need to get ranked higher in the search engines.
Whatever your immediate challenges are, video is almost certain to help you to overcome them.
Here are 7 reasons that it is important to have video on your blog posts.
7 Reasons Why Video Is So Important For Bloggers
1. Video helps your blog rank high in Search Engines
Google
For one thing, video you've uploaded to YouTube helps your blog posts rank high on Google.
That's because YouTube is owned by Google.
Google loves showing off their YouTube videos by ranking your blog posts high when they have a YouTube video embedded in them.
YouTube
At the same time, your videos can rank inside of YouTube itself.
When you have a link from your video to your blog post, you stand to drive YouTube traffic to your blog.
You can even make good use of YouTube cards.
So think of ways that you can include video on your blog and upload them to YouTube.
I'll bet you will see immediate Improvement in your blog's ranking.
Facebook
But it's not just Google and YouTube.
Facebook, too, has its own ranking system.
And it loves to push content that it's visitors love to the top of the news feeds.
That means video.
But more than just regular video, it also means Facebook Live video.
Facebook Live video is one of the hottest things on the internet today.
It's certainly just about the best way to vastly increase your Facebook reach.
If you can do Facebook Live videos, you will almost certainly get your Facebook post ranked high within Facebook feeds.
But in addition, you can convert those Facebook Live videos into YouTube videos to get the extra benefit of ranking your blog high in Google.
I'm talking about getting ranking on Google and YouTube from your Facebook Live videos.
But how do you do that?
This is just a little repurposing trick that I've learned that helps me get my blog post ranked high both in Google and in Facebook from the very same video.
Just record you Facebook Live video, and render into a format that you can upload to YouTube.
Now you have both a Facebook Live video, and a YouTube video from the same Facebook Live presentation.
2. Video establishes a Know-Like-Trust relationship with your audience
People resonate with video.
It helps them get to Know you.
Once they know you, the can come to Like and Trust you, too.
Video is critical to your blogging because you need to get people to engage with you.
But they won't do that until they enter into this Know-Like-Trust relationship with you.
There's no better way to get people to know, like and trust you than by showing up on video and talking to them.
Person to person.
You see, we Live in a very visual world.
People won't always read your blog posts.
But they'll almost always peek at your videos.
The shorter you can keep them, the more engaged people will get.
Nobody wants to sit through a 30-minute video just to get through your blog post.
So use your videos to connect with people, to get them to know who you are, to get a feel for your personality and expertise.
Create video often, keep them short and sweet and embed them routinely inside of your blog posts.
3. Video makes you "Real" to people
They get to see how you do or do not fall apart when technology "blips."
It shows them how you are able to handle things.
One of the real intriguing things about video for people is to see live videos presented.
This is why I prefer Facebook Live over more carefully produced YouTube videos.
People love to see how you're going to be able to handle each immediate situation, where people are asking questions or dropping comments.
They love to see how you handle technical glitches when they come up.
They even love to see you make mistakes and screw up.
I suppose part of that is because they put themselves in your position.
They wonder how they would handle things.
So they like to see how you do it, and go through that process vicariously.
This is the reason that reality TV shows are so popular.
People like to see people caught in immediate situations that are not scripted.
Or at least they do not seem to be.
4. Video is a great way to give people real value
Of course, your videos are not just about being entertaining or engaging.
They're not just about getting people to know you.
They're also about giving value to people.
So give people real value when you do your videos.
And do that whether they're live on Facebook or they are produced for YouTube or or other video platforms.
To teach people something of value, you need to have a well-thought-out outline or plan for your videos.
But not just to do a good presentation.
More important, so that people will come away learning something new.
It doesn't need to be a whole course, or even a real detailed "training" on a topic.
Just come up with one idea that you would like to share with your audience.
Then present it clearly and, if you can… in an entertaining or personable manner.
When people learn something from your video that they value, they will come to regard you very highly as a blogger.
5. You become appreciated
People appreciate you more when you do video.
They realize that it takes more effort than just writing a blog post.
And they realize it takes some commitment on your part to get out there and do something little bit more than everybody else is doing.
So they understand that you're probably really trying to help them improve their lives in some way.
That's why you're going the extra step by doing a video.
People really do appreciate the effort you take.
And the fact that you have to stick your neck out and risk looking foolish or sounding silly.
But not only are they appreciative.
They also get some sense of obligation to you for all the great value you've given them.
And they find themselves wanting to reciprocate in some manner.
Just deciding to watch your video involves some level of mini-commitment on their part.
That mini-commitment, along with a sense of appreciation and even obligation is powerful marketing.
It can often translate into more traffic to your blog, higher subscription rates to your email list, and even increased conversion of viewers into paying customers and clients.
6. Authority recognition
The more value you give in your videos, the more recognition you will get as an authority in your niche.
Now I mentioned before that it is a good idea to teach people things in your videos.
So whatever your niche is, think of what your prospects' chief problems are.
Then offer them some sort of a solution each time you do a video.
It doesn't have to be a complex or complete solution.
Learn to develop just be one tiny little solution, to one tiny little part of some bigger problem your audience struggles with.
So let's say that your niche is social media marketing, for instance.
You might want to do one short video on just one tiny little aspect of Twitter marketing.
This is not going to solve all the problems that your viewers have within all of social media marketing.
But it will give them one tiny little actionable bit of information that they can run with.
When you do this, you're really improving people's lives with your video.
You're helping them to improve their business.
And of course, the people you are helping in this way, are your main prospects… your target audience within your niche.
So again, this will result in more frequent and loyal visitors to your blog.
7. If an Image says 1,000 words… Video says 10 thousand
Videos can say far more about you and your blog, many tons of Facebook images or articles.
But here's the problem.
Probably the most common thing I hear from people is that they are afraid to face the camera, or the web cam.
So even though they know how important it is to tell their "10,000 words"… they hesitate.
Or, they just stop themselves altogether.
But do not despair.
People tell me "well, you can do it because you've been doing it for a long time."
Well that may be.
But you know what?
There was a time when I had never done it before, either.
I was a newbie, too, at one time.
And yes, I was once afraid to go on camera.
You don't think I had to worry about what I looked like?
Or what I sounded like?
I had to try to "cheat-sheet" my way through video lessons for people in my niche.
All all I could think about was what I was looking and sounding like.
So, you have to start somewhere.
I did.
And we all do.
Here's one of the easiest ways to get your feet wet, if you're "camera shy."
Screen Sharing
If you are "Not Ready" to do a "face to camera" video… then you can do a simple screen share video.
I think this is the best way to start off, because you can do videos "off camera."
So, try doing some "screen share" videos before actually appearing on camera.
This is a great way to get warmed up to the idea of doing face to camera videos.
That's because you get to do all the technical things that might be scaring you.
Things like turning the camera on, hitting the record button, timing your slides without having to worry about what you look like.
It gives you a chance to start focusing on what you are talking about, without having to worry about what you look like.
So it helps you, step by step, work your way up to doing face to camera videos.
Browser Video
Simply capture something on your browser that you want to discuss and start talking about it while the camera is rolling.
You'll need to have some kind of video capture software to do this of course.
I use Screenflow for Mac.
But there are many different types of software you can look into.
The idea is to just start taking creative browser video capture.
Then upload your videos to YouTube or even to Facebook.
This will help you get you into the flow of doing videos.
Face the camera can come later.
Image Capture
If you're not comfortable doing a browsing screen capture, by the way, you can just talk over a static photo.
By that I mean, simply set your screen capture software on an image.
The static image.
Then start talking while your web cam is capturing the image.
Now, this can get pretty tedious for people to look at if the video goes on too long.
But if you're doing just 60-second videos in this way, it doesn't give people time to be bored just looking at a static image.
You could even do a few minutes, maybe up to 5 minutes in this way.
Slide Show Presentations
Another option is to narrate a slide show presentation.
You can use PowerPoint or Keynote.
Or you can simply use a word text document.
In that case, simply type a little outline onto a text document and read through it while you record.
That's a very simple video style, but it accomplishes the most important thing of all.
It gets you into the flow of doing videos.
Why Video Is So Important For Bloggers
Bloggers need to help improve the lives of their readers and visitors.
There is always something you can share with your audience to do that.
And there is always something you can do to show people that you're able to help them with their problems and challenges.
Share these things through video, any way you can.
If you can get used to expressing your core message with videos, it will make you much more personable and real to them.
It benefits your audience because remember, they learn best and retain more via video than any other medium.
And it benefits you.
Doing video consistently will make you an authority blogger in your niche.
And when you become that authority… people are far more apt to purchase your products and services.
Do you use video on your blog?
Or to promote your blog?
Are you using video to spread your core message throughout social media?
This is Why Video Is So Important For Bloggers.
So share your experience or fears about doing video in the comment section below.
Let's talk about it 🙂
-Donna
PS: Please share this article on your social sites, too.
I'll bet a lot of people in your crowd would like to know "Why Video Is So Important For Bloggers."