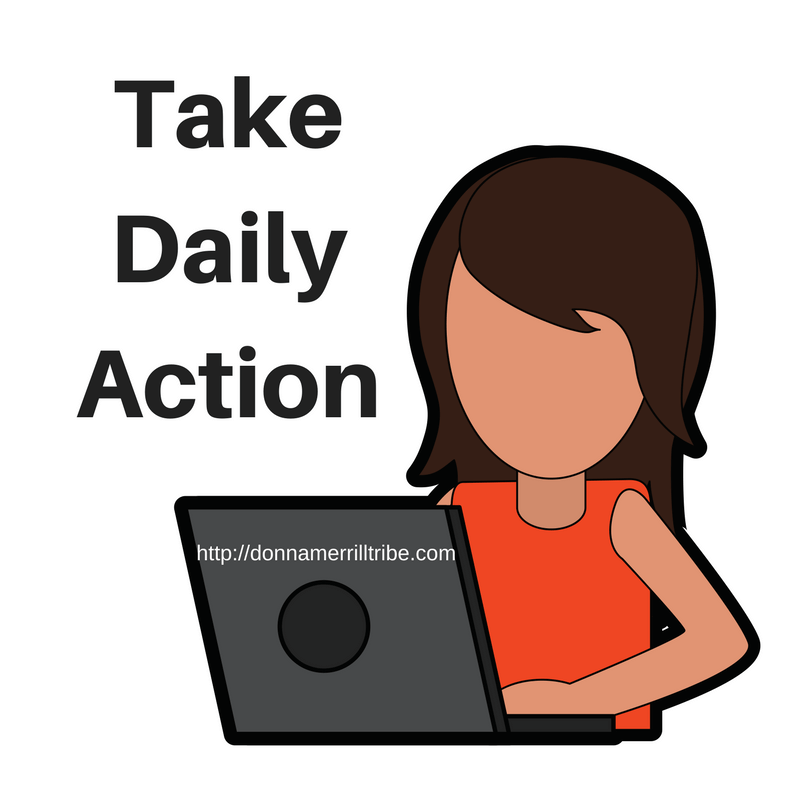 Do you know how to implement the best daily actions for your online business or blog?

It's really important that you do because otherwise, you'll be doing the wrong things.

And probably for the wrong reason.

You know that taking action is critical to your success.

Especially if you haven't learned to break through what seems to be an endless trail of failures.

But you don't have to be chained to failure.

In fact, failure can really help you learn how to implement the best daily actions for your online business.

So, taking action is essential to break through failure.

Absolutely essential.

However, that doesn't mean that you always know what actions to take.

And even if you did, it doesn't mean that have the ability to implement them.

There's actually a reason I'm writing about this today.

I have been working with a client who has been struggling to grow her online business.

The biggest problem she has come up against, is trying to figure out where to put her energy on a daily basis.

Let me tell you her story.
CASE STUDY
My client is in the process of putting together a membership site in a micro niche.
It has to do with self-improvement.
First of all, understand that she is already a professional counselor.
She works with people all the time on self-improvement Issues.
So she's very familiar with what she does.
However, in setting up a membership site, she's getting overwhelmed trying to deliver a steady flow of material to her members.
She is simply getting bogged down with the weight of creating content.
Now, it's not easy to overcome overwhelm.
Since her members are paying for this content, her business absolutely requires that she be able to deliver it.
For this reason, she had decided to start relying more on PLR content.
If you don't know what PLR is… it's simply articles and videos that somebody else has created, but that she is able to rework in her own voice.
She's not using PLR in a way that many people do… to be chasing fast money.
Instead, she is trying to grow her business by offering her customers more high quality, self-help content on a steady basis.
That's why she has decided to start using more PLR services.
PLR stands for "private label rights."
So she has purchased the "rights" to reshape this material in any way she wants.
This was very helpful to her in the sense that she now possessed a lot of raw material to work with.
But she started working with me because she just had gotten overwhelmed.
She was having a tough time just re-working all of the content she was purchasing.
So what it gets down to is this.
Sponsored … 
Build Your Email List …
Even though she had a broad plan and strategy for maintaining her membership site, she couldn't implement it.
So we had to come up with a daily plan of implementation.
We talked about several solutions, and came up one she could work with.
And she has been using this plan for a while now, and it has really helped her tremendously.
She tells me she can finally sleep at night without worrying about what to do the next day.
I won't go into the whole plan we devised, but one of the key parts was this.
We set a rule that when she purchases new PLR content, she must publish it on her site within 24 hours.
In other words she can't buy it and just leave it lying around on her desktop like she had been doing.
By doing that she was accumulating a mountain of work just trying to organize and prioritize all of that.
Instead, part of her new daily plan of implementation requires her to buy PLR content one day, then stop everything and focus just on whipping it into shape.
Within 24 hours she has to actually publish it onto her site, not just "think about it."
Why has this helped her so much?
It seems pretty simple and straightforward, right?
Well, it helped because she was taking a problem (creating content) and giving it a big, complicated solution that she couldn't manage.
By breaking it down into a few simple tasks that she had to do, then she could manage it.
What's The Big Deal About Being A Daily "Action Taker?"
As you will discover, taking action on your business every single day is what moves it forward.
In fact, it's the ONLY thing that does.
The problem my client was having (in the above Case Study) was in getting so overwhelmed that she just couldn't do anything.
That fed into a growing fear that she "couldn't" do it.
The fear caused anxiety that was keeping her awake at night worrying about what to do next, and whether or not she could.
By setting a schedule of Daily Actions that she knew she had to do, even before going to sleep… she could rest easy.
That's because she no longer had to run this big membership site.
She no longer had to create a "mountain" of content for it.
Instead, she only had to wake up, complete one task, and know she was keeping her business running smoothly.
She slept better at night.
And at the end of the week, she had produced far more content on her site than she was able to by simply thinking, worrying and spinning into despair.
How Can You Know What The Best Daily Actions Are For Your Online Business?
Okay, so my client had already decided on a broad plan of action before hiring me to work with her.
She had decided on a plan of buying some new PLR content to help her build up her membership site.
But she didn't know how she should handle all this on a daily basis.
Should she stockpile PLR content to work on, and when would she have time to do it all, and what was the best way to re-shape it into her own work, etc.
In other words, what were the best daily actions she could take?
Well, it turns out that the best things to do, are things you CAN do.
Don't overwhelm yourself with plans to do things you just can't manage.
So, for instance, we decided to adopt the rule that she would buy just one PLR product each week.
But she then had to immediately re-work it and put it on her site.
That's called implementation.
She agreed not to buy any new PLR until she had 100% processed the previous one.
That worked really well for her.
So, it turns out, that was the best thing for her to do.
If you are struggling with some aspect of your blogging or other online business, you have to come up with your own "Best Daily Actions."
Remember that whatever you set out to do, it's only a good plan if you know you can do it within a very specific timeline… like 8 hours, 2 hours, etc.
If you can't accomplish it within a single day, then do something that you CAN accomplish within that time.
Implementation will only work
if you can do it
if you can complete it within a single day
as long as you are committed to sticking with your daily plan
Do You Implement The Best Daily Actions for your Online Business?
Are you creating a daily plan and sticking to it?
Or do you just dream about what you want to do, or should do, or might do?
The difference between taking daily action and simply dreaming about things you could do is huge.
People who are taking daily action are actually growing a business.
Everyone else is just dreaming about having a business that will never materialize… until they convert their dreaming into implementation.
Learn about one-on-one mentoring with Donna…

So what do you think are you best daily actions to take?
Are you implementing them?
Planning to?
Intending to?
Do you know how to implement the best daily actions for your online business or blog?
I'd love to hear from you in the comment section below, and please, do share this article on your social sites 🙂
-Donna