This post was most recently updated on March 27th, 2014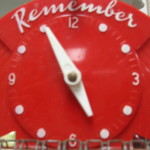 If you wrote down each task you did in one day, you would be surprised how much you had done.  When running your own business, there are hundreds of things you are doing without even thinking about it during a course of a day.
But doing lots of things is not really what your online business is really about.  The key question to ask yourself is this: at the end of that day have you completed your most important goals?  Or have you left some of them undone because of too many interruptions?
Have you ever experienced a time when you had that well thought out plan in your head of what you were going to do, then got side tracked with a phone call, an email, a Facebook message?  Or maybe the kids were home from school, or the dog wanted to play.  These are but a few situations that come up during the day that can get you off track.
How does that make you feel?  Discouraged, anxious, upset, overwhelmed?  This is why it is imperative to plan your day.

You should be following a business plan and have specific long range goals to achieve.  But there are many steps to get there, and these are the steps you need to be taking each day.  You priority must be on activities that generate revenue.  Without an income, you don't have a business.  So, you want to focus every day, first and foremost, on that part of your business that is making money or will lead to making money.  But for many people, those are the very things that just never seem to get done.
It is easy to get caught up in blogging and reciprocating with your comments and syndication.  Temptation is always there because something catches your eye that you want to learn and may spend time during your day on tackling a new learning curve.  Sure that's important, but what happened to focusing on what you really needed to do first?  You sort of planned your day, but got bombarded with other things didn't you?
The problem is, that what you should be doing first, you put for last, and frequently just never get around to it at all.
I know people who have been doing an online "business" literally for years, and still do not do any income generating activities at all.  They don't have a business, despite what they say.  What they have is a hobby.  For many people, that's just a more comfortable place to be.  But if you want to move your efforts into the profit zone, you must plan your day accordingly.
Here is how to plan your day to start generating an income online.
1. Use a white board or a piece of paper.  Put it near your computer or somewhere in your home office.  It is important to keep this in one place where you always see it.  There are many times that we jot down things we want to accomplish during the day, but misplace that piece of paper.  So keep this one visible at all times.
2.  Write down three tasks you must complete during the day no matter what. (hint: three income generating tasks)
3.  After each task is done, erase it or cross it out.
Now that sounds simple to do doesn't it?  But the question is, are you really going to do it?  You need to make a commitment to yourself come hell or high water to complete this.  You must NOT do anything else until you do so.  Not anything!  Do not answer the phone, open email or walk around the block.  Make it clear to everyone that this is your time to work and you cannot be disturbed, even if it is to make a peanut butter sandwich!  OK…  you can go to the bathroom… he he.
Making this commitment to plan your day and STICK TO IT will help you produce results in your business.  Make your tasks realistic – you are not going to write the next novel in a day.  Maybe a chapter if that's what you do!  By committing yourself to your Daily Plan no matter how long it takes, will free you to perform all the marginal tasks later in the day.
Why is this so important?
Because in business, you have a certain goal.  To reach that goal you have to chip away at it a little at a time every single day.  If you stray, that goal will never be reached.  You need specific goals, but even more you need to execute the tasks that will help you achieve them.  Yes, you may have to do's swimming in your head, but you need to put them into a plan of action, and then do them.
Working backwards is the best way to achieve your goal.  When you see the whole picture, you realize how much work will go into a project you want to complete.  Start with the end of the project (the results) and then write down all the things you need to do to finish it (achieve those results).  Give yourself a time limit.  Two weeks, a month.  Whatever it is.  Write down everything you need to do for that project and stick to a production schedule.
Break it down into a month, a week, a day.  Each and every day… complete those tasks that will get you to the end results you desire.  When you break your project down into specific daily tasks and chunks of time and stick to it, you will succeed.  It just takes planning and execution!  Planning your day every morning will give you more time than you actually have already.  And you won't be spending your day feeling guilty about the important things you're avoiding.
Where the heck did I get this idea from?
I've been doing it and it's working like magic!
I am sitting here late afternoon, still in my PJ's writing this to you because it's the last task of the day that I need to cross off my list.  My first two hours this morning were spent working on production.  My last task was to write this post.  It's a great feeling when you get the big stuff done.  And you can only do it by planning your day!
Blessings,
Donna