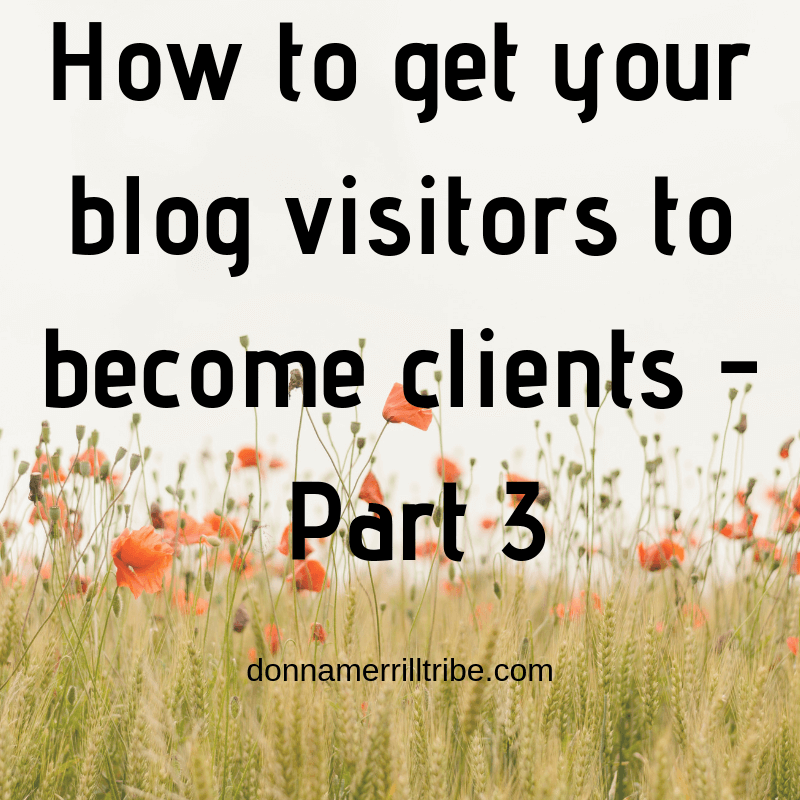 One of the best ways to get your blog visitors to become clients is to pull them into your sales funnel.
In part 2 of this series, I showed you how to create landing pages to set up your funnel.
Now, let's take a closer look at how your sales funnel works.
And how you can structure it to get your blog visitors to become clients.
Feature free offers with lead magnets
The most important landing page you'll ever create is a squeeze page.
That's because it pulls your blog visitors into your sales funnel.
A squeeze page is constructed for just one purpose… to offer something for free to entice your blog visitor to subscribe to your email list.
The funnel process begins here
So the idea here is simple.
Find something that will be irresistible to your blog visitors.
Put it into some kind of a free item.
Then create a squeeze page that tells people to "get this free item by subscribing to my email list."
When a blog visitor subscribes to your email list, they enter your sales funnel.
That's where all the magic begins.
Convert your blog visitor into a subscriber
Your blog visitors are just people who landed on your blog.
They may never come back again.
But when you use a squeeze page effectively, it can pull them onto your email list.
From there, you have many opportunities to build a relationship with them.
It's so simple, right?
Yet most bloggers just don't do this right.
Do you?
Using squeeze pages effectively
Here's how to use squeeze pages effectively to get your blog visitors to become clients.
First, you must create squeeze pages that are direct and to the point.
And that look professional.
Then, you need to place them prominently on your blog, preferably integrated within the content of your blog posts.
And don't make the biggest mistake most bloggers make.
Don't make them incongruent with your content or main topic.
Good lead magnets solve specific problems
If you write a blog post about how to profit from trading in commodities, you are writing to a specific audience.
You are writing to people who don't know how they can profit from trading in commodities, but they want to learn.
That's why they're reading your particular blog post.
Right?
So, within the context of that blog post, you can offer a lead magnet that they will immediately see as a welcome answer to their problem.
Write something like this…
"Click here to get my free report on 3 powerful strategies you can implement right away to profit from trading in commodities."
Then link that sentence to your squeeze page offering the free report.
That's it!
Very simple.
But very powerful as long as your free offer is
solving a very specific problem, and
exactly the problem or challenge that is the subject of your article.
This is what I mean by congruency.
Your blog visitor is reading your article to get a solution to their problem.
If your free offer gives them exactly that… converting them into email subscribers should be easy.
Just make sure you are doing it with a very good, clear, professional looking squeeze page.
Things to offer for lead magnets
One of the key things here is to figure out what you can offer for a lead magnet that will be irresistible.
Most bloggers use a free ebook for a lead magnet.
The idea, here, is to write an ebook with lots of information that you know your blog visitor will want to have.
So, if your blog post is about nature photography, for instance… then you could offer a free ebook on how to take great nature shots.
"Tricks of the trade," so to speak.
If you're writing a blog post about house-training a puppy, then you could write an ebook about "the fastest, proven method for house-training any puppy."
In other words, know what problems and challenges your readers are facing.
Then offer a free solution in the form of a lead magnet.
The problem with ebook offers
Now, I know a lot of bloggers get to the point of deciding to write a free ebook because that's what they see all the other bloggers doing.
But it takes many people forever to actually write one.
Then they don't know how to package it.
And finally, they don't know how to deliver it, via some kind of upload process, like a pdf file.
So the bottom line is this… your ebook just never gets done.
Now there are effective, relatively easy ways to put ebooks together.
But that's not really the point here.
You just want to do something to get your blog visitors into your sales funnel so they can become clients.
Really, at the end of the day, that's all this process is about.
Ebook alternatives
Let me just make something clear.
Many of the most effective lead magnets are not ebooks.
There are far simpler solutions to the "create a lead magnet" hang-up that bloggers get caught up in.
So, instead of writing a 36 page ebook about house-training your puppy, consider writing a one or two page list of your 3 favorite puppy house-training strategies.
You might think that's not substantial enough for people to really want to join your email list.
But if you make it clear that those 3 puppy house-training tips are the best ones to solve that specific problem, your blog visitors will jump on it.
Remember, they're not reading your house-training blog post because they want an ebook.
They're reading it because they want a solution.
It doesn't matter if it's an ebook, a one-page report, a graphic, a chart, a list of resources… whatever.
Just keep it simple
In fact, I have found that people really value a shorter and more concise lead magnet than a lengthy, drawn-out one.
Everybody's busy.
But everybody has problems.
They are eager to get solutions to those problems.
But they really wouldn't want to be forced to read a 36-page ebook to solve it.
Not if they can get the solution they're seeking from a one-page cheat sheet or list of resources.
How about a simple one-page sheet that simply offers "the 5 best blog articles that I have found about puppy training?"
Or the "5 top videos on Youtube that will show you exactly how to house-train any puppy fast."
Those kinds of things can be a pretty enticing lead magnets for people.
They promise plenty of value and yet it will only take them a few minutes to consume.
That's a win-win.
They get quick solutions to their problems, and you get a chance to convert your blog visitor into an email subscriber.
So use your imagination.
What could you put together today that you can use as a compelling free offer in your next blog post?
Now, put the offer together.
Create a great squeeze page.
Get your blog visitors one step closer to becoming your clients.
How to get your blog visitors to become clients
Of course, just getting your blog visitors on to your email list doesn't make them your clients… yet.
But it gets them one big step closer.
It means instead of just being a blog visitors… they are now among your followers.
Every day, week or whatever… they can get your emails and see what you're up to.
Every time you write a blog post, you can send them a link to it via your email newsletter.
And you can use your newsletters to offer them a steady drip of value to help them solve even more of their problems.
Mostly, from a business perspective, it gives you an opportunity to pitch your products or services to them on a steady basis.
As you give them continual value and help them solve problems via your email newsletters, you can also show them how working more closely with you can help them even more.
Now you've got their trust!
So they are pretty much convinced by now, that if they buy your training or ebook, or hire you for your services… they will benefit even more.
This not only keeps them as loyal followers, but helps them continue their journey through your funnel and onto your client list.
In a nutshell
So this is how a sales funnel works.
You get your blog visitors to go to a landing page where they get a free offer.
Because they perceive that the free offer will help them solve one of their key problems, they opt into your email list to get their hands on it.
Once on your email list, they get to hear from you regularly.
You might write emails daily… or weekly… or maybe a couple times a month.
But in any case they're going to start seeing you as someone who can help them solve their problems.
That pulls them deeper into your sales funnel.
Then, when they see your offers for products and services that can help them even more directly, they are perfectly positioned to become your clients.
So are you using free offers to get your blog visitors to become clients?
Has this article helped you figure out how to do it?
Please leave me a comment below.
I'd love to hear from you.
And I'd love to have your share this post on your social sites, too.
Thanks so much 🙂
–Donna