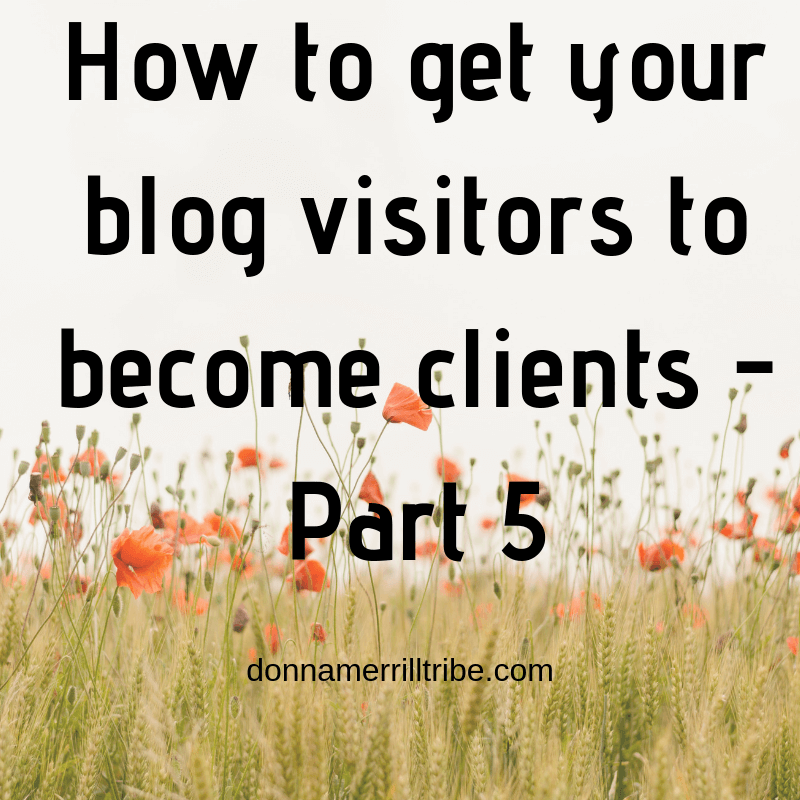 To get your blog visitors to become clients, you must earn their trust.
The best way to earn that trust is to help them solve their problems.
And if you can do it with empathy and understanding, they will surely want to become clients of yours.
First, I am going to show you how to create that trusting and empathetic connection.
Then, I'll show you how to actually get your blog visitors to make an appointment with you on their very first visit.
Establish a connection
The first thing to do when people visit your blog is to let them know you care about them.
This is important for any blogger to do, but especially one that offers professional services.
After all, you want your blog visitors to become clients, right?
Well, they won't want to be your clients if they do not feel comfortable working with you.
That means, you need to show them you understand their problems, and empathize with them.
That's even more important than telling them about your solutions.
So, if you're a financial planner for example, don't just get into all the different plans you can offer.
Don't start in with what a great financial planner you are, how long you've been doing it, what your special credentials are and all that.
Your blog visitors don't really care about that.
At least, not until they're on the verge of hiring you.
And they won't get to that point unless they trust that you care about them and their situation.
So the very instant that visitors land on your blog they should see how
you understand the problems they are facing
and you empathize with them
maybe you've experienced those same problems
or at least you've helped many other people solve those same problems
I've already described some great ways for you to establish this immediate connection with your blog visitors.
Demonstrate your value
Once you've established that instant connection, you want to quickly demonstrate your value.
I'm talking about your ability to help people solve their specific problems, and maybe even a bit about your history in helping others.
Testimonials are great, here, of course.
And I think most good professional services feature testimonials.
But that's a very passive approach.
The only way testimonials are effective is if people actually locate, read or click to view them.
That requires reader interaction prior to seeing your testimonials.
And even though people are persuaded by testimonials, they won't usually go looking for them.
Get ahead of the curve
So, you want to be proactive.
Remember, you're looking to sign up new clients.
Not just impress people with your success.
Remember too, your blog visitors want their problem solved.
It's nice that you've solved the same kinds of problems for other people.
But how can you solve their problem for them, right now?
Getting people on your email list is an excellent way to start getting personal with them.
It gives you a chance to connect with them anytime you want to send them an email.
But, to get your blog visitors to become clients, you want to grab their attention immediately.
Before they even think of leaving your blog.
Interstitials
Asking for your blog readers to take action right away is the value of popup ads and what are known as interstitials.
Interstitials are full page ads or welcome messages that your blog visitors see before they actually get to the content they are looking for.
These interstitials have become very popular because they force people to interact with you before they even get to read your article or view your site.
So, if you have an article about "where to buy cheap shoes," you will attract people with a distinct problem.
They want cheap shoes but don't know the best places to find them.
When they get to your article promising to solve that problem, they are greeted with a full page interstitial ad that might say "sign up for my email list to always be updated on the greatest shoe discounts."
Or it could say, "welcome, join my cheap shoe club today for only $xxx."
You get the idea… you get to make your pitch before your blog visitors get to see your content.
And it can be interactive because people have to "click here to go to the article" or "no thanks" or "yes, sign me up" etc.
So people are forced to take some action before seeing your content.
This is called a gateway, something readers must deal with right at the "gate" to your blog before they can enter.
Two drawbacks to interstitials
Now, I will warn you about two drawbacks to interstitials.
One, and the biggest issue of all, is that they can hurt your search engine ranking.
Especially on mobile, which is probably where the larger share of your traffic will be coming from.
You might not understand that, if you only use a desktop or laptop.
But internet traffic is now predominantly mobile, meaning that even if YOU don't use mobile devices to work and research online, your blog readers do.
Mobile, however, has different ranking factors than non-mobile.
And one of the key factors is that interstitials will hurt your ranking.
They may not even function.
The other drawback is the UX or User Experience of your site.
People just don't like being annoyed and forced to take action when they really just want to consume some information, like 'where to buy cheap shoes" for instance.
I know there's a lot of controversy about this, just like there is with popup ads.
Some marketers swear that they are effective.
I don't think they are.
Unless you already have a highly popular site that people are greatly motivated to get to, they are not so likely to suffer through "gatekeeping" tactics like interstitials or endless popup ads.
They're more likely to just click to a different, more user-friendly site to get their problem solved.
It's like television shows.
Really popular ones can advertise much more than low-rated shows.
That's because they know they can.
People really like the show, so they'll just suffer through the endless ads.
If it's not such a compelling show, they'll simply switch to a different one.
Chat boxes
I've already discussed chat boxes at length.
So I'll just summarize that discussion here.
Chat boxes are much more user friendly than interstitials and popups.
This is partly because the search engines will curtail the annoyance factors that could be related to them.
So, for instance, they no longer can feature avatar bots that just start talking.
Your blog readers will have to choose to turn the audio feature on to hear what an avatar has to say.
And the avatars won't pop up repeatedly.
Only on a first visit.
After that, your blog reader must click a thumbnail version to activate it.
They also seem to be much more search-engine friendly, especially on mobile.
The thing I really like about the chat box is that it can engage your blog visitors much more easily and meaningfully than a simple call to action.
So if you really want to get your blog visitors to become clients, I really suggest you look into using some type of chat box, especially ones accompanied by talking avatars or bots.
Appointment setting
Now, this is the key call to action that your entire blog should be geared toward if you want to sign up clients.
Very few people will simply retain you as their attorney, hire you to design their website, sell their house or do dental implant surgery, for instance… until they've had an initial consultation with you.
So the big call to action on your blog, if it's main purpose is to offer professional services, is to set an appointment for that initial consultation.
But simply telling people "call me for a free consultation" is not very effective.
Prospects don't really want to get on a phone call with you until they have a sense of who you are, and if you're somebody who they feel comfortable with.
That's why chat boxes are so helpful.
They initiate a virtual conversation with your blog visitors the moment they visit your site.
Then, as a natural part of that chat, they offer to schedule a telephone conversation to continue the conversation.
Not only that, but chat boxes can even set that appointment right then and there.
All this before your blog visitor reads a single word on your blog.
Once you get your prospect on the phone, that's when you can actually close the deal… ie., sign them up as a client.
If you don't use chat boxes, you can still urge people to get on a call with you ASAP.
You can do that with banners, popups, or inline links to your calendar (see how I integrate appointment setting on one of my agency service sites).
All these things are effective.
The main thing is, don't wait for your blog visitors to decide to call you.
Urge them in some way to set an appointment right away, before they ever leave your website.
Take the initiative, don't hide in the backseat just hoping your blog visitors will figure out what they think the next step should be.
Create an emotional and empathetic connection right up front.
In that way you can gain their trust immediately.
Then tell them exactly what to do in order to get you to help them solve their problem.
How to get your blog visitors to become clients – Part 5
So in these series we've discussed many aspects of bringing your blog visitors along the path of becoming your clients.
But the biggest step for your blog visitors to take is making an appointment to talk with you on the phone.
Does your blog effectively bring them to this point?
What methods are you using to make that happen?
And what are some of the things you've learned from this article to help you sharpen your strategy?
Leave me a comment below and let me know.
And while you're at it, be sure to share this post on your social sites, too.
Thanks so much 🙂
-Donna