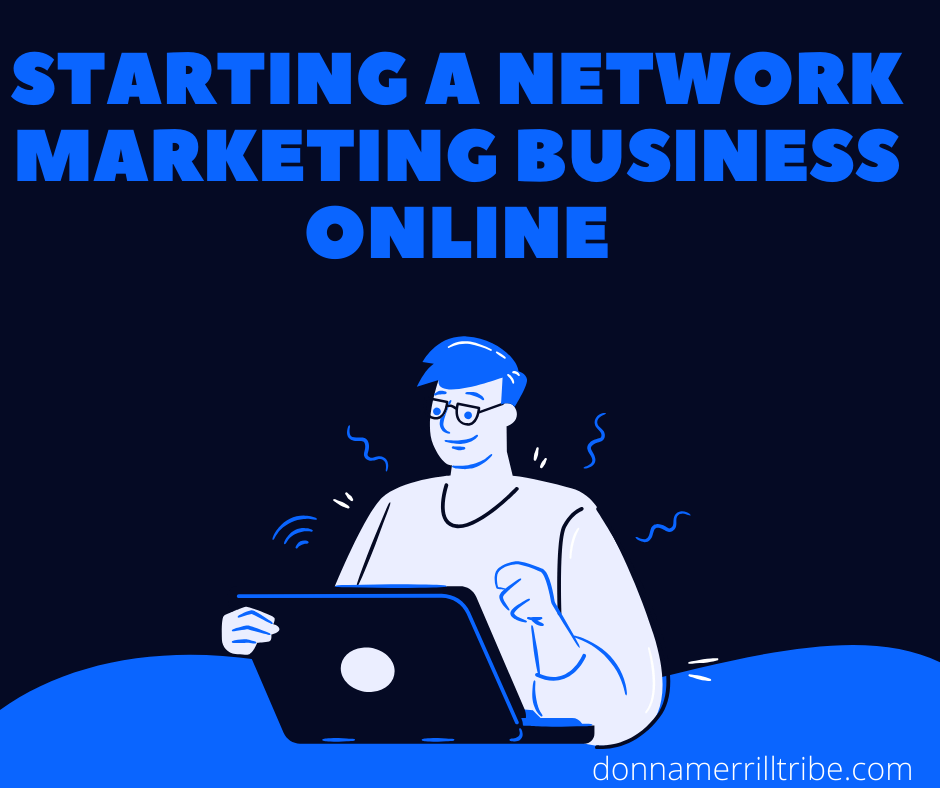 Starting a Network Marketing business online requires two things.
First, you need to have a strategy.
Second, you need to convert that strategy into daily action.
In this article I will give you the basic strategy that you can use to structure your own Network Marketing business online.
Then I'll show you how to convert that strategy into daily action.
Why start a Network Marketing business online?
Starting  a Network Marketing business online is a very popular business model.
I recently polled my students and asked them what kind of online business they are most interested in.
By far, the majority of them chose…
Network Marketing
Then…
Affiliate Marketing, and
E-commerce
That's why I chose to write this blog post.
It is the topic that resonates the most with my students and audience.
I'll be posting about Affiliate Marketing and E-commerce in future posts.
But for now, let's talk about Network Marketing.
Why is it so popular with people looking for an online business?
Work online – from home
Well, the first thing is that you can work from home.
And you can run your Network Marketing business entirely online.
You just have to to choose a good Network Marketing company to partner with.
Lucrative
Your Network Marketing business can be extremely lucrative.
Now, as with any entrepreneurial business… the majority of people fail to get to the "high-earner" status.
But it's certainly possible if you have a good strategy and action blueprint, like I'm going to show you here.
And the lucrative earning potential is what draws so many people to this type of business.
Easy
Network Marketing is not a difficult business to run.
You simply need to connect with people who might be interested in your products, services or business opportunity.
Running your Network Marketing business online will take some technical know-how.
But it's very basic, and is not a major barrier to your success.
People-business
If you like connecting with people, Network Marketing could be the perfect thing for you.
You'll be talking with people online, and even offline.
Getting to know the people you meet online is really what it's all about.
You'll need to understand their fears, aspirations and challenges.
And then you'll work to improve their lives by introducing them to your Network Marketing business and products/services.
So if you are a "people-person," then this is for you.
Because Network Marketing truly is a "people-business."
Network Marketing Business Strategy
So how do you run your Network Marketing business online?
You need a strategy.
People won't just ask you to get involved in your business.
It's up to you to strike up that conversation.
In fact, the key to your Network Marketing business is to develop the Art of Conversation.
It's not about selling or promoting.
Click above to review my free ebook (no opt-in required)
Just engage people in conversations about your products or opportunity, and you've done your job.
Not everybody will jump into your business with you, but you can't control that.
So just engage them in meaningful conversation about what you are offering, and let them make their own decision.
Then move on.
So, how do you have online conversations with people about your Network Marketing business?
Meet with them, virtually.
More precisely, meet with them where they hang out on various online platforms.
How to find prospects
Running your Network Marketing business online gives you so many opportunities to find prospects.
If you only try to locate them in your offline community or neighborhood, you'll be spending way more time and resources than if you run your business online.
Here's a sample of how to hook up with prospects online.
Social Media groups and pages – Every major social media has groups, pages, communities you can join.  
Blogs – Blogs are a great place to find people passionate about your niche.  You can even start your own blog within your Network Marketing business niche.
Forums –  People often forget about forums.  Forums are not as casual as social media groups.  So you can find some of the most serious people in your niche there.  
Private messaging – Finding prospects from anywhere, can then lead to private messaging them.  That's how you start building a real relationship, and get into meaningful conversations.
Content marketing – I mentioned that you could start a blog in your niche.  But even if you just have social media presence, you can start sharing good content.  It should be highly relevant to your Network Marketing business, of course.  And remember, it doesn't need to always be your own content.  Share other people's content, too.  Just get those niche-specific conversations rolling.
Email newsletters – Build your own email list and send out newsletters to your subscribers.  It's a great way to start getting personal with prospects, and keeping them up to date on you and your Network Marketing business.  Blogs are a great place to build an email list. But even if you just have a simple landing page that invites people to subscribe, you can share that link anywhere, including private messages.
Video – Doing videos on your topic is a great form of content marketing.  It's especially nice because people get to see and hear you, and that will help you move conversations forward.
Live Video – Live video is the best form of video to use.  Going live on Facebook, Periscope, YouTube or anywhere else will attract a crowd to you if you do it strategically and consistently.  Just think.  Prospects will come to you instead of you trying to hunt them down.
The simple strategy
Keep your Network Marketing business online strategy simple.
Develop conversations with people online.
You don't have to find them everywhere.
Just locate them on platforms that interest you.
It could be Facebook, Twitter or a niche forum.
Just get familiar with one platform, and start engaging with prospects there.
Have a conversation with them about what you have to offer through your Network Marketing business.
That's really all there is to it.
Network Marketing Business

Action Blueprint
The whole point of engaging people in conversations, is to build your business with customers and team-mates.
In other words, the conversation is what results in your compensation.
But you need to do the work.
You need to make it your business to position yourself to have those conversations.
This is what many Affiliate Marketing pros call "prospecting."
Find prospects, and engage them in strategic conversations.
That's the work you'll be doing every day in your Network Marketing business.
Now, it won't just happen.
You have to build a precise blueprint for taking action consistently.
Plan your action.
Put into a step-by-step blueprint form.
Give yourself a certain amount of time to interact with people in Facebook groups, for instance.
Or a specific number of people you will connect with each day on blogs.
It's up to you.
But you need to schedule precisely what you will do and when, each and every day.
Your blueprint should be broken down into monthly, weekly and daily action steps.
This is the blueprint you will work from.
Remember… you have to do the work.
Plan out your work blueprint, then implement it every day.
Network Marketing is a business, not a dream, a wish or a lottery ticket.
Like with every other business, the amount of effort (work) you put into it, will determine the results you will see.

So tell me something.
Are you interested in starting a Network Marketing business online?
Let me know in the comments below.
–Donna
PS: Don't forget to share this post on your social sites 🙂