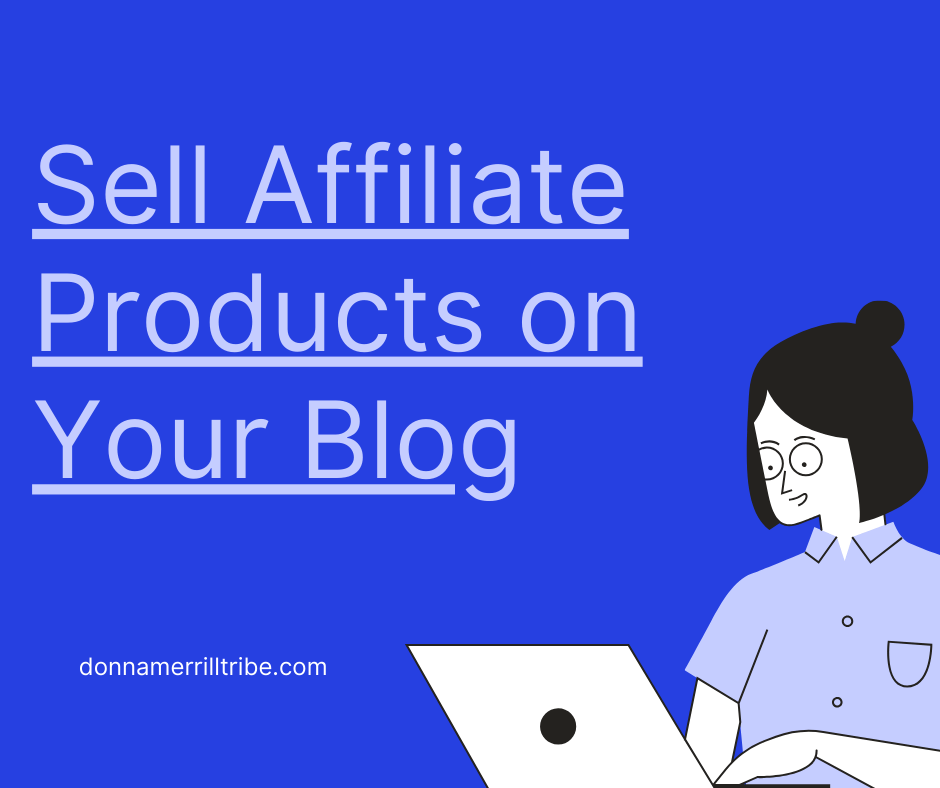 There are many ways to sell affiliate products on your blog.
Affiliate marketing is one of the best ways to monetize your blog.
I'm going to show you my 7 favorite ways to make sales from blogging.
Each one has delivered proven results for pro bloggers.
1. Using your SIDEBAR
I have a sidebar on the home page of my blog.
I use it to promote my free training for bloggers called "Blogging Fever."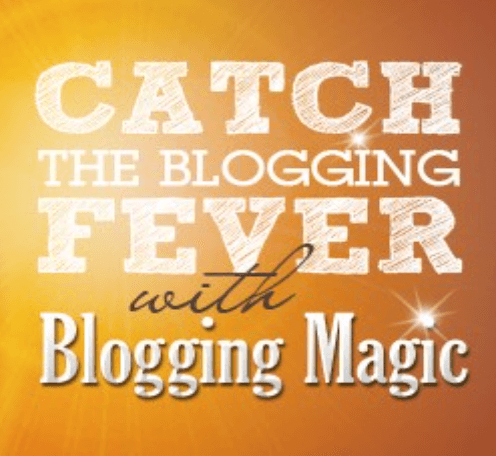 But that's not all.
I also have a widget that invites people to join my "FREE VIP CLUB."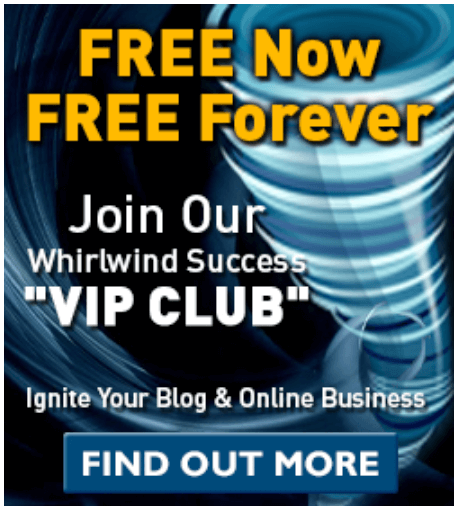 So you see, a sidebar widget is simply a call to action.
You can change your sidebar widgets as often as you like.
Today, you might like to use your sidebar widget to promote affiliate product XYZ.
Tomorrow, you could change it to promote affiliate product ABC.
And so forth.
But you could also have a sidebar widget inviting people to your "Product of the Day" email club, or something like that.
The call to action for that might be to have them subscribe to your email list, or join your private Facebook group.
Get creative with your sidebar widgets to move people to action.
But remember this.
Sidebar widgets have lost a lot of their original popularity with bloggers.
That's because so many blogs have them, that readers develop a "sidebar blindness" and so they hardly even notice them.
Still, they have value for affiliate marketing, especially if they are not over-used.
2. Using TEXT LINKS
Linking to actionable content is another good way to sell affiliate products on your blog.
Actionable content is any web page that moves people to take a specific action.
So, you can link to a squeeze page if you want them to subscribe to your email list.
Or link directly to a sales page if you want them to make a purchase.
It's important to remember this, though.
Your goal may be to sell an affiliate product.
But you're usually better off asking people to join your email list first… before sending them to the sales page.
That's because very few people will actually make a purchase when they first see a sales page.
So the vast majority of your clicks to a sales page will yield no results.
But if you ask people, instead, to join your email list, you will get far more "conversions."
Like this…
Many more people will be willing to join your email list than to immediately make a purchase.
And once you get them on your email list, you can send them a link to the sales page multiple times.
Plus, you can send them information of value without promoting anything.
This will build a relationship of trust.
The best way to sell affiliate products is to gain trust, then pitch valuable offers.
3. Using Affiliate BANNERS
Affiliate banners are images that will send them to the sales page of the product you are promoting.
But, again, like with text links, you can also use banners to send them to a squeeze page.
That way, you can ask them to join your email list for more information or details about an offer.
This works especially nicely if your banner offers something of value concerning the product you are pitching.
For instance, a banner might invite people to view a demo video of the product.
When they click on it, they are prompted to give their email details in order to get the video.
As soon as they enter that information, they will be redirected to your video.
It will demo the product you are pitching, with a link to the sales page.
They can make a purchase right then and there, or you will give them further information about it on a drip basis as part of your follow-up email sequence.
An alternative to a static image banner is a popup ad.
It's your choice, but I'm not real big on popups because I just find them so annoying.
That said, many marketers will tell you that they get much better results than a static image banner.
4. Setting up SALES FUNNELS
I've already told you to get people onto your email list.
That's because it gets them into your "sales funnel."
Email sequences are a great way to promote your offers on a steady basis.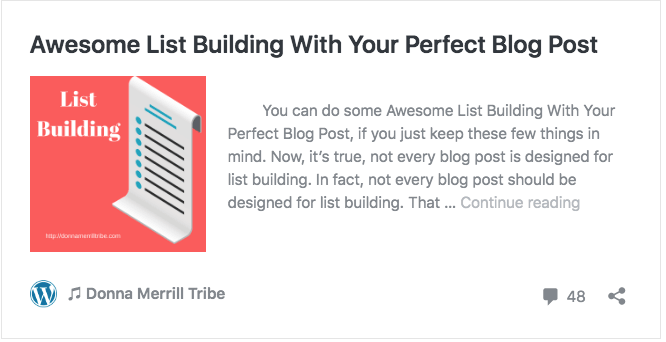 And you can always be promoting new offers as they come up.
When you write a blog post pitching a new offer, send a link to it when you send out your email message for the day.
That way, people will get a steady flow of your product offers.
In other words, they are in your sales funnel.
A good way to get people into your sales funnel is to offer them a "bribe."
That's usually in the form of something of value like a "free ebook" for anyone who subscribes to your email list.
Think of free offers you can use to entice your readers to subscribe to your email list, and enter your sales funnel.
5. Posting REVIEWS
The most common way to sell affiliate products on your blog is by writing blog reviews.
Comparison articles are good because people like to see several options.
That way, they can pick and choose.
Also, write articles about why you use a product.
Talk about what you like about it, but also about its shortcomings.
People like to hear real experience that others have had with a product.
It all you talk about is how wonderful it is, you won't come across as trustworthy.
And, in fact, no matter how much you love a product, there's always something you think could be better or needs improvement.
So be real with your reviews.
Just show how a product helped you solve a problem, and how it can help your readers solve theirs, too.
6. Make your blog the HUB of your business
Make your blog an affiliate "hub."
It can be the home base for your review articles, but it also needs to reach out to new prospects.
Think of your blog like the hub on a bicycle wheel.
The hub is central to the whole operation.
But the bike wheel has many spokes that tie it all together.
Those are your social media outlets.
Make YouTube videos about your affiliate products.
Create a steady scheduling of posts and images on Instagram and Pinterest.
Tweet about them often.
But always link back to your blog post for "further details," to "learn more," to "compare this to similar products," etc.
Your social media posts should peek curiosity, and then you can make the sale on your blog post.
Don't send your social media audience directly to a sales page because most of them will get lost.
Bring them onto your blog where you can help them more, get them onto your email list and build a long-lasting relationship with them.
That's how to build a long-term business to sell affiliate products on your blog.
7. Make Your Blog a STORE
Don't overlook the idea of having a "store" or "shop here" feature on your blog.
Sending people to your blog's "store" can be as simple as adding a feature page called "Resources" or "Tools of the Trade" or "My Rolodex."
This is a dedicated page that simply lists and briefly describes various affiliate products you offer.
The trick to this to make sure all the offerings are highly related to your niche.
They should help your readers solve problems very specific to their needs.
If you want to get even more sophisticated with your "store," you could link out to a related e-commerce site that you develop specifically for the purpose of selling multiple affiliate products.
I will show you how to do that in a future article.

I hope this gives you a good idea of how to use your blog to generate affiliate sales.
Leave me a comment below.
Tell me if you sell affiliate products on your blog.
-Donna
PS: Share this article on your social sites, too.