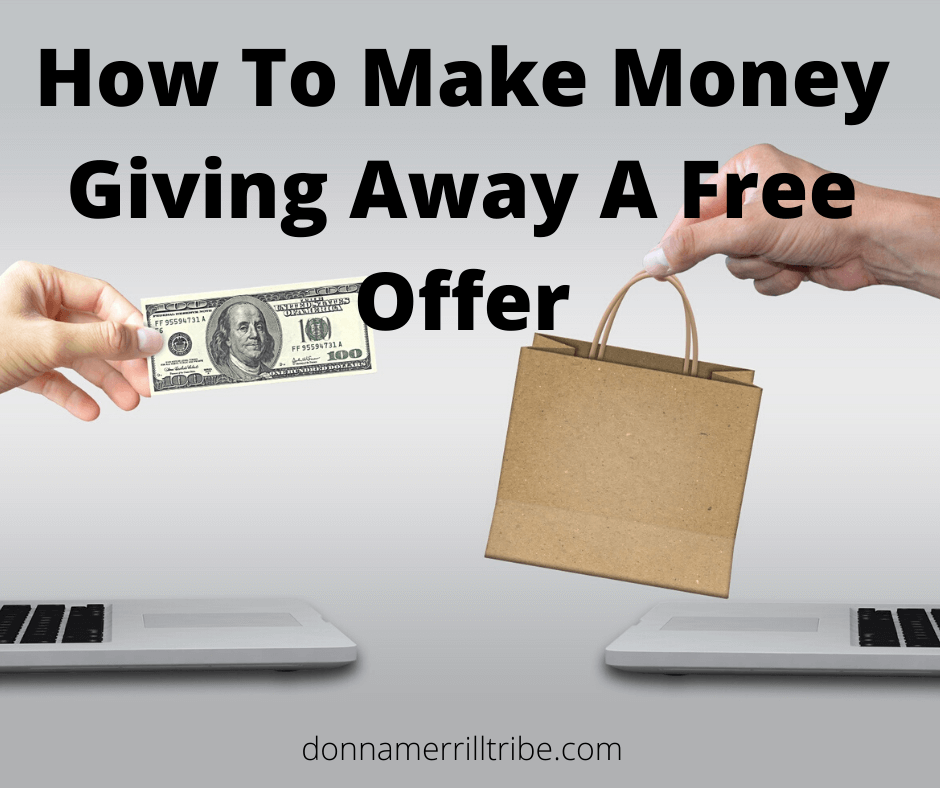 Do you know how to make money giving away a free offer?
I'm going to show you how.
But understand first, that this is only a good strategy if you have found a high quality free offer to promote.
I'll show you one high quality free offer today, so you can see exactly how this works.
Exactly how to make money giving away a free offer.
So, let's take a look at the free offer.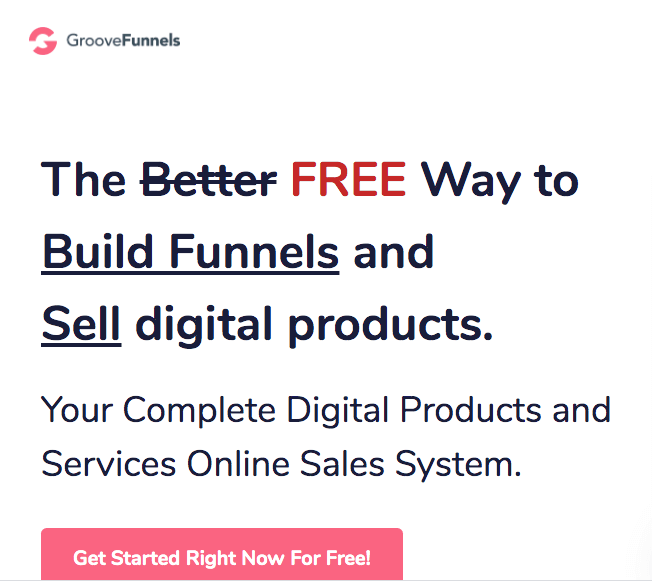 What is GrooveFunnels?
GrooveFunnels is a sales funnel, landing page and product promotion system.
It's similar to ClickFunnels, LeadPages and others.
Now, as of this writing, ClickFunnels is priced at $97 a month for it's restricted "Standard" plan, and $297 a month for it's far more extensive "Platinum" plan.
LeadPages, as of this writing, is priced at $48 a month for it's highly restricted "Pro" plan, and $199 a month for it's "Advanced" plan which has fewer limitations, but is far from unlimited.
But, while those platforms are very expensive and strictly limited in use, there is a new big player in the funnel building game.
That's GrooveFunnels, co-founded by Mike Filsaime, a highly respected software developer, and a major player in the digital marketing arena.
Here's what he has come up with.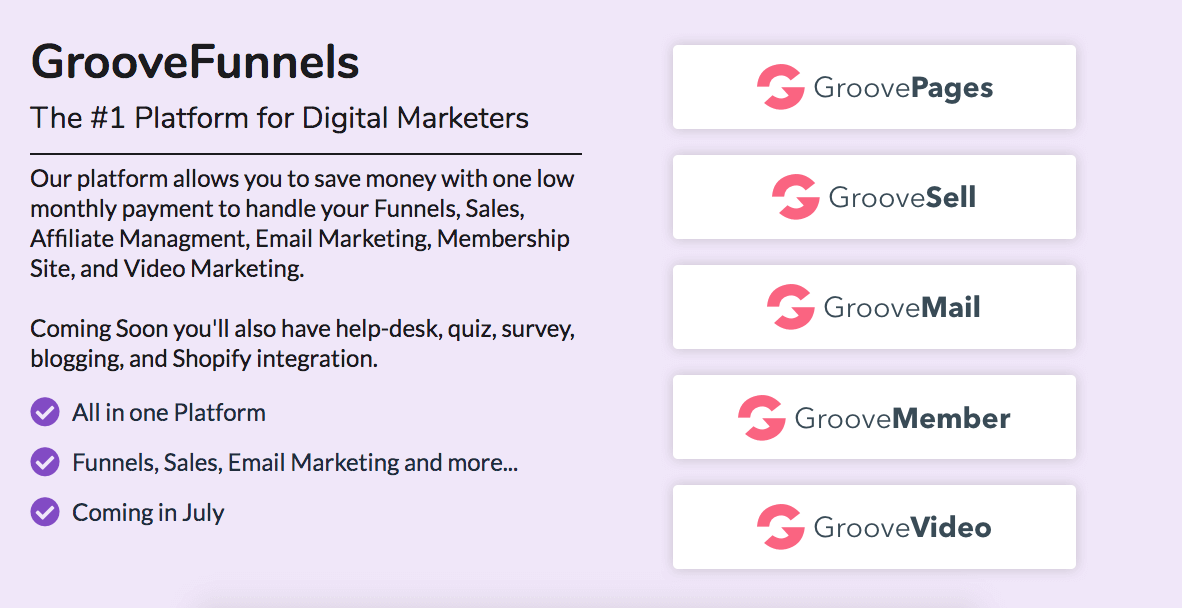 Now,  GrooveFunnels is still in beta now, with it's formal monthly-fee product scheduled to roll out in July.
But it's already been making huge waves in the industry.
Right now (June 2020), key portions of GrooveFunnels are available for free.
Understand, too, that while there are limitations on these free features, the free release is still a very powerful platform.
I've been using it already and am pretty amazed to see what they've put together.
It's really all you need to run your complete business sales funnels.
Here's what I mean.
Sales Funnels
To make money online, you really need to have a good sales funnel.
That means, a good way to get people into your business, and to then sell them what products or services you have developed, or whatever affiliate products or services you offer.
Sales funnels are comprised of a series of web pages that move people from one point to another throughout your sales funnel.
Optin pages
Optin pages are designed to get people to subscribe to your email list.
Sales pages
Sales pages ask them to buy something, or pay for a service.
Thank You pages
Thank You pages are just what they sound like.
They thank your subscribers for signing up (from an Optin page), or buying (from a Sales page)
Thank You pages tell people what to do next, now that they have subscribed to your list, or purchased your product.
Delivery pages
Delivery pages have a live link to a free or paid product or service.
That's it.
Simple, right?
But wait.
How do you develop a sales funnel with all these web pages (also known as "landing pages")?
Well, here's one little funnel I quickly created to show you how GrooveFunnels makes all this work simply and seamlessly.
And keep in mind, I've done this with the free tools that are now available to anyone who signs up for GrooveFunnels before it becomes a strictly paid platform.
Product Funnels
So, first I created a "product funnel."
Step 1
This is not for my own product (although it could be), but for an affiliate product that I promote.
I named it "ebook-creation" because I will use it to promote products that help write, create, design and format ebooks.
If I want to create another funnel for different products, I just click the red "New Product Funnel" button and repeat the process.

Step 2
Edit the product funnel at any time.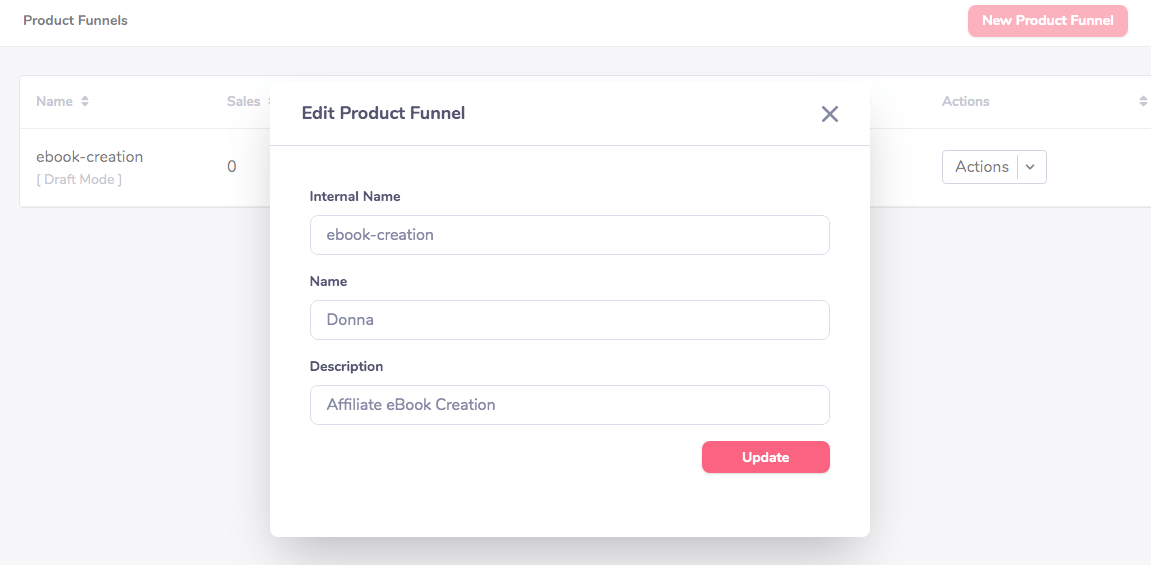 Step 3
Once the funnel is in place, I'm ready to work with the products I'm promoting by clicking on "Manage Products."
Then I click the red "New Product Funnel" button.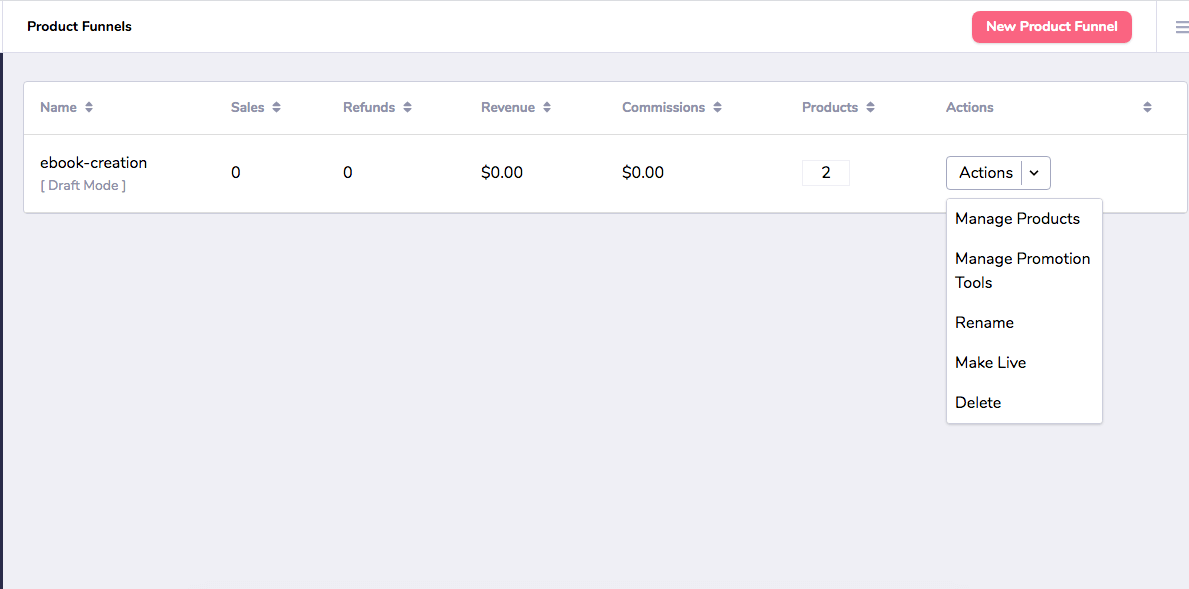 Step 4
I named one product in the funnel "TEST" just to see how it works.
Then I created a real one called "Sqribble" which is an ebook creation software.
Just click the red "+ Product" button to add a product.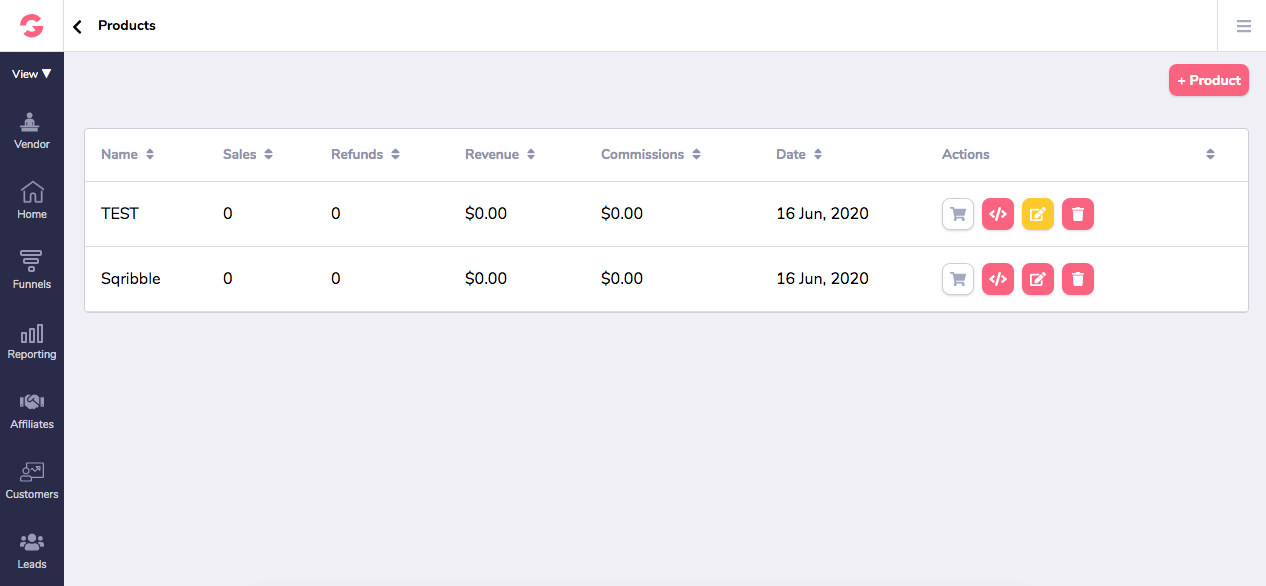 Step 5
Just to show you how to create an additional product funnel at any time, I clicked on the red button "New Product Funnel."
This gave me a pop-up window from which I created an entirely new product funnel that I named "Test Funnel" internally.
The public name I gave to this funnel was simply "Donna."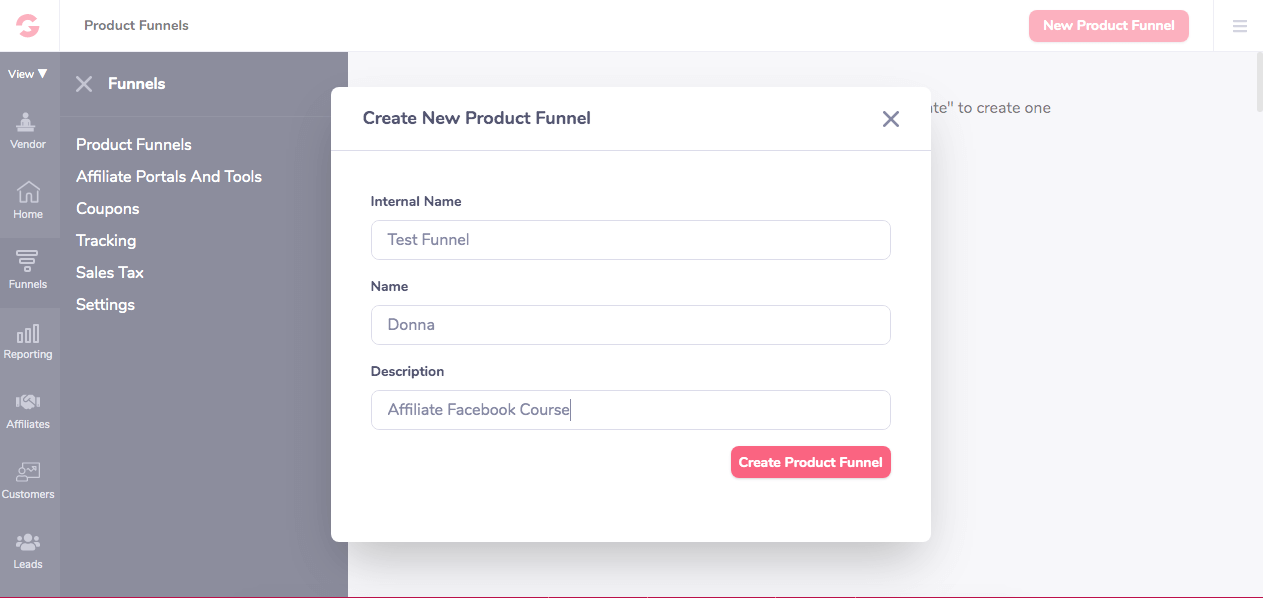 Step 6
So here, you can see that my new product funnel is listed in my "Products" list.

Step 7
Now, let me show you how I actually created a real, live Funnel.
Remember the product I set up is called "Sqribble."
Well, here you see I am setting up this affiliate product so I can promote it.
First, I name it as the "Frontend Product."
That means it's the first product in my funnel.
I have the option of listing an upsell (more expensive product) or downsell (cheaper product) to fill out my funnel.
After people buy my frontend product, they will then see the sales pages for the upsell and downsell products.
That all gets set up right here, on one simple page!
Pretty cool, huh?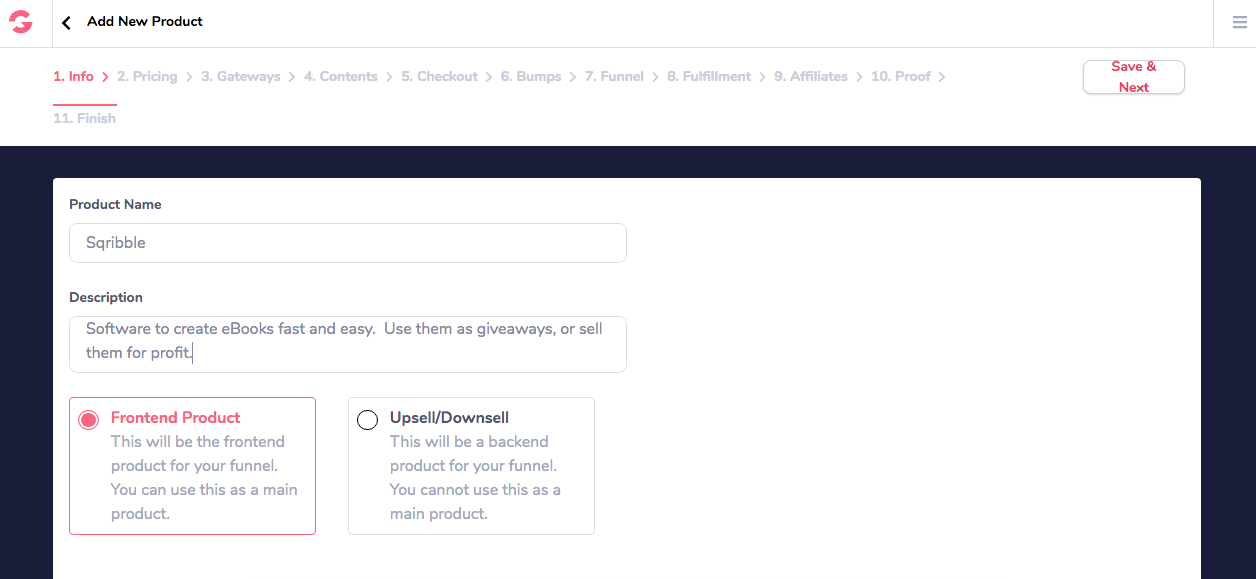 Step 8
Next, I get to set the price.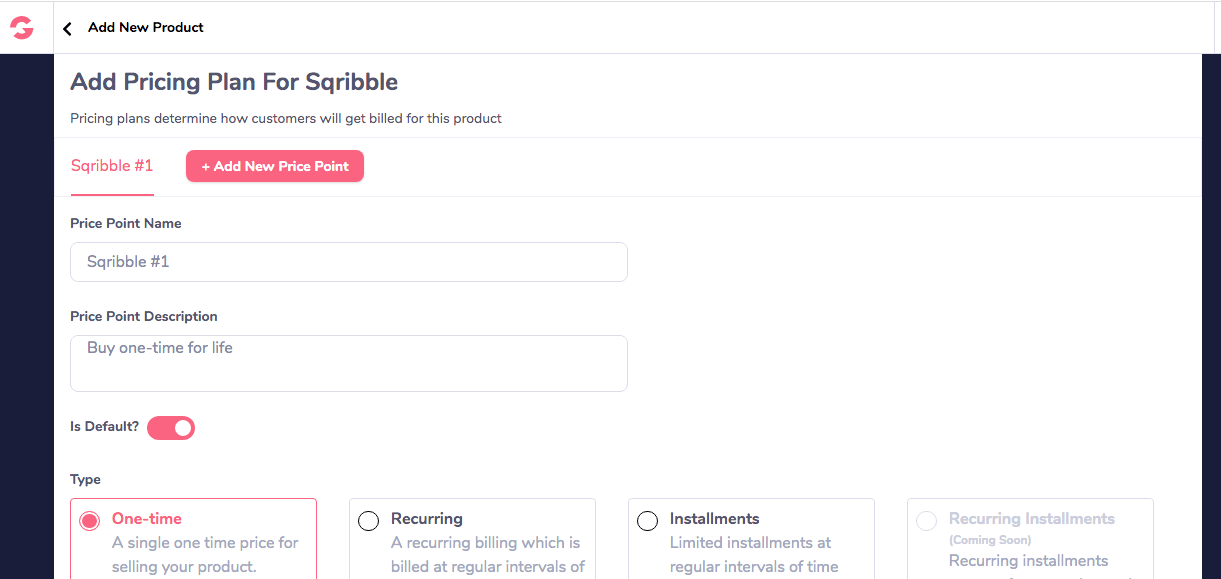 Step 9
Then I can set up the way people will pay for this.
All this gets integrated into the GrooveFunnel platform, so it's really easy.
Notice, each step of the way, just enter the information, then click "Save & Next" to set up the next part.

Step 10
Now I connect my product to the landing pages (which I can create right within GrooveFunnels… I'll show you how later).
Paste in the URL for the Sales Page.
Then click "Save & Next."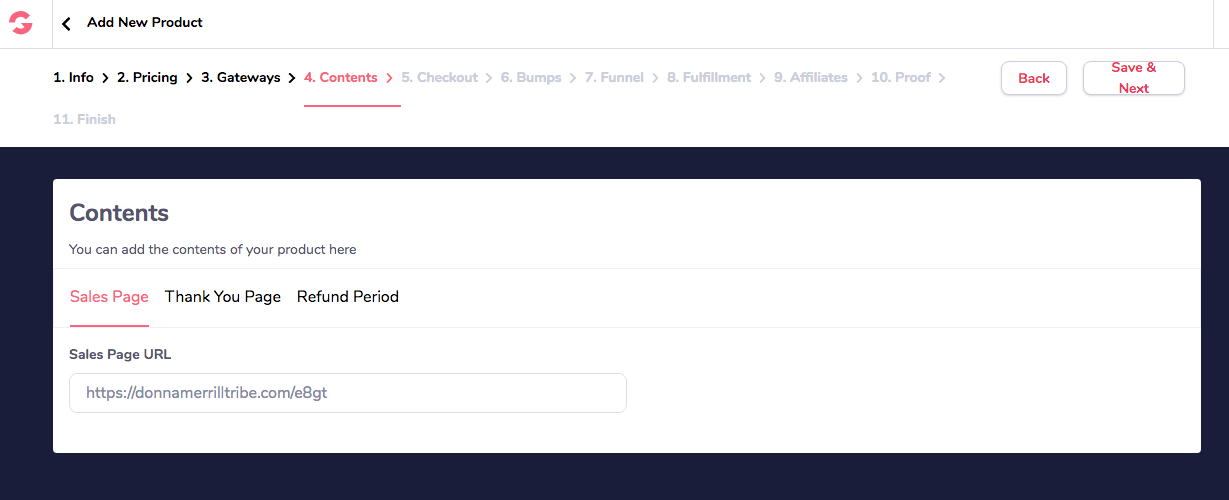 Step 11
Now, enter the Thank You page URL, and click Save & Next.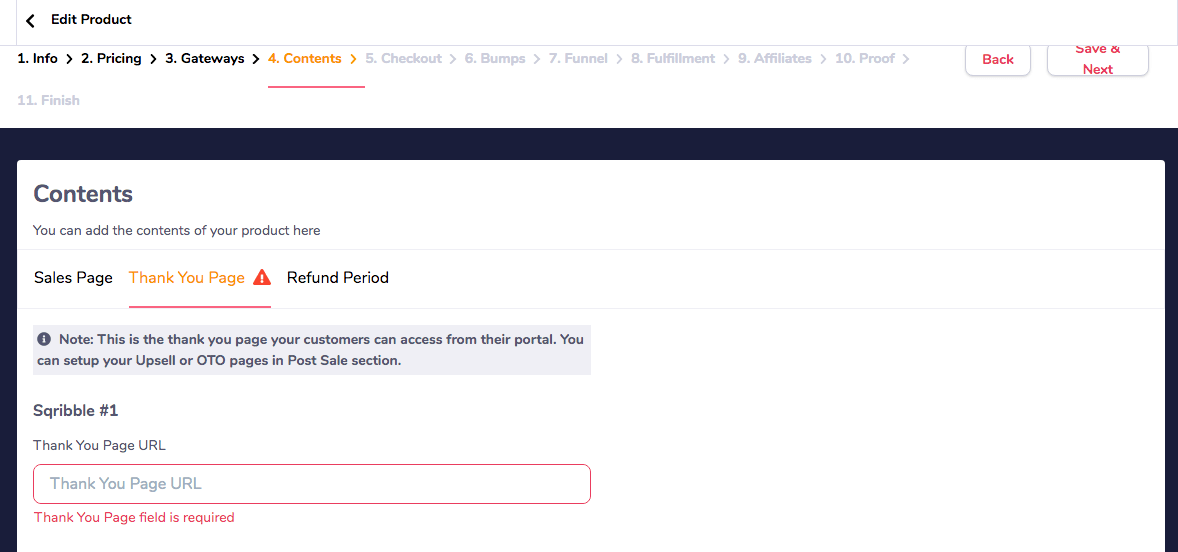 Step 12
You even get to generate a "Checkout page" right within the GrooveFunnels system.
It's called Groovesell (part of this free GrooveFunnels package) and you can link your sales page to it.
So if people want to buy, they click that and get redirected to the checkout page.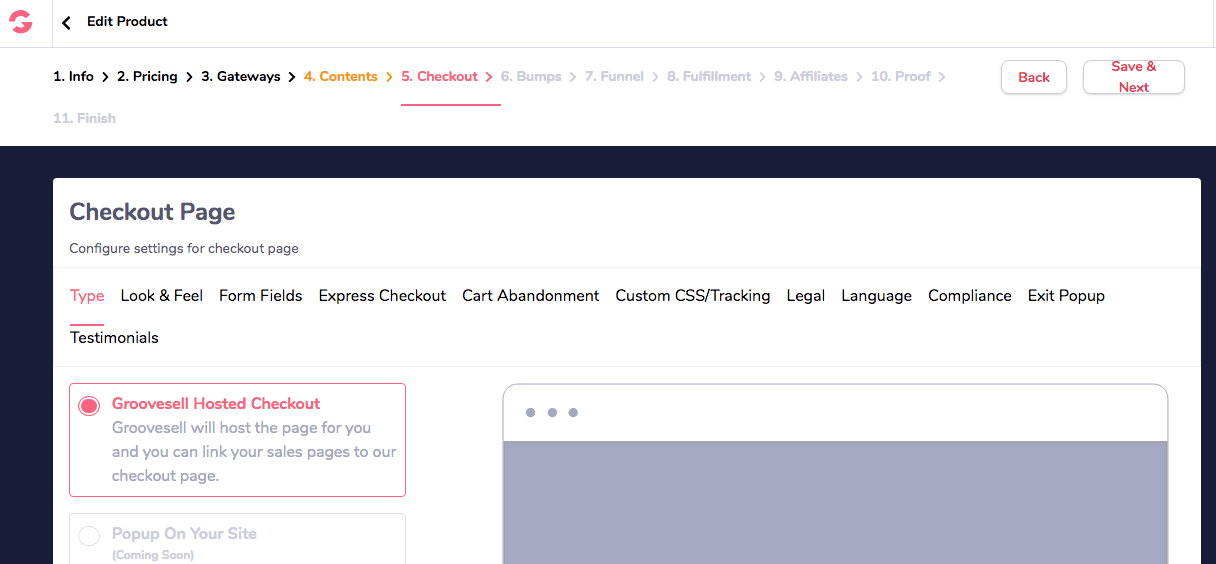 I mean, this is crazy simple and so powerful.
Just think of all the time and money you save having all this inside one platform, instead of having to connect a bunch of 3rd party services.
And remember, this is the FREE GrooveFunnels system that is available right now.
Everything I just showed you (including the steps below) was done inside my free version of GrooveFunnels.
PS: It's free forever, this is not just a free trial period.
You get it, and you can always use it for free, no matter how much it might cost down the road.
Step 13
You have the option to set up "Order Bumps"… other things you want to sell at the point of purchase.
I chose not to, here.
Click "Save & Next."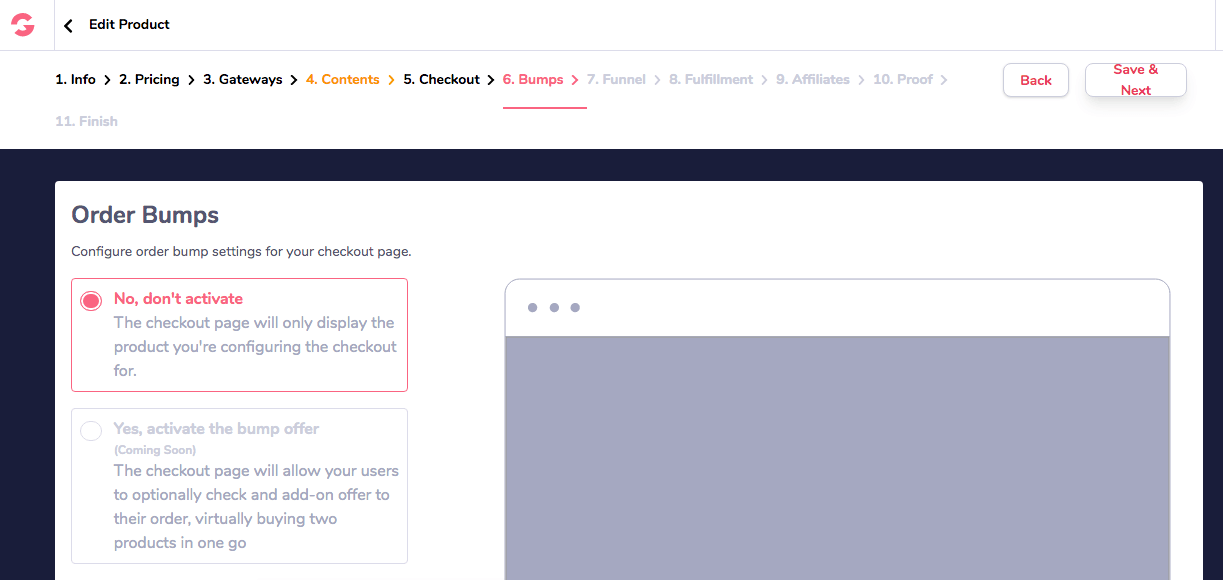 Step 14
Here, you can paste the URL to either a Thank You Page, or an upsell or downsell.
Click "Save & Next."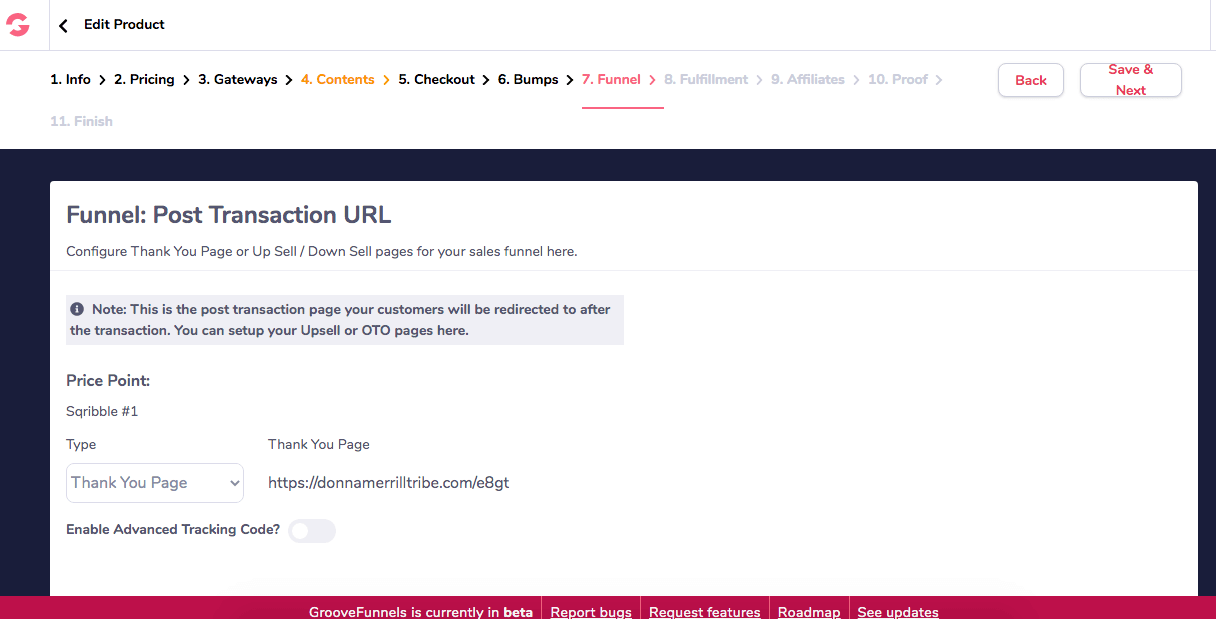 Step 15
Here, you can have your product delivered or "fulfilled" as a download link.
I chose not to, because Sqribble is not delivered via download link.
It is a web platform.
Buyers get their access details to that web platform URL in the email inbox after they make the purchase.
The Sqribble vendor takes care of all that.
I just have to click Save & Next.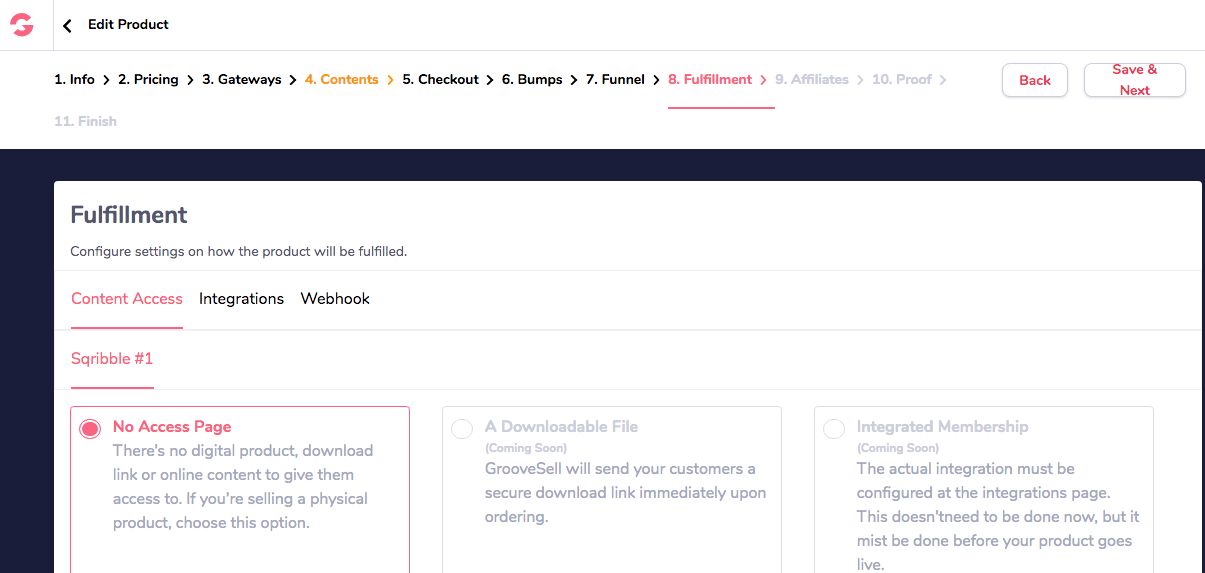 Step 16
If you want to have affiliates for your own product or course, you can set that up within ClickFunnels too!
Sqribble is not my product, it's an affiliate product.
So I checked "No Affiliate Program," then Save & Next.

Step 17
That's it.
Now I get a link to put into my sales page to integrate all the components of this product.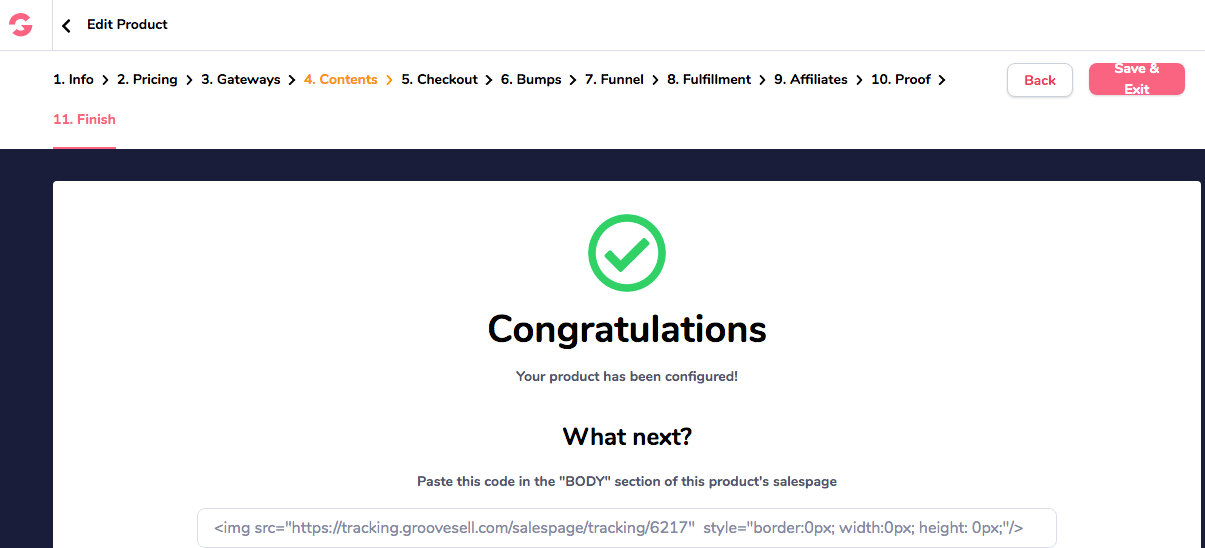 Pages
Remember.
You need to have all those landing pages for your sales funnel.
You get templates for them right within the free system, or you can easily create one by choosing an option to "build from scratch."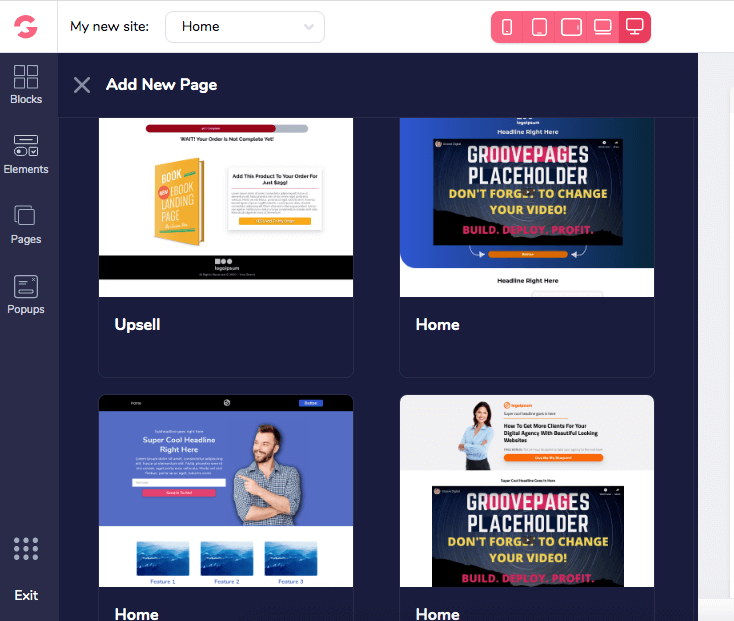 Page Editor
When you select a page template, you get something like this.
By using the simple drag and drop editor built into GrooveFunnels, you can change any elements of the template.
Change the image… maybe use your own pic or a product image.
Then swap out the logo, titles, sub-titles etc. with your own.
Edit the button to say anything you want, and link it to anywhere you want… your email list, sales page or whatever.
That's it.
You just created a landing page for your funnel using a completely free tool.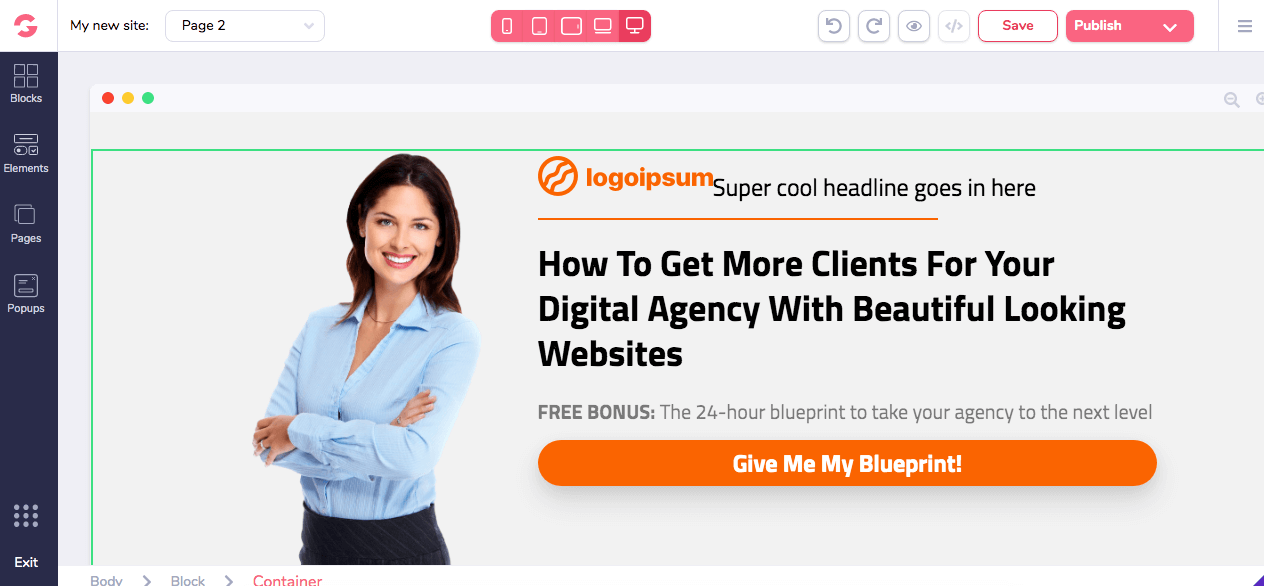 How to make money USING this high quality free offer
Now, here's the thing.
You can use this Free funnel platform to sell your own products, or promote any affiliate products you want.
I just showed you how to do it, above.
How to make money GIVING AWAY this high quality free offer
And, like the title of this article says, you can also make money by simply giving away the free GrooveFunnels package.
Here's all you have to do.
GrooveFunnels Partner Program
As soon as you grab this incredible Free funnel system for your own use, you will also be given the opportunity to become an affiliate via the GrooveFunnels Partner Program.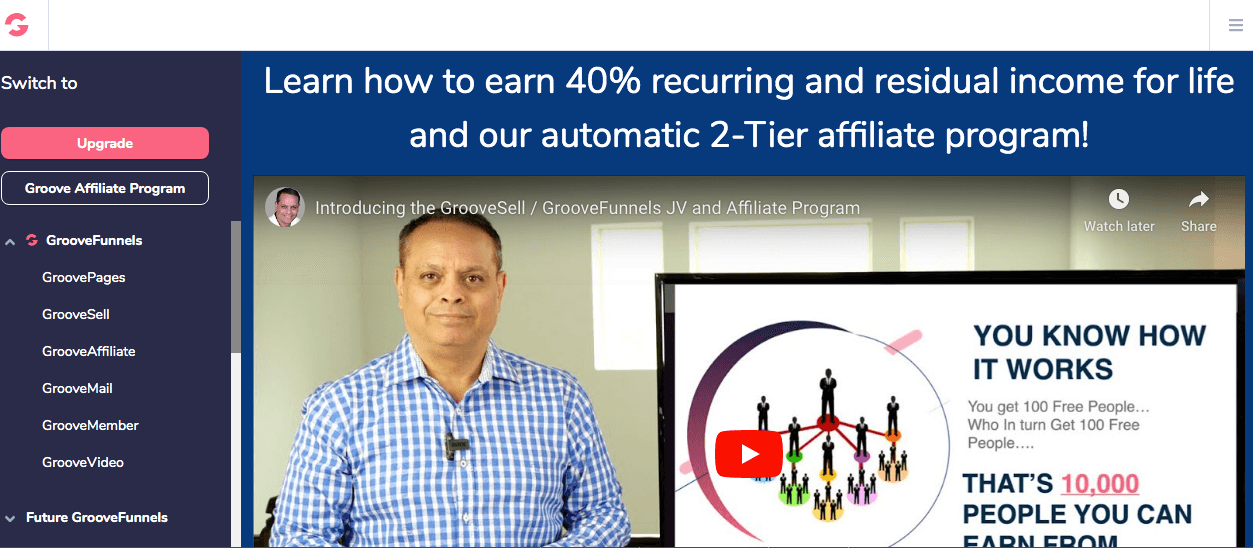 Just tell people how they can get in on this while it's still free (it rolls into a monthly payment product soon).
Simply tell people in your circle, just like I'm telling you about it right now.
You see, I'm an affiliate of GrooveFunnels.
I joined their Partner Program.
If you join the free platform from my link, but some day decide to upgrade in any way, I may receive a commission.
That in no way effects your cost, though.
Now, you can also be an affiliate by simply clicking the upper left hand corner "Groove Affiliate Program" (see the above image).
That takes you to their Partner Program page.
Sign up, get your promotional link and start telling people about it.
Not only is this an easy "sale" (because it's free AND high quality), but your link has a lifetime cookie.
That means, even if somebody decides to upgrade to a paid feature 5 years from now, you'll still earn the commission.
It doesn't matter if they clear their browser a hundred times, you are still "cookied" to receive that commission since they signed up initially with your link.
How to make money giving away GrooveFunnels
So there you have it.
You can build an incredible affiliate business -or- sell your own products…
…using nothing more than this free version of GrooveFunnels.
And you can make money by promoting GrooveFunnels yourself.
If you click the image below and get in for FREE using my link, just let me know and I'll help you set up your first funnel for
an affiliate product,
your own product,
or even for promoting GrooveFunnels itself.
So, hey, this is not just a trial… it's completely FREE forever… absolutely nothing to lose.
Click the image below and see for yourself.
Then you can begin to make money giving away a free offer.
Thanks for following along here.
Be sure to grab the free version of GrooveFunnels and use it to build your business.
I'm sure that you have now learned exactly how to make money giving away a free offer, just like GrooveFunnels.
-Donna
PS: Be sure to share this article on your social sites.
People will thank you for introducing them to this free offer while it lasts.