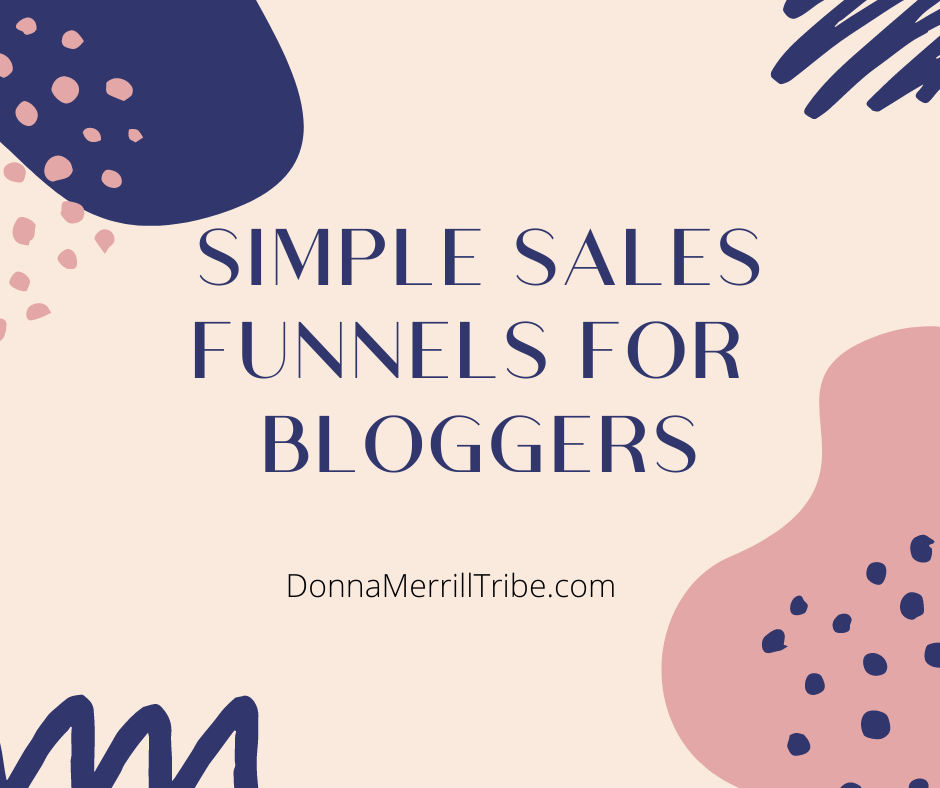 There are several types of simple sales funnels for bloggers.
I'll show you one in this short article that you can use starting today.
If you are trying to sell something with your blog, or get people to hire you for your services… you should pay attention, here.
Sure, you can just throw up links to sales pages, or paste product banners all over your blog.
But if you've tried that method, you probably have a pretty good idea why I'm urging you to do something better.
Something that actually works.
And it's not "new" or "black-hat" or crazy in any way.
Sales funnels
Sales funnels are simply a series of steps you ask your reader to take in order to get something that they value, and therefore, that they already want.
As a blogger, it's not your job to try to convince them that they want or need something.
You just need to tell them how to get it.
If they follow your simple instructions (calls to action), they will get what they want.
And at the same time, you will get what you want.
You will have access to them via your email list.
Then you can tell them about new or related products and services whenever you want.
In other words, you will have them inside of your sales funnel.
What is a sales funnel?
I think of a sales funnel like a store.
Now, I love shopping.
And one of my favorite stores to shop in is T.J. Maxx.
So here's what happens.
I want a new pink top to go with my black pants.
So, I visit my local TJ Maxx.
As soon as I go through the entrance door, I'm in their sales funnel.
I want a pink top badly enough that I'm willing to enter that sales funnel.
Once I'm in the store, I am given the opportunity to buy many things besides the pink top I came looking for.
Maybe a pair of shoes, some jewelry or whatever.
By entering the store, I have willingly become a prospect for all kinds of products and items to purchase.
Simple sales funnels
Sales funnels are created with a simple series of landing pages.
That's all they are.
Landing pages invite somebody to enter your business at some level.
If the landing page is a "squeeze page," then the entry point is your email list.
A squeeze page simply asks someone to subscribe to your email list.
It typically promises something for free as an incentive.
For instance, you might offer an ebook, a video tutorial, a cheat sheet, or a list of resources.
If somebody wants that freebie, then they will subscribe to your email list to get it.
This is a simple sales funnel that every blogger should use.
It builds your email list.
That means, it brings prospects into your business.
Just like when I walk through the front door of TJ Maxx.
Now, if your subscribers want your free ebook "All About Pinterest Marketing," for instance… then they are obviously interested in that topic.
Once they get on your email list, they will be excellent prospects for buying your Pinterest training, or affiliate products like image creator software that help people create content on Pinterest.
You see what I mean?
This is how you build a buyer base, and a profitable online business.
And it all starts with the simple sales funnel you set up on your blog.
If your blog is focused on Pinterest marketing, then offer a Pinterest related item, and you will build an email list of highly targeted prospects.
Sales funnel landing pages
Many bloggers don't create simple sales funnels because of the technology involved.
How do you create a squeeze page?
Well, you could do that just by using your WordPress page editor, or something similar.
But it gets pretty complicated.
And it probably won't look too professional unless you really know what you're doing.
Now, let's just say you get a squeeze page together, and people start subscribing to your email list.
What happens when they subscribe?
I mean, immediately after they push the "Subscribe Now" button on your squeeze page?
Well, they should be redirected to the next landing page.
It could be a "Thank You page" that literally thanks them for subscribing.
Or it could be a "Download page" that gives your new subscriber a link to click.
That link downloads their freebie… an ebook or whatever.
Or it could be an "up-sell page" that has a link to something they can purchase.
Your up-sell page could say something like, "Thanks for subscribing. Maybe you'd like to buy this related item before downloading your free ebook."
Then you give them a sales page link.
Oh yeah, that's another landing page that goes into your sales funnel… the "Sales Page."
Simple Solution to creating landing pages
So, back to the technology problem.
These may be simple sales funnels, but they require a series of landing pages.
Not so simple, right?
Well, you're wrong.
It is simple.
You can buy an expensive "funnel page" builder like Click Funnels.
And it's worth it.
Or, you can take advantage of a Free Forever funnel page builder called "GrooveFunnels."
Now, GrooveFunnels is new to the marketplace, and so is offering this one time free version for you if you pick it up now.
And why wouldn't you?
It's free!
And it's free forever, not just on a trial basis.
With your free GrooveFunnels, you can set up sales funnels and landing pages in a snap.
You don't need any technical skills.
So I suggest you do that right now…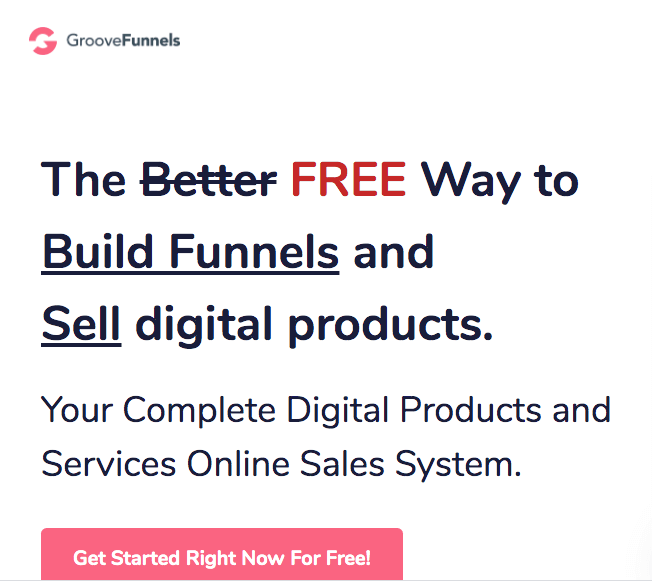 If you want to see exactly how I use GrooveFunnels, you can review my simples sales funnel process here.
Following up with prospects
The most important aspect of your simple sales funnels, is following up with prospects.
Once they subscribe to your email list, you need to send them email messages on a regular basis.
Send them valuable information.
And send them sales offers.
They will start buying, and you will start earning.
I told you this was simple.
You don't have to do the follow-up yourself
Now, if you sign up for some premium affiliate offers, you don't even have to do the follow-up yourself.
The product vendor can do that for you.
You simply get someone to buy a low-cost product, and then the vendor will email that buyer a series of follow-up emails.
If they buy from those, you will earn commission even though you didn't send the follow-up emails.
So your task in this case, is to use your blog post to promote a low-cost offer that people can buy.
Then just let the vendor do the follow-up to sell them on related higher-cost offers.
Set up the first of your simple sales funnels right now
Now, if that sounds good to you, how about this…
When you sign up for your free GrooveFunnels account, you can register as an affiliate for that program.
You don't even have to "sell" it… just give it away free.
And you can earn.
You see, you can do it right now… today… because you don't even have to create a free thing for people to get.
GrooveFunnels IS free, and so it IS the free offer.
Yet, you earn commissions when people who got the free offer want to buy upgrades that GrooveFunnels (not you) promotes.
Within just a few days of doing this myself, I made a few bucks without even trying…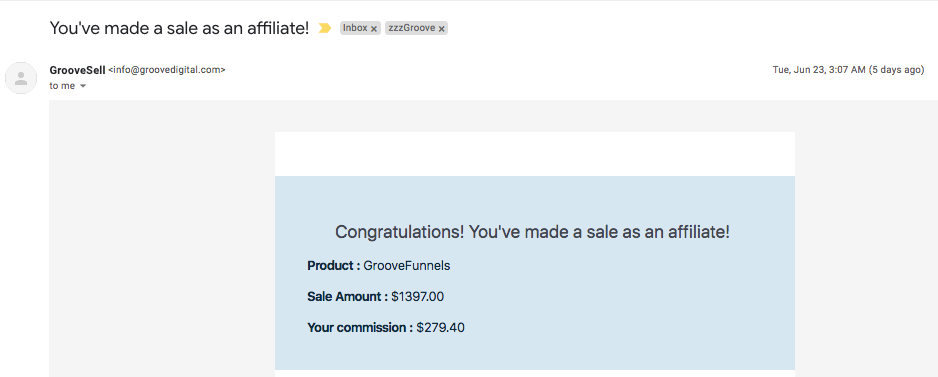 Now $279 is not big money, but I didn't do anything for it.
And as long as this program is open, I'm sure I'll be earning even more.
Setting up your first simple sales funnels
Okay, so now it's up to you.
I told you that you could do this right away… today… before you even close this blog post!
Here's how…
Step 1
Get your free GrooveFunnels account now.
Just click the image below to get started…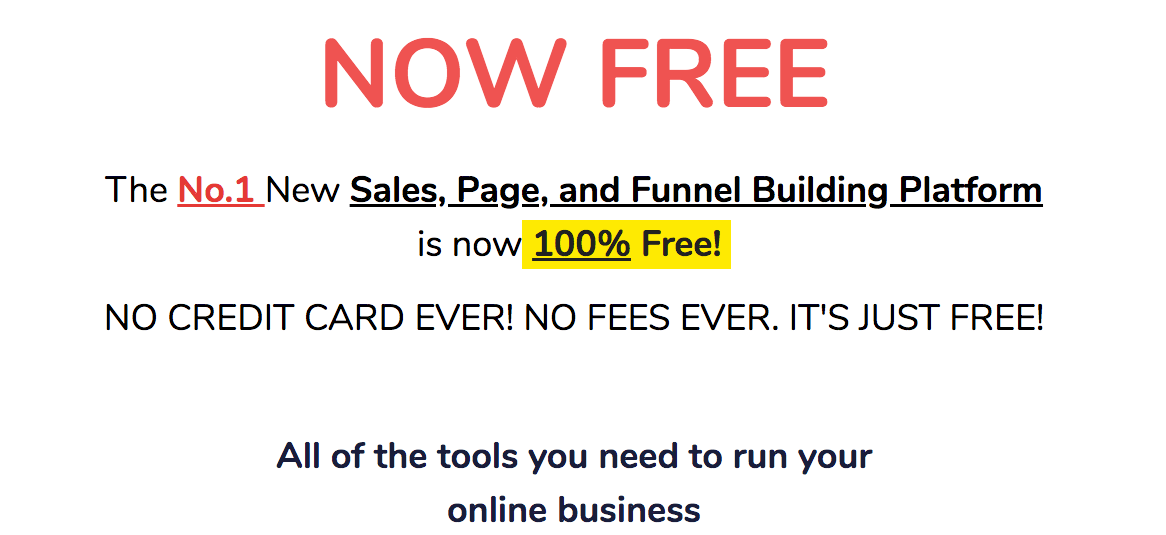 Step 2 (optional)
If you want to start earning from it right away, just become an affiliate.

Step 3
Then set up a simple squeeze page using the GrooveFunnels templates.
Let me know how you like it.
And let me know if you have any questions along the way.
I'll be happy to help you 🙂
–Donna
PS:
What do you think about setting up simple sales funnels on your blog?
Leave me a comment below.
And please… be sure to share this article on your fav social sites.