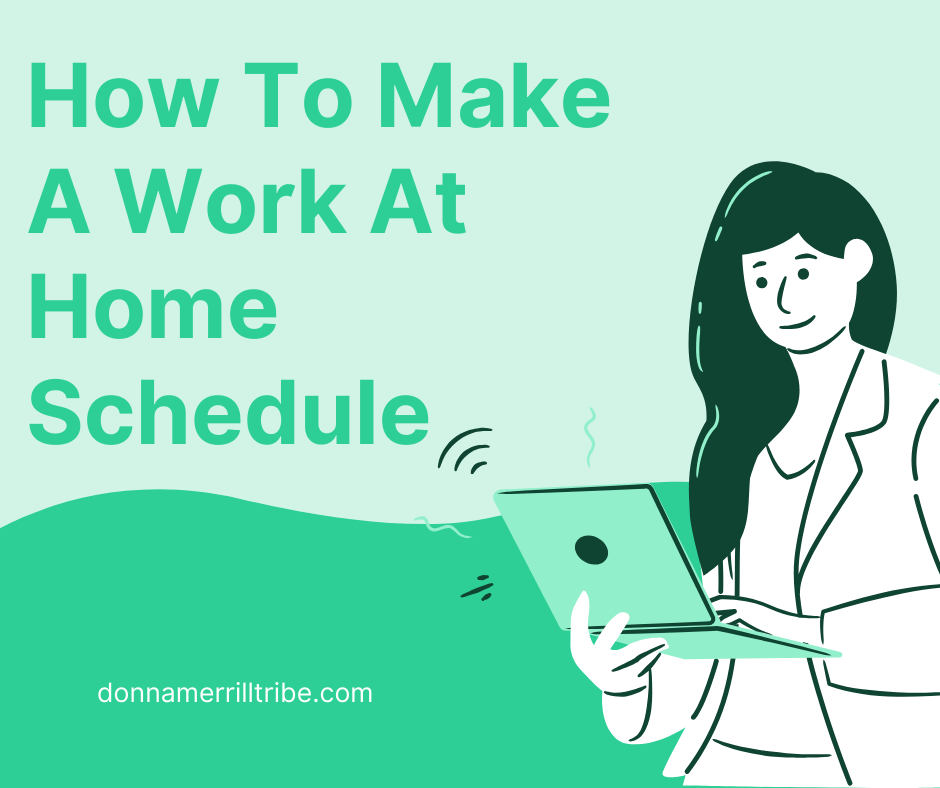 I've worked from home for many years now.

And I have many friends that have done the same thing.

We have all had to devise some kind of a work at home schedule to keep ourselves productive and on track.

Whether you're a work at home pro, or are just getting started working at home, you need to know that it's really important to set a schedule.

Without a work at home schedule, your whole day will just get lost in an endless stream of chores and distractions.

There's a few things that are really important for you to keep in mind so that you don't run into this kind of trouble.

This is really important for those of you who have been working a job and suddenly find themselves working at home.

This may be all new to you.

You are home, but yet you have to put on your work hat.

How do you do that?

Again, you're going to be overwhelmed by so many distractions that if you're not used to this, you are going to find it to be quite a bit of a challenge.

You will quickly find that you really need a work at home schedule to get yourself disciplined.

So I thought I'd put together a little list of things to keep you on track.
Start with nutrition
The first thing I want to tell you is to start your day with a good breakfast.
If you've been running out to work you may be used to just grabbing some coffee and bagel or something like that, just kind of get you through the morning.
But when you work from home, it takes so much mental alertness that you really want to start your day with some high nutrition.
Eat good stuff that will get your immune system pumping right away, and give you some endurance and energy as you set out to implement your work at home schedule.
I think starting a day with a warm glass of water and lemon is also a good way to just kind of clear your mind and get yourself in gear.
This will put your body and mind into action, and get you moving in the direction you want.
Clean up your act
After breakfast, jump in the shower.
I know, you're working at home and you could put this off until after lunch.
But don't!
You want to tell yourself… your subconscious self… "I'm going to work for the day."
You still have to get yourself ready as if you were going out to meet the world.
Because in fact, you will be meeting the world.
You'll simply be meeting people on your computer instead of in person.
Do your hair, put on some makeup, or whatever else you would normally do for a day on the job.
Then get dressed for the day.
You can't begin your work at home day by thinking that all you have to do is lounge.
Know it's time to get into your business mode.
You may not think so, but it's really hard when you're working in your bathrobe.
I know.
I've done it sometimes.
But my day always gets off to a sluggish start when I hang around in my PJs and think that I can be productive.
You will simply be far more productive when you get yourself cleaned up and dressed.
That doesn't mean you have to get dressed for the office.
You can wear a t-shirt, sweatpants or whatever casual wear you like.
But get cleaned up and get dressed and tell yourself this is my work outfit for the day.
Get yourself into gear.
Exercise
Integrate exercise into your work at home schedule.
You don't necessarily have to do this the first thing in the morning.
But keep in mind that during the day you're going to want to take little exercise breaks.
Try to exercise periodically to keep the blood flowing, your joints loose and your mind sharp.
It's far better to take 15 minute exercise breaks several times during the day than to try to take an hour and a half all at once and do some big mega workout.
Work in chunks
I always find that working in chunks is much better than doing long periods of work.
That's why I say to exercise in small chunks throughout the day, too.
The idea here is to intersperse your work chunks with some exercise chunks.
Maybe you'll have a morning routine where you have to do your morning business things.
Then in the afternoon, maybe you'll want to do some more intense, deeper work.
And later in the day you might want to lighten up.
That could be the best time to do some catching up on things that you started yesterday and have to finish up now.
It's also probably a good time for catching up on some phone calls, talking to some clients doing a little teaching or some videos… those kinds of thing.
This is how you want to make your work at home schedule to include all these chores, activities and projects.
And you see, the times in between all those chunks could be when you want to take a walk or a bike ride, maybe do some stretching or some weight training… whatever it is you do.
The idea here is to avoid spending long periods of time doing any one thing.
According to the well-established principle of diminishing returns, the longer you work on something the less effective you become at it.
So if you have a very long blog post to write, for instance, and it's going to take you four hours… it's better to do it in four 1-hour chunks.
Keep sharp focus
If you sit and work four hours straight, then as each hour goes on, you're going to be less and less sharp and focused on what you're doing.
Your work will start getting sloppy and meandering.
It will lose focus as you do.
Instead, you could do four 1-hour work chunks, and in between do a 15-minute workout or some other different kind of projects.
Then, you will be more likely to have better long-term results with your project.
Now, you may already be used to working in chunks.
That's because many work routines are set up this way.
You may have a job where you are routinely told "okay, this morning I want this done," and then in the afternoon you will have to do something different.
So you might be used to the fact that you have to chunk your work when you're on the job.
The same thing applies now, when you create your own work at home schedule.
Think project-by-project.
Don't start your day by just saying "oh, today I have to do my business, but what am I going to do?"
Instead, think "today I have to accomplish ABC."
That means you will have to do A in the morning.
In the afternoon, you'll do B.
And you can keep the end of the day for doing C.
So by chunking your ABC day into three separate projects, you will make each of them more manageable and more effective.
Plan your day
Plan your day on paper.
This is really the most important format for you work at home schedule.
Write down exactly what you'll do today, and break that down into chunks.
As you accomplish each chunk, you get to check it off from your to-do list for the day.
Use checklists to
Overcome Blogger Overwhelm and Achieve Amazing Results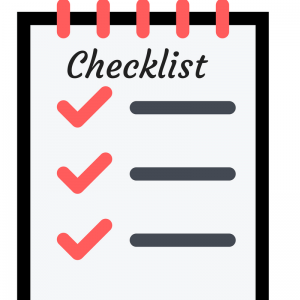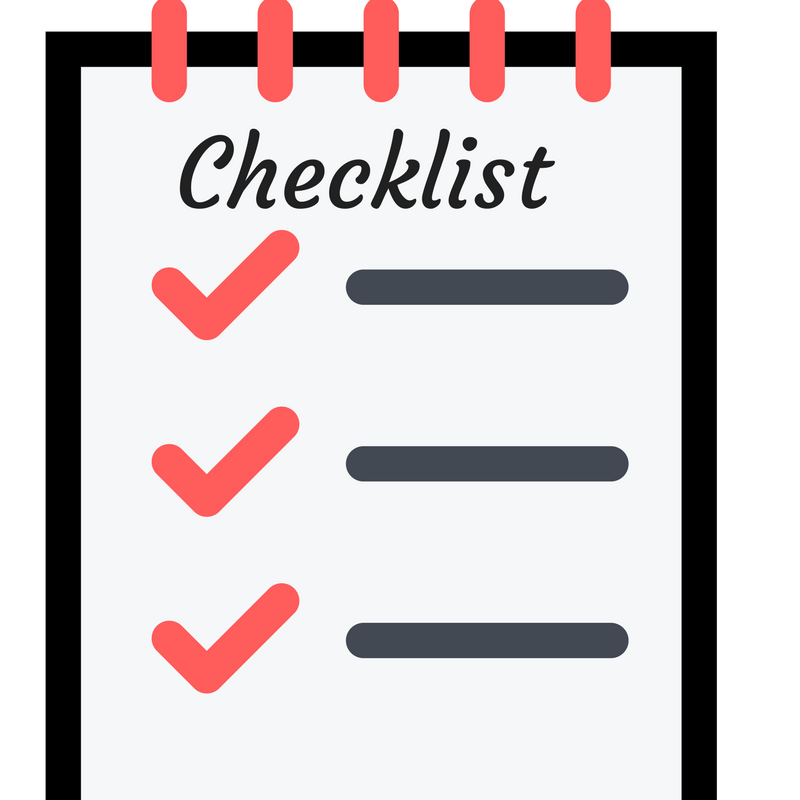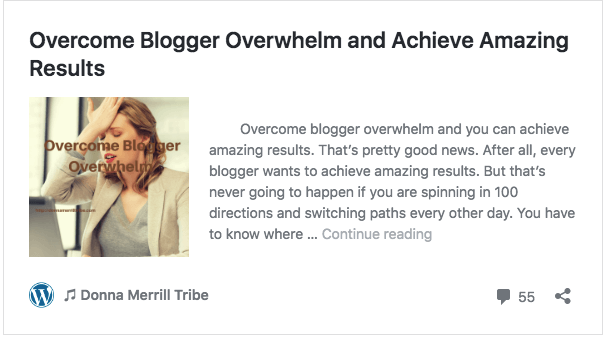 So you can visually see yourself accomplishing things, one step at a time.
It doesn't matter if it's your own work, or maybe you're working at home for your company.
Either way, the work has to get done, right?
So organize your day into a clear plan of action.
Then get to work on implementing it.
This way you have a work at home schedule to follow.
You know exactly what to do first, second and third.
Be your own boss
This is really no different than when you're out in the workplace.
Somebody tells you that you've got to get this done first, then after that make sure you get something else done, and so on.
You may not even know what the plan is overall because you don't see the bigger plan.
But your boss will tell you "take care of this."
After doing that, you say "here it is."
Your boss says "okay, now I want you to do this next thing."
That's because your boss has a plan.
Your boss has a clear idea of what you need to accomplish during the day.
But things are only given to you piecemeal.
That's because your boss knows that if you are given the whole work schedule all at once, you probably will get confused and overwhelmed.
So Be Your Own Boss.
This is what being your own boss means.
YOU be the boss.
Write and hold the master plan… your work at home schedule.
And you give yourself the marching orders required to make it all happen.
Plan your meals
When working your chunks, and including some exercise and maybe some time for meditation or relaxation… take a peek at your meal planning list, too.
What will you do for lunch?
How about dinner?
When working at home, you have to think about these things.
You're not going to be running out to the diner or the deli to get your lunch or dinner.
So when you're in between work chunks, you can exercise, take a walk or something like that.
But you can also spend some time going down to the kitchen and seeing just what you have to do to get your meals prepared.
Maybe you want to spend 10 minutes chopping up some onions, and then putting them away to toss into a dish later.
Or, maybe you'll make some sauce now, put it in the refrigerator and have it ready to go with the pasta later.
Think ahead.
Remember to chunk everything
And again, think in chunks.
You don't have to make yourself stand in the kitchen for an hour and a half cooking dinner.
And you can do it in little 10 minutes segments throughout the day.
That gives you a mental break from your work and also moves you toward having your dinner prepared.
Again, like with everything else, make this part of your action plan for the day.
Write it down on a piece of paper…
Tonight, I'm going to make this for dinner.
So at one point of the day I'll do the chopping.
In another part of the day I'll make the sauce.
Later part of the day, I'll put together some salad.
And then when I'm ready to eat, I'll just put in the pasta and throw it all together.
Be sure to write it down so that you remember, and you won't get to the end of the day and say 3x
Oh, now I guess I have to make a sauce.
But it's too late, now.
I'd better just grab something from the freezer and heat it up.
Just like you want to schedule your work day, you also want to use your work at home schedule for your personal life.
After all, you can't separate your work projects from your personal life.
That's what's working at home is all about.
Child Care
Let's not forget this one.
A lot of people working at home have children to take care of, too.
If you're working at home because of the current pandemic lockdown, then your kids are going to be home with you, too.
That's because all the schools are closed.
But this can be at other times. Too.
Like during the summer or any other time when the kids are off school for holidays or vacations.
You have to integrate your work at home schedule with your children.
So make sure that they know that at certain times you will be working, and have to be left alone.
Set boundaries
Maybe you could have a physical boundary.
Like "when my door is closed, I'm working. Only knock on it if there's something really important."
Or if they're very young, you might have to simply be working in a different part of the room, from where you can keep your eye on them.
This will sort of balance your work and your child care.
I know it's not easy, but it's part of the work at home world.
Part of your work at home schedule should include things you've planned out for your kids to do.
The same as you have things planned out for yourself.
Get some activities together.
Have a time when they can watch something on YouTube or TV.
But then have time when they'll sit at the table and do some work.
Or some arts and crafts.
Just like you to schedule your work you need to schedule your kids activities.
You'll have to put on the hat of the boss and feed your kids chunks of things to do, just like your boss would feed you chunks of things to do when you're at work.
How to make a work at home schedule
I've been working at home for a long time, and so I'm kind of used to doing this balancing act.
And I know there's a lot of other people who are also entrepreneurs.
The work at home, laptop lifestyle may sound great, but is actually quite a job.
Especially when it happens unexpectedly and suddenly.
You have to be focused and have a very clear plan.
Then you have to chunk your plan into actionable steps.
Finally, you have to actually implement them.
This can be quite a challenge, especially if you've been working a job and suddenly you're working at home.
I know this is going to be a struggle at first.
But I'm sure that some of the tips I'm giving you here will help you ease into it and make things work for you.

So, please, let me know what your situation is.
Leave me a comment below.
Have you been forced into a work at home lifestyle because of the pandemic shutdown?
Or have you been working from home all along?
Either way, I'd love to hear about your work at home schedule.
–Donna