If you want to be a successful blogger, you need to visualize your blogging success.
But wait.
First, ask yourself… do you see yourself as a successful blogger?
You can hope and wish for it.
More importantly, though, you have to actually visualize it.
And I would say, that while important to visualize your blogging success, it's a good practice to visualize success in your entire life.
Not just in blogging.
After all, while you may be seeking blogging success, you are more than just a "blogger" – right?
Here are four key areas of your life that I think you should focus on.
As you visualize yourself attaining success within any one of these four areas, it will help you attain success in all the others, too.
I break them down into separate categories, but in reality, they are all just parts of who you are as one unique person.
Visualize the achievement of your blogging goals
First, you need to visualize your success.
Your business success.
And visualize blogging success in particular.
What does that look like?
In order to be successful in blogging, you need to be helping people.
You need to be offering solutions to their problems.
I say this all the time because it really is the heart of blogging.
So how do you see this happening in your business?
Do you see yourself working with clients on the telephone?
Are you helping people with your great content?
And what do you see yourself doing to get that content in front of the people it can help?
Visualize everything down to the nearest detail that you can.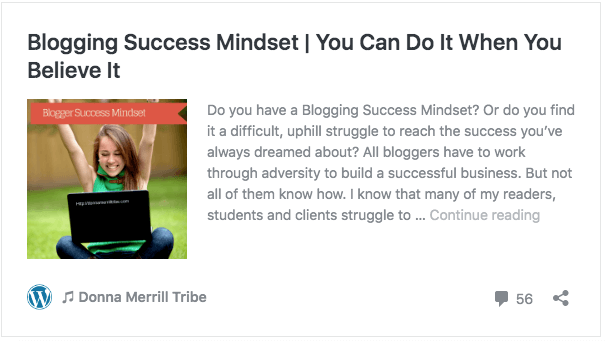 See yourself at work each day.
Are you at your computer?
What are you wearing?
Are you on the phone?
How does it feel to be talking to someone?
Are you on Facebook?
How are you making a meaningful connection with people there?
Where are you?
In your office?
At the kitchen table?
And what exactly are you doing to achieve the blogging success that you're looking for?
The more detailed you can be about this, the more real it will be.
And the more deeply ingrained it will become into your subconscious, and your reality.
Visualize perfect harmony in your personal relationships
Secondly, I suggest you focus on your personal relationships.
What are they like right now?
How do you see them developing in the future?
Maybe you're going to be living with a new partner.
Or you might be enjoying better relationships with your kids.
Visualize yourself being in those perfect relationships.
See yourself living with that new partner.
Or spending more high quality time with your children.
How about your pets?
What is it you want to be doing with them, or for them.
See yourself doing it.
Maybe you're taking your dog on a hike through the woods.
Visualize these things in detail.
These are the things that will come to you once you get them "into your sights."
In other words, once you put them directly into your line of your vision.
Visualize your optimal wellness
Third, what about your health?
As you work on your blogging business and your relationships, what is happening with your personal health?
Take a mental snapshot of your wellness profile.
Are there issues you're dealing with right now?
How do you see yourself overcoming any problems you might have?
Maybe you're overweight.
Or you might have a specific medical condition.
Perhaps you just don't have the energy required to do all the things that you want to do.
Think about the state of your wellness now.
Then visualize it the way you want it to be.
Think of the diseases or imbalances that you want to evaporate.
Or the energy and stamina levels that you need to be successful in all areas of your life.
Visualize any problems or obstacles in your wellness snapshot – just evaporating.
They melt away, and are completely gone.
See yourself in this wonderfully balanced state of wellness and high energy.
It's within your power to achieve this.
And you can, when you see it clearly enough.
Visualize a life filled with joyfulness
Fourth, I want you to think about your enjoyment of life.
All the things we talked about before go toward the enjoyment of your life.
But then there's other things in addition to them.
What are the things that you would just love to do if you had all the money in the world, perfect health and the greatest relationship you can imagine.
What would you do with your time?
These are the things that give you joy in your life.
Maybe you would find more time to go to the gym.
Or maybe you'd travel around the world.
What do you see yourself doing?
Do you see yourself doing fundraisers for your favorite charities?
What are those charities?
How are you fundraising?
Are you giving speeches, writing articles?
Maybe you see yourself meeting with influential people to make key decisions that would help them grow their organization?
If you're going to travel the world, how do you see yourself doing that?
Are you on a plane?
A cruise ship?
Where do you stay?
At a hotel or private home or villa?
Who are you visiting?
What country are you in, and what part of that country?
Again, the more clear and defined you can get about the details, then the more easily you will be able to achieve them.
Visualize Blogging Success
Your success as a blogger connects to your happiness and harmony as a person.
Visualize blogging success.
Sure.
But remember.
You cannot be just a blogger.
And you do not want to be pursuing blogging success while forgetting about your health and happiness along the way.

Do you have a well balanced approach to your blogging success?
And do you clearly visualize blogging success?
I'd love to hear what your visions are, or what visualizations you have been inspired to work on.
Leave me a comment below, and then share this article on your social sites.
I appreciate you 🙂
–Donna