This post was most recently updated on November 30th, 2020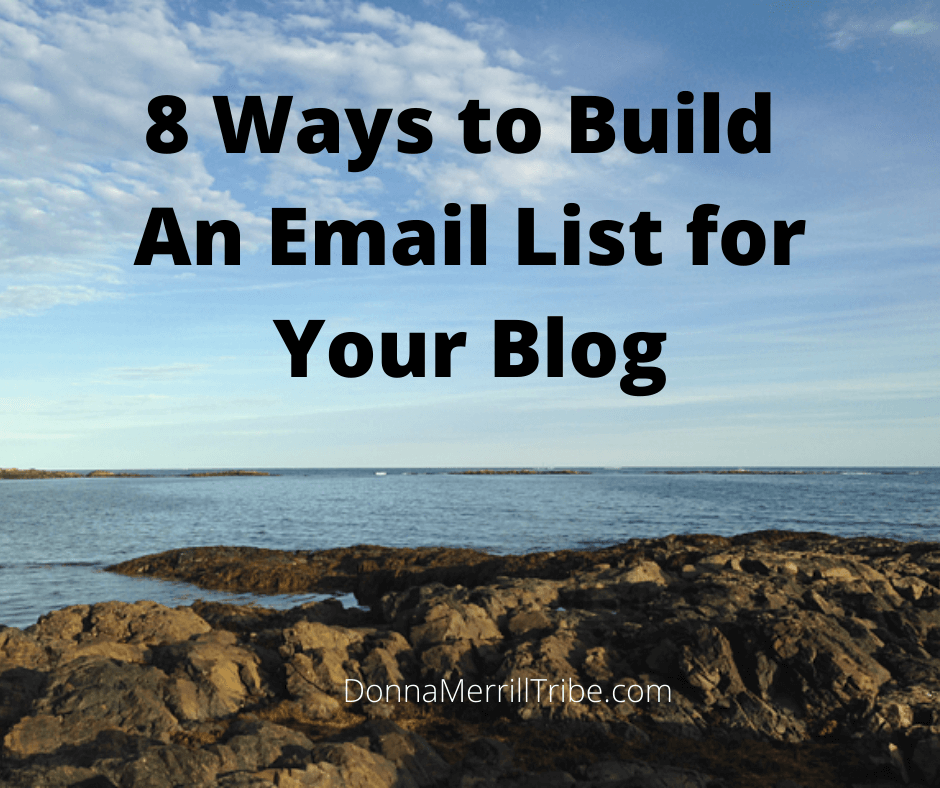 There are many ways to build an email list for your blog.
I've listed 8 of them below.
Any one of these methods will help you build an email list for your blog.
Of course, you could put all of them to work.
But I don't recommend it.
I think you should implement just one or two of these.
If you're not getting the results you want, then replace them with some of the other methods.
And if you are getting good results, that's great.
Maybe you could start adding some of the other methods at that point.
Over time, you will have a blog that is primed for continually building an email list.
Why does a blogger need an email list?
There are many reasons why you need an email list for your blog.
Here are the ones I think are most important.
Develop blogger outreach
You go through a lot of work to create top content on your blog.
But how do you get readers to it?
Or more readers?
Well, you have to reach out to them.
Let them know you just wrote a new blog post.
Tell them what it's about, and why they need to read it.
To do that, you want your regular readers to be within reach.
That's why you get them onto your email list.
So that every time something is going on with your blog, they get the heads up.
If you fail to get your readers onto an email list, you just have to hope they think to check into your blog from time to time.
Otherwise, you've pretty much lost them from your audience.
Maintain a target audience
Your email list is a database of your readers.
But more than that, it's a database of your target audience.
People will only sign up for you email list if they are really interested in your niche.
If somebody casually finds their way onto an article you wrote about "how to bake a cake," two things can happen.
First, if they just wanted a quick recipe for baking a cake, but are not generally interested in the "baking" niche, they will not sign up to get emails from you.
That's perfect.
Because you don't want just anybody on your email list.
You only want people who will be interested in reading more of your baking articles.
And some of them will be interested enough in your niche to buy baking tools, recipes and whatever else you sell on your blog.
Second, if they really are interest in your niche, and actually subscribe to your email list, they are truly part of your target audience.
In other words, they will open your emails.
And they will click on links to your blog posts when you send them out.
You will be building, not just an email list, but a highly targeted audience for your blog.
Make your blog profitable
People ask me all the time… "how do I make money with my blog?"
The very first thing I tell them to do, is to build an email list.
That way, when you want people to buy something, you have an eager, highly engaged target audience standing by.
Just send them an email and make your pitch.
Better yet, make it a two-step process.
Don't ask them to buy something in your email.
Link, instead, to a blog post you wrote that contains a link to your offer.
That way, people will understand that you are not just selling them something, you are helping them solve a problem.
And part of that solution is to purchase the product or service described in your blog post.
How do I make my blog email list grow?
Okay, so you can see why you should should build an email list for your blog.
But HOW do you build that list, and more importantly… how do you make it grow steadily?
The best way to make your blog email list grow is to invite your readers to sign up.
And you can do that in many ways.
If you're not doing any of these things now, then choose one today.
Put it into motion and you can start building your email list right away.
If you're already doing some of these things, then consider adding another method to your blogging strategy.
Monitor it to see if it helps you build your list even better.
Now, take a look at these 8 ways to build an email list for your blog.
1. Welcome mat
If you're like most of my blogging students, you're primarily interested in using a "welcome mat" to build an email list for your blog.
A welcome mat is a full page pop-up, often referred to as a splash page.
It's pretty simple to create.
Here's how it gets done with Optin Monster.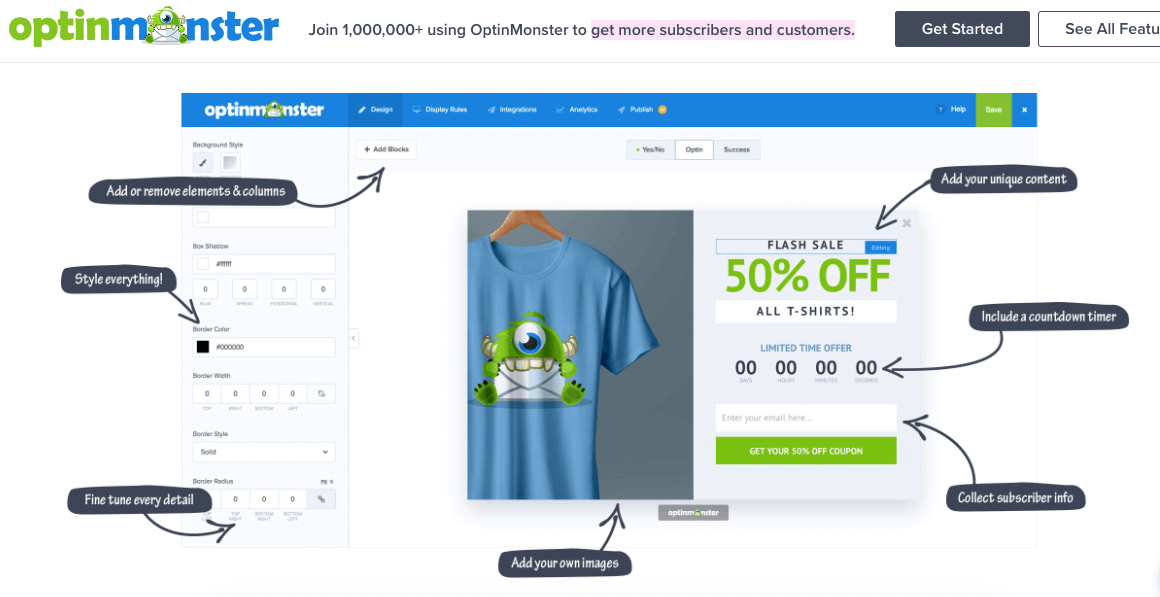 You can read the full instructions for creating a welcome mat at WP Beginner, How to Create a Welcome Mat for Your WordPress Site (+ Examples).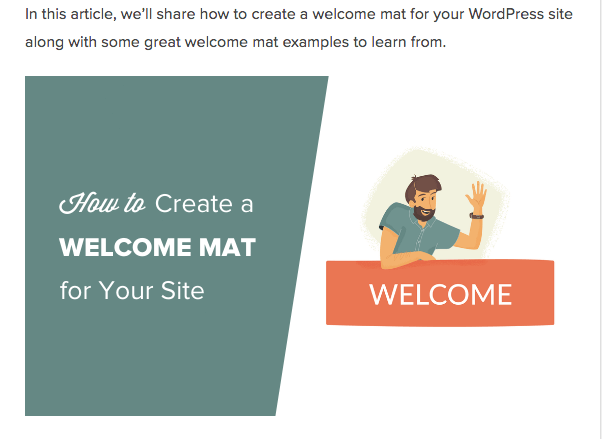 Now here's the thing about welcome mats.
Lots of bloggers love them because they do get good conversion rates.
That means, lots of people tend to subscribe because they are a form of interruption advertising.
People click on a link to go to your blog, but before they can see any content, they are interrupted, and forced to subscribe.
Or, they can click away from the pop-up screen.
It's pretty effective, it seems.
There are some big drawbacks to this method, though.
First, Google can penalize your site for using this kind of "interstitial," as you can see here from Google's interstitial ad guidelines…

Read more in the Yeildify article,
"Email List Building: 8 Best List Building Strategies for 2021."
An interstitial is simply an ad, splash page or pop-up that you are forced to see before you get to the content on somebody's blog or website.
The second big drawback to using a welcome mat is that your readers are quite likely get put off by it.
After all, they want to see your content or, at least, your blog site home page.
Not an ad to join your email list.
So I would use this method with great caution.
2. Embedded signup forms
A far safer and less distracting way to get readers to subscribe is to embed your signup form within your blog post.
Most of the big autoresponder services let you do this by copying their form code on your blog, wherever you want it to appear.
It might look something like this…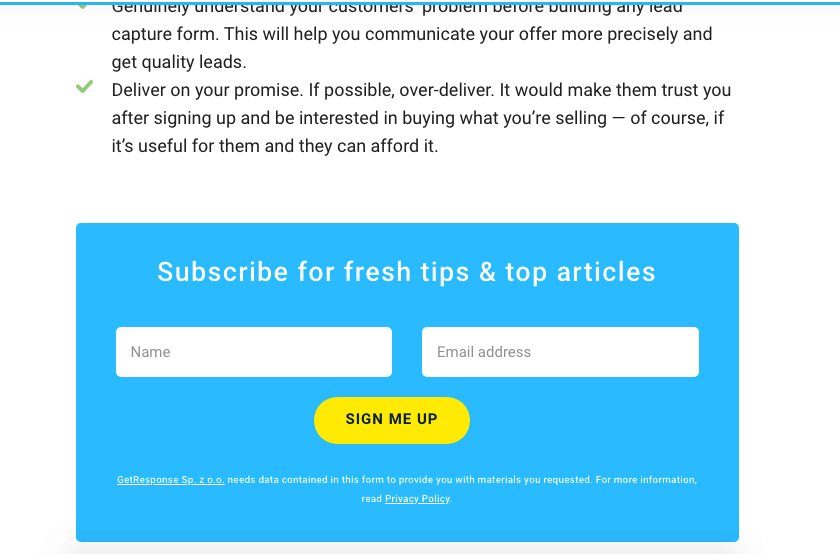 3. Sidebar forms
A sidebar opt-in form is good when you display more than one column on your blog.
It looks like this…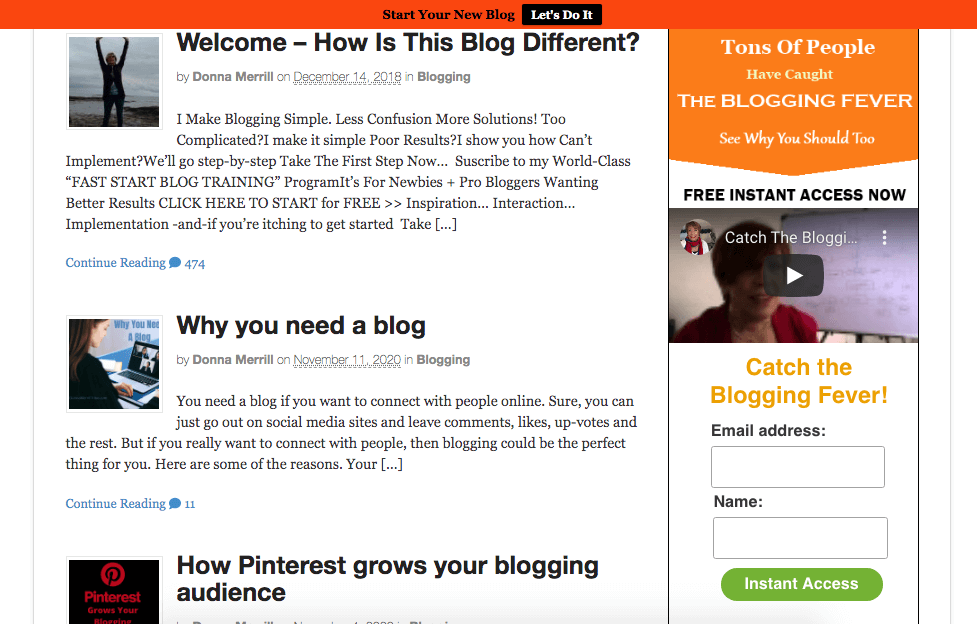 Now, many bloggers don't like sidebar forms because they think people pay no attention to them, because they look like ads.
But they are still effective.
I use them on the sidebar to my main blog site, but usually don't display the sidebar on my individual blog posts.
4. Pop-ups
Pop-up forms are just what they sound like… opt-in forms that pop-up while your readers are on your blog site.
There are many types of pop-up forms you can use to build an email list for your blog.
Exit pop-ups
These are opt-in forms that pop up when someone goes to exit your blog post.
Slide-in pop-ups
While your visitor is reading your article, a pop-up form can slide onto the screen, grabbing their attention.
Promotional pop-ups
If you are promoting something, you could use a pop-up as an enticement to sign up for information about it.
These are just a few of the pop-ups that can help you build an email list for your blog.
You can build pop-ups and lots of other opt-in forms with Thrive Leads.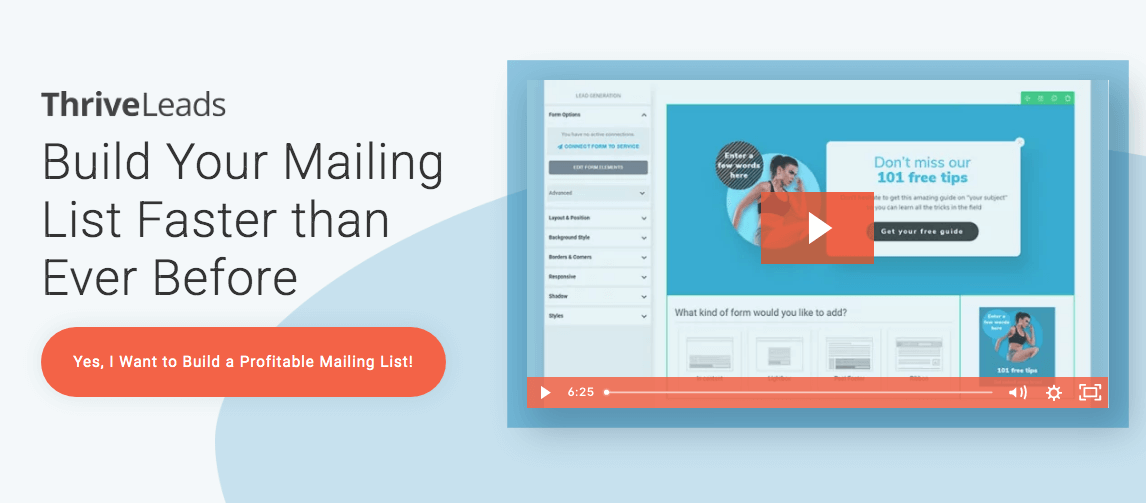 The Thrive Leads link above is an affiliate link, meaning I may earn a commission if you purchase from the link.
It does not, of course, effect your cost in any way.
5. Content upgrade
Content upgrades are simply offers to get more information about your article.
So if you are telling people 5 ways to use images on their websites, for instance, you might offer a free list of image sources.
That would be a content upgrade.
You can build content upgrades easily with Thrive Architect…
6. Check-out opt-ins
This is a really great, but seldom mentioned way to build an email list for your blog.
You create a free, or very cheap, training that helps solve a common problem in your niche.
Then, put the training on an affiliate sales platform like Warrior Plus, JV Zoo or something similar.
When people click on your "buy now" button (it can be for a small price, or a zero dollar amount), they go through a check-out process.
They can be asked to join your email list at that point.
It's very likely they will, since they just asked for your training, and will want to be sure to see updates to it, as well as similar offers from you.
7. Survey or poll
Bloggers often poll or survey their readers.
Here's a common looking format…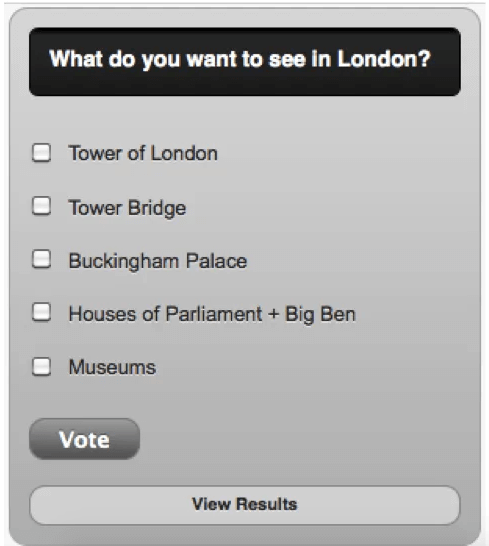 Learn more about survey tools for bloggers on the ProBlogger article,
10 Cheap Survey Tools for Bloggers Who Want Answers
Simply embed a survey, poll or quiz like the one above on your blog.
Your blog visitor filling out the survey will be asked to subscribe to your email list in order to "view the results."
This is a really simple, yet highly effective way to build an email list for your blog.
8. Landing page (inline text links, banners)
If you put a banner or image on your blog post, you can link a landing page to it.
The landing page to get people to subscribe to your email list is called a "squeeze page."
When someone clicks on the image, they go directly to your squeeze page.
On your squeeze page, they are prompted to join your email list.
An alternative to a banner, is simply anchor text that links to a squeeze page.
You can click either the image below, or the following anchor text to… learn how to create a squeeze page from Brian Dean at Backlinko.

8 ways to build an email list for your blog
Now that you have a small arsenal of methods you can use to build an email list for your blog, give me some feedback in the comment section below.

Let me know… are you using any of these methods now?
Which ones do you find most effective?
Or, if you're not using any of them with great results, tell me this.
What is your favorite one from among the 8 ways to build an email list for your blog that I've shown you.
-Donna
PS: Don't forget to share this article on your social sites, too 🙂