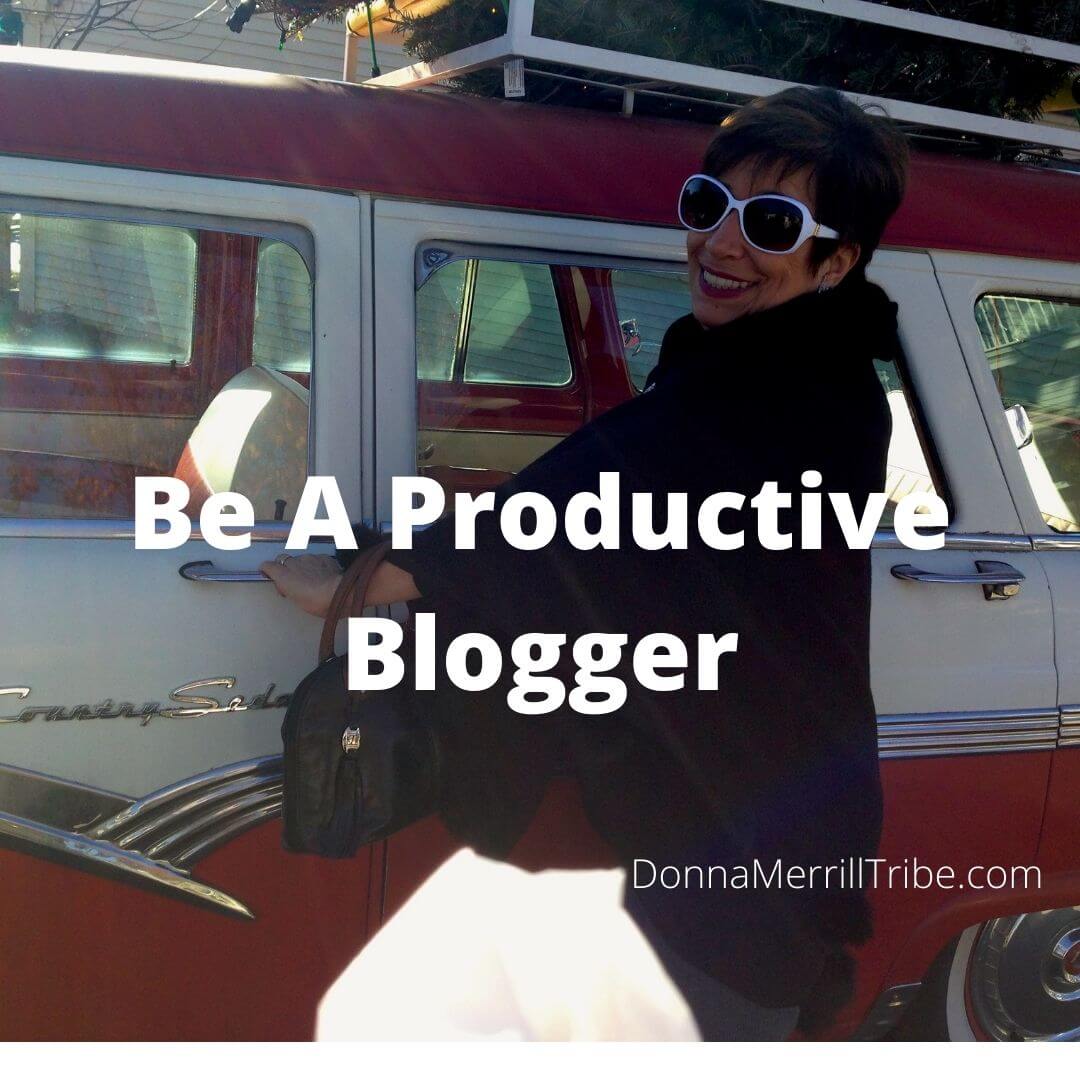 Blogging involves many different activities.
To overcome confusion and overwhelm, you need to become a more productive blogger.
Now, that doesn't really mean you need to keep kicking out blog posts.
Keeping busy doesn't make you productive.
It keeps you, well… busy.
By "productive," though, I'm talking about making the best use of your time.
Once you start nailing this down, you'll actually spend less time getting to where you want to be.
Making the best use of your time
You need to use your time to stick to your main objective.
It's so easy to get side-tracked with other things.
So you set out to write a blog post.
You start doing some research on your topic.
That leads you to one blog post, then another.
You find yourself writing comments on those blogs.
Then you follow some people back on social media.
Now you get caught up in the social media frenzy.
You end up having conversations about 10 different things having nothing to do with the blog post idea you are "researching."
Suddenly, half the day is gone and you haven't even outlined your blog post yet!
Has that ever happened to you?
It's been my story far too many times, I can tell you that.
So I stick to a plan.
Or at least, I do my best to.
I focus my blogging business on 3 things.
Simplicity
Everything in life seems complicated.
You want a pizza.
Simple, right?
Too many detours
But getting to your destination is not a straight road from Point A to Point B.
You call your favorite take-out and now they've got a million questions.
What topping, thick crust, thin crust, extra cheese or regular.
Do you want a drink with that?
What kind?
Diet or regular?
What size?
Oh, yea… there's a special deal.
If you get 2 pizza's the drink are half price, etc. etc.
So should you get 2?
Will you pick it up or get it delivered?
Curbside or will you come in.
How will you pay?
When do you want it?
You just want a pizza, but there's all this stuff to deal with.
Ice cream cone or donut?
There's a million choices there, too.
And so it goes with everything.
Blogging detours
Blogging is no different.
You start out with a niche.
Let's say it's exercise.
You just want people to learn how exercise can improve their health.
Somehow you end up researching heart disease, alternative treatments, tendinitis, physical therapy remedies…
And the list goes on endlessly.
To be a productive blogger, you must plot your point A, and decide on what your true point B destination is.
If you want to get from A to B… detouring to C, D and E may take you away from your destination (B).
At the very least, it will make the journey much more difficult.
You will take a lot more time, and do a lot more work to reach your destination than if you just didn't take all those detours to begin with.
Clarity
You might have started your blog because you wanted to share a lot of information on your topic.
Again, we'll say it's exercise.
You want to let people know the different effects of running 3 miles vs. walking 3 miles.
So you write an article about monitoring your heart rate.
Maybe another about supplements that affect your heart rate, and so on.
Where's all this leading?
To be a productive blogger, you need to develop laser clarity.
Otherwise you might end up all over the place and end up taking detours to points C, D and E instead of point B.
Something like this helps.
"I will blog about ____, to help my readers overcome their challenges with these 5 main things."
Now, the topic of your blog is your niche.
And the main things it will cover are your blog's categories.
Do everything you can to spend most of your work day working only in those areas. 
And make every blog post you write help your readers with their challenges only in those areas. 
This will help you accomplish more things that actually move your business forward.
Consistency
Of course, being a productive blogger also requires that you write blog posts.
Not when you feel like it, or get the inspiration to.
But on a consistent basis.
How often will you publish your blog posts?
This is always a question bloggers ask.
Especially new bloggers, but even bloggers thinking of changing their publication frequency.
I'll tell you that it doesn't really matter that much.
You can publish an article once a week (like I do), or every day, or once a month.
Yes, it makes a difference with Google.
So if your big strategy in blogging is to reach the top of the Google charts, then I guess the more you blog the better.
But really, in my world, and probably for most bloggers… Google ranking is not the big game.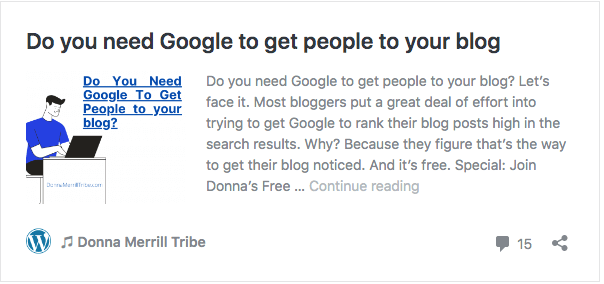 It's about helping your readers, connecting and engaging with them.
So for that purpose, you publish as often as you can comfortably do, as long as it's good stuff.
You don't want to schedule yourself for a blog post every 3 days if you have nothing meaningful to contribute to your readers.
But publishing consistently is the key.
Yes, Google looks for that.
But far more important, your readers look for it.
So be sure to publish consistently.
And that means… work consistently on developing and promoting your content.
3 secrets to being a productive blogger
Those are my "3 secrets to being a productive blogger."
Okay, maybe they're not really secrets.
But they are if you're not adhering to them.
Knowing these things does not mean you stick to them.
That's why you need to make sure you're keeping on-goal, and on-task each and every day.
Write down your Point A (where your business is at now) and your Point B (where you want it to be in a defined future… 6 months or 12 months or whatever).
End each day by looking at this.
Did you stay on target?
Or did you wander?
How can you do it better tomorrow?

Now leave me a comment below and tell me this.
Do you think this will help keep you on track?
And do you think the 3 secrets I shared here can help you be a more productive blogger?
-Donna
PS: Don't forget to share this article on your social sites.  Thanks so much 🙂